Every so often, the good Lord reaches down and touches a ballplayer with the innate ability to react in an instant to the crack of the bat. It happens so quickly, the average person misses it as they glance at their phone or sip their beverage. A drop-step and whirl before beelining to a descending baseball in a path so straight, the ensuing Statcast report seems to belie human possibility.
Only, that's not exactly how it works, is it? We're all given a set of talents, raw, unrefined and requiring extraordinary effort and discipline to hone into something beautiful. The ability to play defense on a baseball diamond is no different. So often, armchair analysts casually throw around discrediting statements, suggesting chance played a greater role than resolute struggle in determining the brilliance a defender exudes. We overlook the hours a future professional spends during their teenage years, chasing down flyballs on a Saturday evening, when the rest of us are going to movies with our friends. We forget the sacrifice made by so many parents after work, when they could be pursuing any self-serving craft, but instead assume the role of unheralded Fungo wielder or batting practice hurler.
Albert Almora, Jr. is one such ballplayer. The grace with which he tracks a flyball demands even the most casual fans take notice. Night after night, he does something impressive without ever appearing to reach maximum effort.  It's important to recognize that he was merely born with special instincts and above-average athletic ability, but the rest is credit to him, his parents and coaches. During an on-field interview with Almora two weeks ago, I made the mistake of suggesting that he was born with a natural ability to play defense. With just the right amount of firm humility, he made sure I knew the truth:
"Man, it's something that I took to heart as a kid, so I feel like—I don't want to sound cocky when I say this—yeah, a part of it you're born with, but I want to say I want to give myself and my father, my parents credit, because I worked my butt off, I really did. I would take buckets and buckets of fly balls every day, and I did for my hitting as well… I'm not going to take away from my offense as well. I think, the difference between offense and defense is that you can be perfect on defense, you can't be perfect on offense, no matter what you do. There is no one hitting 1.000 in the big leagues, there is nothing like that. But I feel like you can be perfect on defense, so I think that's why I took that more to heart, because I knew I could be perfect at that."
It stayed with me when Almora said he took playing defense to heart, simply because you can achieve something close to perfection on that side of the ball. Certainly no one is perfect—Almora himself could be a little faster, or have a slightly stronger arm—but when you watch him play center field, it becomes apparent that he really believes that defensive perfection is achievable. With a mindset such as this, it is of no coincidence pundits believe he can be a Gold Glove caliber center fielder in the future, and a big-league outfielder now.
The purpose of my visit to Des Moines was not to uncover something you already knew—that he's an elite defensive outfielder—but rather to find out firsthand whether his recently improved results at the plate were because of a mechanical adjustment, or more in the realm of improved confidence. You may recall Almora made a mechanical adjustment in the middle of his 2015 season, switching from a constant ground-engagement front-foot pivot, to his current use subtle leg kick. The first clip shows his approach before the change in Tennessee last season, with the second showing the updated look: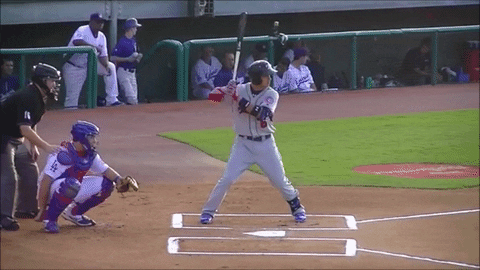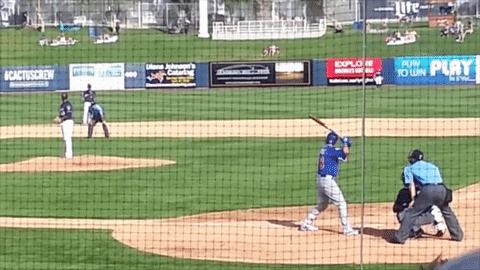 (Video credit to Cubs Related)
From my #notascout eye, the latter approach keeps his weight back a split second longer, delaying the power transfer and preventing his front leg from locking out before contact. This ensures a greater amount of force generated by rotational torque travels into the ball, rather than into the ground through his front leg. It also slows the load transfer from the back of the box to the front, which reduces the noise from his waist down. The result of this is greater balance, which allows for cleaner, louder contact. When I asked Almora about the change, he knew when it had occurred, but suggested it wasn't the biggest factor in the improvement of his results at the plate:
"The leg kick started before June, by May, around there. To me, the biggest thing for me is just confidence… the swing hasn't changed much besides the step and the leg kick now… but it's just been a confidence thing for me, and I am really happy where I am at right now… that's the thing, that's the tough thing about baseball. You know, when you're struggling, just to tell yourself that you're still good at what you do. Just remember what you were doing when you were doing well, from a confidence perspective and just go out there and just do it. That's the good thing about baseball, you go 0-for-4, the next day is a brand new day. That's what I go to, it's a new day the next day. You try and stay positive, and positive leads to confidence… my facial expression is the only thing. I am confident, man. I am just in there, and I get called on a strike, I don't care, I've got two more… and if I get two on me, I've got one more. It doesn't matter."
It was also enlightening to hear it was his own decision to make the mechanical change. When I asked him whether there was a specific coach or perhaps another player that had suggested he add a leg kick, he told me that wasn't quite how it happened:
"When I got drafted, I had the leg kick. I kind of got away from it… but to me the leg kick, I just feel comfortable with it. That's just what I've always done as a kid. So I decided to just go back to what got me there in the first place."
On June 26th, 2015, Almora's triple-slash line stood at .241/.284/.335. He was mired in a slump, with just two hits in his last 21 at-bats. The most reactive Cubs fans were beginning to whisper of comparisons to Darwin Barney, the glove-first, light-hitting second basemen of yesteryear. The comparison was always absurd, but nonetheless it represented a precipitous fall from grace for Theo Epstein's first ever draft selection, and a player Epstein once described as "the best hitter in our system," this even after the selection of Kris Bryant and trade for Addison Russell The next night he went 2-for-4, collecting a double in the process. Whatever it was, something clicked that night, and he hasn't looked back since. Since then, he's hitting .312 with an on-base percentage of .358 between his time in Tennessee and Iowa, in a sample that is getting closer by the day to being a full season's worth. His power is beginning to take hold as well, with 37 extra-base hits in those 382 plate appearances. If you narrow the lens even further, and start with August 5th of last season—not coincidentally coinciding with Miguel Montero's rehab stint in Tennessee—the results are even more impressive. A .335 average coupled with a .378 on-base percentage, with 29 extra-base hits in 274 at-bats. Almora explained to me what Montero's presence meant to him:
"He's really helpful. He's a guy that's been in the league for awhile. He just told me "Hey, go out there and play baseball, you're a great baseball player, just go out there and do your thing!" That's a big confidence booster, it's one of those things that turned my year around."
It became clear when speaking with Almora that credit for the improvements in his game extended far beyond mechanical changes, and included a strong dose of added confidence and focus. There was another angle I wanted him to speak to, and that was whether it motivated him to see his minor-league contemporaries Bryant, Russell, Jorge Soler and Javier Baez achieving success at the major-league level. He didn't hold back:
"Absolutely, motivation? Absolutely. You know, my goal, listen, everybody's goal on this field is to be a big leaguer. So it's no different for me, and I am just working hard every single day. You know, doing what I can control, and what I can control is playing hard, and trying to help the team win day in and day out. So that's all I am trying to do…"
Almora's game isn't perfect. He could benefit from a more patient approach at the plate, and his exceptional defensive instincts have yet to take hold on the basepaths. I asked him whether he could translate this ability into a more aggressive approach on the basepaths, and he again pointed back to rising confidence as a possible catalyst of success:
"Again, baserunning for me this year has just been confidence. Just pick a good situation, and go. Before I used to think a lot… I think there was 20 times, at the beginning of my career, when I would take off on my first step and then shut it down. It was just a thing, and in my head I was like "Oh, I didn't get a good jump," and you know it was just a confidence thing… I just had to go. So, that's what I think my defense plays, that I hear, I just play… I go get everything, that's my instincts, I'm not scared of the wall, I'm not scared of anything. I'll go get anything for my pitcher. So, that's what I just have to translate to the whole game, hitting and on the bases."
As injuries begin to take their toll on the Cubs' major-league outfield, murmurs about callups which include Almora's name are beginning to get louder. It's likely a matter of time until the 22-year-old makes his debut in center field, but Epstein will likely ensure he's fully ready before subjecting him to the rigors of big-league pitching. I asked Almora what he felt he had to accomplish to assume the apparent vacancy the Cubs' have in center field next year, and he brought the conversation back to today:
"I am just going to keep going right now, man. I can't determine what they are going to do next year, or the year after that. It's just me, what I can do right now. If they think I can be that guy, let's go for it. Whatever they want. You know I am just here ready to play ball wherever they put me."
That's the kind of answer you'd expect from a young man that has long been praised for his precocious leadership abilities and strong mental makeup. We discussed how he can help pass these attributes along to younger players, and how he can share his experiences to assist others:
"To be honest with you, I don't feel like I am a vocal guy. I'm not like that… I'm really quiet. I mess around with the guys, but I don't speak up in that leadership way. For me, If people are to put a leadership tag on me, it's because of the way I play the game, and that's what I try to do… I want everybody to know I'll do anything for them on the field. And that's just for me the way I take leadership. For me. Like I said, I'm not a vocal guy, but I'll die for a guy out there on the field… I just wanna go play hard, and hopefully people see that I am not disrespecting the game, and give me some respect for that."
Only time will tell what's next for Almora. The roster expansion on September 1st represents a clear opportunity for his promotion to the major-leagues, as the quality of his glove work will allow him to contribute immediately. The real test will come next spring, when Joe Maddon will take a long, hard look at him in an effort to gauge whether he's ready to establish himself as the starting center fielder of the future for the Chicago Cubs.
Lead photo courtesy Joe Camporeale—USA Today Sports.