Seattle is a bustling metropolis that has given the world Frasier, The Presidents of the United State of America (millions of peaches, peaches for me!), and arguably the best season of The Real World. The city's greatest export, apparently, is pop culture references for people currently in their early, early, early* 30's. This weekend, though, they send the North Side of Chicago their baseball team, as the Mariners arrive at Wrigley for a three-game weekend series.
While the team continues to hover a few games above .500, the Mariners bring a strong, homer-centric offense and very good bullpen. Entering Thursday, the Mariners are 5.5 games behind the Texas Rangers in the NL West (despite a third-order winning percentage more than 40 points better than the Rangers), and 4.5 games out in the Wild Card race. The team's offensive calling card is their power, as among AL teams, they rank first in home run to fly ball ratio, third in home runs and slugging percentage, and fourth in runs scored and ISO. The Mariners offense can wear out pitching staffs, as they do not chase pitches outside of the strike zone, possessing the second lowest swing rate in the AL, fourth best walk rate, and fifth highest on-base percentage. They can put runners on base and score runs in bunches, and as you will read in What to Watch for, they are being led by one of the game's best, unheralded offensive triumvirates.
The Mariners bullpen has been a real strength in 2016, ranking second in the AL in stranded rate and third in strikeout rate and WHIP. They don't make too many messes, and when they inherit a mess, they're extremely effective at cleaning it up. Former Cardinal's reliever Steve Cishek has been a find as the closer, saving 24 games, while posting a 2.5o DRA and 32 percent strikeout rate. The tall righthander does not blow batters away with velocity (90-92 MPH range), and he goes to his sinker and slider a combined 90 percent of the time, but mixes in a fourseamer to left handed hitters. Rookie Edwin Diaz (11 holds) has also been a key to the back end of the bullpen, with a 1.68 DRA and 45 percent strikeout rate. Diaz throws gas, and goes almost exclusively to his fourseam (73 percent) and slider (26 percent). Should the Cubs be tied or trail late in the game, the offense could struggle to produce runs.
The Mariners remain in playoff contention and present a formidable challenge to the Cubs this weekend. Scroll down a few inches for an analysis of the starting pitcher breakdowns, the core that drives the Mariners' offense, and some tossed salad and scrambled eggs (a current Seattle reference!).
*early, early, early, early, early
Probable Pitchers
Friday: Jon Lester vs. Hisashi Iwakuma
The scuffling Lester is running into the slugging Mariners at the wrong time. In his last seven starts, batters own a .253 ISO and have mashed 10 home runs against Lester. Of the ten home runs, six have come off his fourseam fastball. It is reminiscent to his stretch in May and June of 2015 when he surrendered a barrage of home runs on fourseamers that missed their spots and stayed up in the zone. As I wrote in his season-ending player profile:
 Looking ahead, his fastball velocity and location will be the key, since he relies so much on his four-seam and cutter (about 70 percent combined usage) to both set up his curve and to put away hitters. His fastballs were dominant in the second half, but in the middle of the season, Lester struggled to hit his spots with the fastballs, resulting in a lot of home runs and forcing David Ross to experiment with setting up further inside to compensate for the control issues. And when Lester struggles with his fastball early, he goes to it with increased frequency, abandoning his offspeed and breaking pitches, and becoming too predictable. No longer capable of consistently hitting 95-96 on the radar gun, Lester's success in 2015 and next season came, and will come, when he hits his spots on the corners, especially early in counts, and keeps the ball down.
While Iwakuma is finishing off a July in which he's held batters to a .619 OPS and 1.09 WHIP, he's a pitcher who is finding little success with his primary pitch (sinker, 25 percent usage rate, down from 35 percent in 2014). Iwakuma's already surrendered 19 extra base hits on his sinker, a career high. He's lost a few miles per hour on the pitch since he came into the league (90 MPH to 88 MPH), but the real issue appears to be location, as he's leaving more sinkers than ever in the strike zone: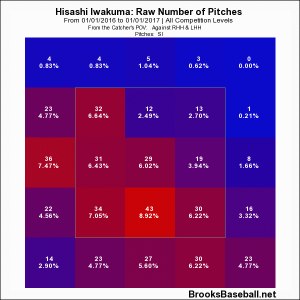 Not surprisingly, Iwakuma is inducing groundballs at a rate more than ten percent below his career average. As Tim McCarver often said, "Catcher's don't catch high sinkers."
Saturday: Jake Arrieta vs. Wade Miley 
Arrieta's struggles since late June have been well documented (in last five starts, 6.14 ERA, 1.42 WHIP, and an average Game Score of 46). While it's his chief secondary pitch (slider) that's been getting hammered in this stretch (.810 slugging percentage), it's  Arrieta's two-strike put away pitch (sinker) that's been betraying him. In 48 regular season starts from the beginning of 2015 through June 26 of this season, with two strikes, batters slugged .123 with no home runs against his sinker. Since June 27, though, they're slugging .476 with two home runs. Arrieta's still putting batters away with the pitch (1o strikeouts), but they're catching up to their share at the moment.
Miley has struggled throughout 2016, positing career worsts in DRA (4.63), FIP (4.98), WHIP (1.42), and ERA (5.23). He is averaging fewer than six innings per start, and has reached the seventh in just three of eighteen outings this season. Despite Miley's ineffectiveness and inefficiency, he has actually presented a challenge to left-handed batters, who have posted below league average number (.250/.296/.420). Miley is primarily a fourseam, sinker, and slider pitcher, and when he gets to two strikes on the Cubs gang of lefties, they should be ready for the slider (35 percent usage with two strikes).
Sunday: Kyle Hendricks vs. Felix Hernandez
While Hendricks will face tough battles with Robinson Cano and Kyle Seager, he's had very good results against left handed batters this season (.231/.305/.300, two home runs allowed). Perhaps what's made Hendricks so effective against lefties is that he has been truly unpredictable against them. In 2016, Hendricks has gone to his fourseam (32 percent), sinker (32 percent), and change (27 percent) in roughly equal measure when facing lefties. He's kept them off balance, so don't be surprised if he follows suit against two of the AL's best in Cano and Seager.
Sadly, after throwing more than 2,200 big league innings before the age of 30 (by comparison, Arrieta had thrown less than 800), Felix Hernandez appears to be entering baseball's winter. He's posting career worsts in DRA, FIP, ERA, WHIP, contact rate, zone contact rate, and finding the strike zone at the lowest rate of his career. Fernandez is struggling to consistently find the strike zone, and when he does, the ball has been hit hard. He's lost nearly five miles per hour off his sinker (his go-to pitch) since his 2010 AL Cy Young season, and batter's are slugging .686 against the pitch. Cubs batters should still be aware of his dynamic change, as hitter's are slugging .243 against the pitch, and it remains his primary two-strike  choice (43 percent usage).
What to Watch for 
The three-headed offensive monster from the Pacific Northwest that is Robinson Cano, Nelson Cruz, and Kyle Seager. Just how crucial are they to Seattle? Together, they have been worth more than 11 wins, according to bWARP. The team's next five best offensive players have been worth five wins.
All three rank top 12 in OPS in the AL. All three have at least a .227 ISO and .315 TAv. All three are on pace for nearly 70 extra base hits. You get the picture… that I'm not-so-subtly bashing off your head repeatedly. Each pose a sizable threat to the Cubs pitching staff this weekend. Seager could pose a specific problem Arrieta, as he is slugging .663 against sinkers from right handed pitchers. Cano continues to wear out right handed pitchers (see Arrieta and Hendricks), hitting .323/.384/.606, including 37 of his 47 extra base hits. Similarly, Cruz is raking against left handed pitcher, hitting .302/.379/.664 this season. We could continue, but you probably get the idea.
Broadcast Channels, Game Times
All start times are Central Standard Time
The series opener is the second-to-last home Friday day game before Labor Day, so get your Redmond's White Russians while they're cold and super sugary. First pitch is scheduled for 1:20 on CSN, as is Saturday's contest. The finale is a primetime affair on ESPN, with first pitch scheduled for 7:00. Enjoy the games!
Lead photo courtesy Charles LeClaire—USA Today Sports.