If there were a time capsule that required an item to explain "Cubs versus Cardinals" for future generations, this one might be placed in there alongside some game where David Eckstein did something scrappy and annoying.
Top Play (WPA): In general, this game was incredibly painful to watch, but in a good way. Is that possible? Tied at three in the bottom of the eleventh inning, Willson Contreras led off with a little floating single to center field and pinch-hitter Jorge Soler hit a little light chopper—a 'Soler Flare', if you will—down the third-base line for an infield single, placing two on with nobody out.
Javier Baez was next up, but Cardinals left-handed reliever Zach Duke struck him out. After Dexter Fowler walked to load the bases, it looked like a perfect time for Cards manager Mike Matheny to bring in right-hander Seth Maness to try and get a double-play ball with Kris Bryant and Anthony Rizzo coming up next. But apparently, Matheny had fallen asleep and Duke stayed in. Bryant struck out, but Rizzo worked a 3-1 count on Duke before taking "ball" four, making this walk-off Cubs win (+.345).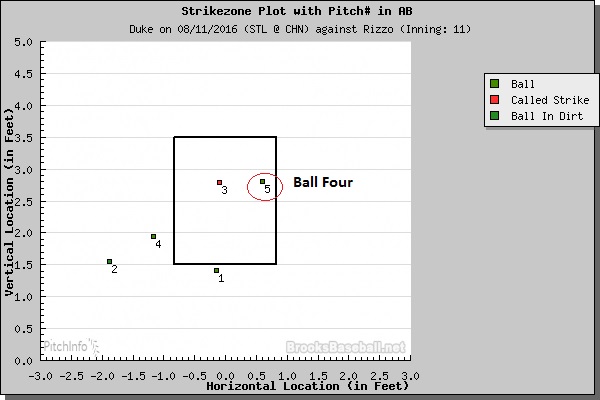 Bottom Play (WPA): The bottom play in the game actually is that Bryant strikeout, which was a pretty pathetic at-bat in a key moment (-.175). Bryant took a strike over the middle of the plate, fouled off a pitch that was outside, and then swung-and-missed at a low breaking pitch. In a situation where the ball simply needs to be put into play, a three-pitch strikeout is a bit of a disappointment from a hitter as intelligent as Bryant.
Key Moment: Mike Montgomery came out for his second inning of work in the top of the eleventh, and his control would be a bit spotty to say the least. He started off the inning by giving up a "Yadi" to Yadier Molina—that's a 99-hopper just out of the reach of two defenders—and then struck out Jhonny Peralta. Monty proceeded to walk Jedd Gyorko, strike out Greg Garcia, and walk Kolten Wong to load the bases for Matt Carpenter. But Montgomery went right after the left-handed hitter, striking him out on a 1-2 pitch to end the threat and get the game to the bottom half of the inning.
Trend to watch: The improvement of the Cubs bullpen has been a tremendous factor for them since the All-Star break, and tonight's game against St. Louis is no different. The Cubs got five innings out of their bullpen tonight and the only blemish was a somewhat cheap solo homer from Randal Grichuk.
In the first half of the season, the Cubs 'pen tossed 253 1/3 innings with 2.37 K/BB and a 3.94 ERA. But the Cubs called up Carl Edwards Jr., traded for Aroldis Chapman, and added other depth players such as Montgomery and Joe Smith. In the second half, they have a 1.94 ERA in 60 1/3 innings, posting a K/BB of 3.45. Losing Pedro Strop to a torn meniscus hurts, but the Cubs have built up the best and deepest bullpen they've had in recent memory.
Coming next: The Cubs (72-41) will continue their four-game series against the Cardinals (60-55) with a 1:20 pm start on Friday afternoon. It's the marquee matchup of the series, with Jake Arrieta (2.59 ERA/3.02 FIP/3.46 DRA) facing off against Adam Wainwright (4.34/3.36/4.57). But those numbers are a bit misleading on Wainwright, who has been quite a bit better since a dismal start to the season—over his last 15 starts, he's thrown 98 innings with a 3.21 ERA. The game will air on ABC7 for in-market, MLB Network out of market, and 670 The Score on the radio.
Lead photo courtesy Kamil Krzaczynski—USA Today Sports