Rob Zastryzny, or 'Rob Z' as he's called by Joe Maddon, made some Cubs history when he was called up to the big league club in mid-August. He's the first of the pitchers drafted under the Theo Epstein regime to make it to the major leagues, and second only to left-hander Gerardo Concepcion when you include international free agents.
When Zastryzny, now 24 years old, was taken in the second round of the 2013 amateur draft, many suggested at the time that it was a reach. 'Big Z' was a low-ceiling type of pitcher, with low-90s velocity and no defined out-pitch. Based on his mediocre 23 starts between two seasons at Double-A, the expectations among outside observers was low when he arrived in Chicago—Zastryzny had a 5.31 ERA with 3.7 BB/9 and 7.0 K/9 in those 23 games.
Mauricio Rubio of 2080 Baseball took a look at Zastryzny with a scouting report in December of 2015, and the conclusion on the Cubs' left-handed pitching prospect was less than exciting:
"Zastryzny's changeup and cutter gives him a chance to pitch major league innings, though the lack of a solid breaking ball paired with overall command issues limits his utility to that of swingman starter."
Indeed, Zastryzny has a curveball to go along with a cutter, changeup, and his four-seam fastball. But something has changed with Zastryzny since Rubio scouted him back in 2015. The cutter has been thought to be the key to his success, should he actually achieve any level of success the big leagues, but that really hasn't been the case so far in his short career. The changeup, which was considered to be potentially his best pitch, has all but disappeared in the big leagues. Zastryzny's early success? It's actually all about that curveball.
He's still throwing his cutter, but as a tertiary pitch. Of the 190 pitches he's thrown, only 27 have been cutters—or about 14 percent of the pitches he's thrown. He's going much more heavily with a fastball-curveball combination out of the bullpen, and it's really worked to his advantage. His curveball, once thought to be a below average pitch, all the sudden is baffling hitters as a top-notch out-pitch.
And that gives us quite a bit to think about. First, the fact that his curve may actually be quite a bit better than was originally expected is kind of fun and exciting, for a prospect that many thought would be held back by not having a quality out-pitch. Second, the fact that he knows it's been good and has been using it effectively with two strikes. John Arguello of Cubs Den saw Zastryzny pitch in the Arizona Fall League last year, and he dropped some nuggets of wisdom about the curveball at that time:
"The change-up is probably his best pitch and it gives him a quality offering vs. offhand hitters, but Zastryzny has also worked on a curve, which will help him change eye level a bit and give LH hitters another pitch to think about.  He can disrupt a hitter's timing and can add a little oomph when he needs it, so he had some big strikeout numbers down here (25.5 percent rate) for the fall league.  He has always had above average control but needs to keep the ball down in the zone to be effective."
It's only been four appearances and 8 1/3 innings, so all caveats about small sample sizes are in play. But he's been wicked with his curveball when compared to his other pitches, with a 29.8 percent whiff rate—which is outstanding. That rate actually jumps to a mind-blowing 44.4 percent with two strikes, as well. It's really early to be throwing words like 'elite' around in any serious way, but that's the word we'd be using if he were able to keep up rates even reasonably close to those kinds of numbers.
Since being called up, Zastryzny has thrown 57 curveballs—the second most of any pitch behind only his four-seam fastball. Batters have swung at 33 of those 57, and whiffed 17 times. Batters are just 3-for-19 with eight strikeouts against Zastryzny's curveball. Check out where he garners the majority of his swings and misses on his bender.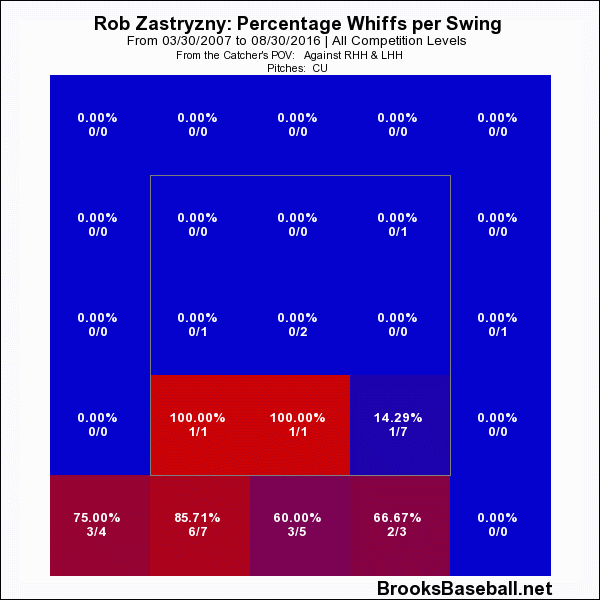 Recalling back to Arguello's comments on how he can be successful with his curveball, he's been keeping it down, in and below the strikezone, and has been effective that way. As the league figures him out, this may change. Batters may start to recognize and spit at the curveball as it falls out of the zone, and make him throw strikes. The fact that his whiff rate on curves that land inside the strikezone is just 14.2 percent is reason for concern, if batters do in fact begin to lay off the low curve. But if that's the case, Zastryzny will have to find a way to adjust.
Who knows whether this kind of success might translate into the starting rotation? Batters aren't exactly fooled by his cutter, whiffing at it just 11.1 percent of the time. He might need to continue his work on that pitch, as well as his recently-banished changeup. But for now, Zastryzny is happy to take everyone by surprise in the Cubs' bullpen. He's not what we expected him to be, but that's a good thing.
Lead photo courtesy Jayne Kamin-Oncea—USA Today Sports.