It's been the kind of season for Jason Heyward that scholars will study for years to come. He's had a miserable time at the plate, beginning with an April slump that seemingly would never end. Still, even through the poor hitting, there was always one thing that people knew they could count on with Heyward as a hitter: with his batting eye, he would still get on base even if the hits weren't falling.
And yet, slowly but surely, he was no longer getting on base—making his weak groundballs to second base that much more frustrating to watch. And while Heyward's hits have begun to fall in lately, the walks still aren't happening. Why? It has a lot to do with something that the Cubs preach that Heyward has unfortunately failed at this season—selective aggression at the plate.
Heyward's walk percentage for his career is 10.5, which fell to 9.2 last year with the Cardinals and now 8.3 this season. After coming back from the All-Star break, Heyward walked once in each of the first two games. Since then, he has just four base-on-balls in 156 plate appearances.
But as we know, the results on the field have been better for the Cubs' right fielder since his short, mandated break while the Cubs were in Colorado. In his last 57 plate appearances, Heyward is hitting .286/.298/.393—including a much more Heyward-like .319 BABIP—with a home run and a three-hit game that included the game-tying single in the ninth inning and the game-winner in the 13th. That slash line may not be pretty, but compared to the rest of the season for Heyward it's downright gorgeous.
But still, no walks. Digging into the numbers, Heyward has generally swung at 30.5 percent of pitches he's seen that are outside the zone. However, that number is up to 33.9 percent this season and 35.6 percent since August 22. This can be where his high contact rates at the plate can kill him a bit. While he's made contact on pitches outside the strike zone at a 68 percent rate in his career, he's currently posting a career high in that category this season at 75.5 percent.
Normally, you'd think contact and say "that's good". But Heyward's contact outside of the zone, by and large, has been weak. People are quick to point out that his groundball percentage of 47.5 not only is lower than his career number, but is also considerably lower than the 57.2 percent it was with the St. Louis Cardinals last season. Via Fangraphs: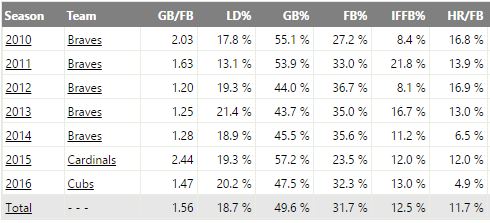 But last season, Heyward was seeing more pitches outside the zone and was laying off them more frequently, too. As a result, when he did hit the ball in play—even when it was on the ground—it was with more solid contact. When he got the ball in the air he really got ahold of it, hitting only 13 home runs but for a 12.0 percent HR/FB rate. That rate is all the way down at 4.9 percent this season, and anyone that's watched the games will tell you that when Heyward does lift the ball in the air it's been a lazy flyball to an outfielder.
For now, fans can be happy with the fact that Heyward has seen more of his little lazy dinks and dunks get into the outfield grass and a couple grounders have scooted past the second baseman. That seems to really be what's fueling his improvement at the plate lately. Unfortunately, there hasn't been a whole lot of change in the process, only the result.
The way that Heyward can change the process, and with it hopefully turn the bad results into good ones, might be to be more selective about the pitches he offers at. This season, Heyward has seen a lot of different kinds of fastballs. The common thought was that pitchers had recognized that he can't catch up to the heat, but in reality it hasn't played out that way. Heyward has hit .291 against four-seam fastballs this year with four of his six home runs.
Another fact is that pitchers have attempted to use the fastball to get ahead of him early in the count. Overall, four-seam fastballs have made up 43.3 percent of the pitches he's seen this season. But specifically narrowed down to only counts with zero strikes, Heyward is seeing half of his pitches coming in the form of a four-seamer—yet again, a pitch he's shown he can actually handle despite his overall struggles in 2016.
The fact that a player can be so talented as to make great contact with the ball—no matter where it's thrown, be it outside or inside the strike zone—is a thing of beauty. But understanding the right time to swing and the right time to take is exceedingly important. For example, Heyward swings at just 23.4 percent of pitches he sees before he gets a strike, despite the fact that he's making contact with 85.3 percent of those no-strike pitches.
Where I'm going is that, just maybe, Heyward should consider swinging a bit more frequently at fastballs early in the count. Of course, as pitchers adjust they may begin throwing more pitches outside the zone to compensate. But then they'll be falling behind in the count, which is not a position that pitchers like to be in. We know there's still a keen batting eye in there with Heyward, as we've seen it when he was with the Atlanta Braves.
So, essentially what we've discovered is that he needs to lay off the bad pitches and focus on the good ones—eureka! It's so simple!
When the Cubs signed Heyward in the offseason, there was a lot of buzz about his youth, the projectability of his power swing, and the immense talent oozing from his bat. Just one year in, and there are probably a lot of people that would be thrilled if he'd just get back to the player he was in Atlanta and St. Louis. He certainly could, because there's no reason to believe that the problems with Heyward at the plate can't be solved, at least in part, by being more selective about the pitches at which he swings.
Lead photo courtesy Patrick Gorski—USA Today Sports.