Top Play (WPA): With two outs in the top of the first inning, Anthony Rizzo stepped to the plate against Wily Peralta, who has served as his punching bag throughout Rizzo's time in Chicago. Anthony was 14-for-28 with five home runs against Peralta coming into the game, and he launched one the opposite way off the pitcher to put the Cubs up 1-0 early (+0.101). Rizzo would hit another home run later in the game, finishing the day 2-for-4 with three RBI. But that wouldn't be quite good enough.
Bottom Play (WPA): On just his second pitch of the game, Jason Hammel would allow the Brewers to erase the slim lead he was given in the top of the first. After a ball to leadoff hitter Jonathan Villar, the Milwaukee shortstop would get around on the next pitch from Hammel–a flat two-seamer–and blast it deep to left field, tying the game at 1-1 (-0.102).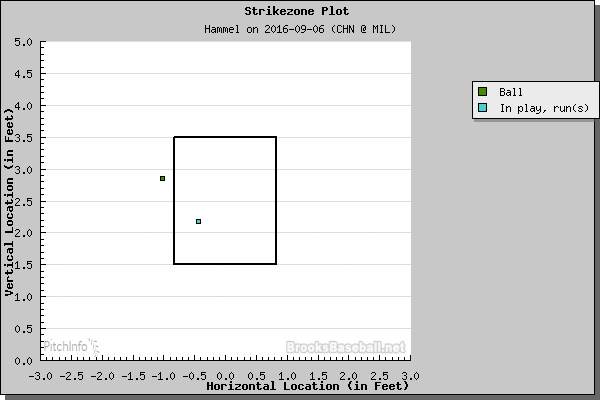 That wouldn't be all for the Brewers in the first inning, not by a long shot. Milwaukee would put five runs on the board, and four of them would come before Hammel could even record the first out. It was not his best outing, as he pitched 5 2/3 innings, allowing eight earned runs on 13 hits and two walks.
I'm not sure if it actually played out this way, and if it did they'd never acknowledge it, but Joe Maddon allowing Hammel to throw 97 pitches in a game where he clearly didn't have his best stuff—and in essence, forcing him to take one for the team—could be the manager's snarky way of tossing it back at his lanky right-hander for publicly complaining about a quick hook just a few weeks ago. At any rate, it did help save the Cubs' bullpen from being overworked.
Key Moment: In the top of the third inning and the score 5-2 in favor of the Brewers, the Cubs put themselves in position to possibly tie the game and knock Peralta out. Hammel led off the inning by flying out to right field, but Dexter Fowler walked ahead of Ben Zobrist, who knocked a single—putting runners on first and second with just one out and Rizzo stepping to the plate.
But Peralta would actually get the best of the Cubs' first baseman in this at-bat, as Rizzo popped up to the shortstop for the second out. Jorge Soler could do no better, grounding into a fielder's choice. Had Rizzo cranked another homer off of Peralta, the result of the game may have been completely different. But in reality, the Cubs dropped this game to Milwaukee by a score of 12-5.
Trend to watch: Catcher and forgotten son Miguel Montero has been a different man at the plate lately. He's struggled somewhat notoriously all season, with an inability to hit, throw out baserunners, or really field his position. The saving grace for Miggy in 2016 has been his ability to catch Jake Arrieta and the help he lends with his excellent framing skills.
But since August 20, the bat has begun to show up. He's only started five games, having pretty much lost his job to Willson Contreras, but he had hit 7-for-16 coming into tonight's game. He was 2-for-4 with a double and a homer against the Brewers, showing signs that he may have some use outside of his framing skills after all. Which is good, because he's another stat: since returning from the disabled list in mid-May, Montero has started 43 games for the Cubs—and they're just 24-19 in those games.
Coming next: The Cubs will wrap their series in Milwaukee against the Brewers tomorrow night at 7:10pm CT, with Mike Montgomery (2.80 ERA/3.74 FIP/3.87 DRA) on the mound against Brewers starter and old friend Matt Garza (4.57/4.46/4.96). Even with John Lackey having returned from the disabled list, the Cubs appear set to use Montgomery as a sixth starter for now—and likely until the regular season is over. The game will air on Comcast SportsNet Chicago and 670 The Score.
Lead photo courtesy Jeff Hanisch—USA Today Sports.