This piece, written by BP Wrigleyville's Henry Druschel, forms part of our in-house coverage of the Cubs in the playoffs, "Second City October". Additional NLDS Game One coverage, written by Rian Watt and originally run on the main site's series "Playoff Prospectus," can be found here.
People will often look for fluctuations in a win probability graph as a marker of excitement in a given game. I say "people," but I include myself in that group, and that kind of game is undoubtedly a certain type of exciting. Games like that might see one team go up early, then the other team fight back, before the lead gets swapped between them a few more times and someone ekes out a victory. They're great! They're not the only kind of great, though. Here's the win expectancy chart of tonight's game, courtesy of FanGraphs: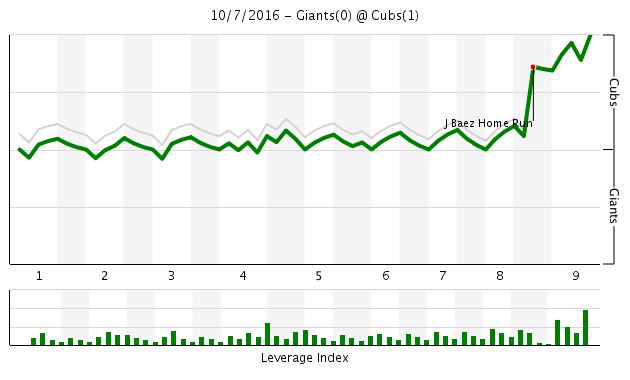 Those first seven-and-a-half innings, by a fluctuation-focused standard, might look boring. They weren't! Johnny Cueto and Jon Lester were both very, very good tonight, and watching them mow down each lineup was simultaneously deeply satisfying and nervewracking. They fought each other to a standstill until the 8th, when Javy Baez, on his third time up against Cueto, ripped a pitch into the left field basket, giving the Cubs the 1-0 lead they would end the game with.
It's not totally clear it was a mistake to leave Johnny Cueto in as long as Bochy did, even as his pitch count climbed above 100. He had been dominant, and as a result of that dominance, he was still on his third time through the order by the 8th inning. Plus, it's not as if the Giants' bullpen inspires a lot of confidence, so even if Cueto had been tiring, or hadn't been at his very best all night long, pulling him would've opened San Francisco up to a different sort of disaster. Let's recognize that, even with Baez's home run, Cueto's line was incredible: eight innings, 10 strikeouts, no walks, three hits, one run. It just wasn't incredible enough to overcome the Cubs.
It's tempting to portray this as a pitcher's duel, but as has been pointed out frequently this week, much of the run prevention credit belongs to the Chicago position players. Lester was very, very good, but Cueto was better, by many measures. Lester also went eight, and also walked zero, but gave up more hits and struck out half as many batters. Of course, he didn't give up any runs, and that's the part that counts, but the point is that the credit for this game belongs with more Cubs than Lester alone. There was a lot of excitement on the basepaths in the first few innings—a caught stealing in the first, a successful David Ross-to-Javy Baez pickoff in the second—but that excitement was only possible because Lester was allowing a baserunner here and there. The Baez home run only gained the Cubs the lead because Lester and the defense had jointly kept the score at zero until that point.
The clearest takeaway from this game, however, is how much will need to go right for the Giants in order for them to win even a single game in this series, never mind a game. Johnny Cueto threw one of the best games of his career against an outstanding offense, and it wasn't good enough. Any strength the Giants have—Cueto, Madison Bumgarner, Buster Posey, Hunter Pence—can be met by strength from the Cubs, and then some. And any weaknesses the Giants can't hide—their bullpen, or their shallow bench, or a shaky #3 starter – will be met with more strength from the Cubs. They need to get lucky, in multiple aspects of the game, just to stand a chance. And after tonight, the Giants will need to do it three times in four games to not drop the series. Don't start celebrating yet, but optimism? Optimism is warranted.
Lead photo courtesy Jerry Lai—USA Today Sports.