We do what we have to do. Pray to a deity, kiss your loved ones, pace back and forth until you wear a divot in the carpet. So let's just get it out of the way: teams that win Game One of any postseason series in Major League Baseball history have won the series 64.1 percent of the time. As the Cubs gear up for their matchup with Johnny Cueto and the San Francisco Giants, it's a strong reminder of how quickly these series can end. It doesn't feel so long ago that the Cubs were heading to Los Angeles to take on the Dodgers, down 0-2 back in 2008.
That's not an indictment of this Cubs team, by the way. They have at least as good a chance of heading to San Francisco leading the series 2-0 as they do trailing in it. If the Cubs do win Game One at Wrigley Field, they'll be in a group with 95 other home teams in major league history that have taken Game One. Among those, 67.4 percent have won the series.
Historically, the Cubs have been to the postseason 17 times prior to this season. They've lost 15 individual series, and three of them were after taking Game One—as recently as having a 2-0 lead on the San Diego Padres in 1984. That '84 team is actually one of just 13 teams in Major League Baseball history to blow a 2-0 series lead, which otherwise has come with a 83.5 percent series win rate.
For what it's worth, the road team that takes Game One has advanced 59.7 percent of the time. But for the Cubs, Game One is more important for reasons beyond historical statistics.
Jon Lester will take the mound for the Cubs, looking to build on what has been an excellent year for the Cubs' ace. The matchup between him and Cueto is probably a coin-flip—both have been tremendous this season. Here's how they stack up against one another.
| | | | | | | |
| --- | --- | --- | --- | --- | --- | --- |
| Player | ERA | FIP | DRA | K/9 | BB/9 | WARP |
| Lester | 2.44 | 3.45 | 3.10 | 8.7 | 2.3 | 5.3 |
| Cueto | 2.79 | 3.00 | 3.54 | 8.1 | 1.8 | 4.6 |
This game is incredibly important to the Cubs—and the Giants—because of the way the pitching lines up in this series. After the first game, Kyle Hendricks takes the ball in game two for the Cubs. The Giants have yet to announce an official starter for the game, but there's a decent chance it's old friend Jeff Samardzija. The matchup in game three is Jake Arrieta versus Madison Bumgarner in San Francisco, and we all have seen and heard the legend of Bumgarner in the postseason.
But to recap: Bumgarner hasn't given up a run in the postseason in his last 23 innings, and in eight starts (nine appearances) going back to the 2012 World Series he has 68 2/3 innings pitched, 34 hits allowed, 10 walks, 59 strikeouts, and a 0.79 ERA. Arrieta is no slouch, and despite his recent struggles he's as capable as anyone of going out and spinning a complete game shutout. But if you realistically allow the Giants the edge in this game, you can start to see why winning the first game is such a big deal.
Going into Game Two down 0-1, and staring down the barrel of Bumgarner in San Francisco in Game Three, puts a lot of pressure on Kyle Hendricks in Game Two. At that point, you're absolutely in "must-win" territory. Last year was Hendricks' first full season in the big leagues, and although he pitched better than the boxscore would show in his first playoff start—which was down 0-1 and on the road in St. Louis—we just can't make any judgements yet on how he might perform.
Samardzija, on the other side of the field, had a 3.81 ERA/3.89 FIP/4.37 DRA this year, which looks very beatable on the surface. But over his last eight starts of the season, he had a 2.49 ERA with 55 strikeouts in 50 2/3 innings. Is that a fluke, or something deeper? It appears to be about a usage change regarding his cutter.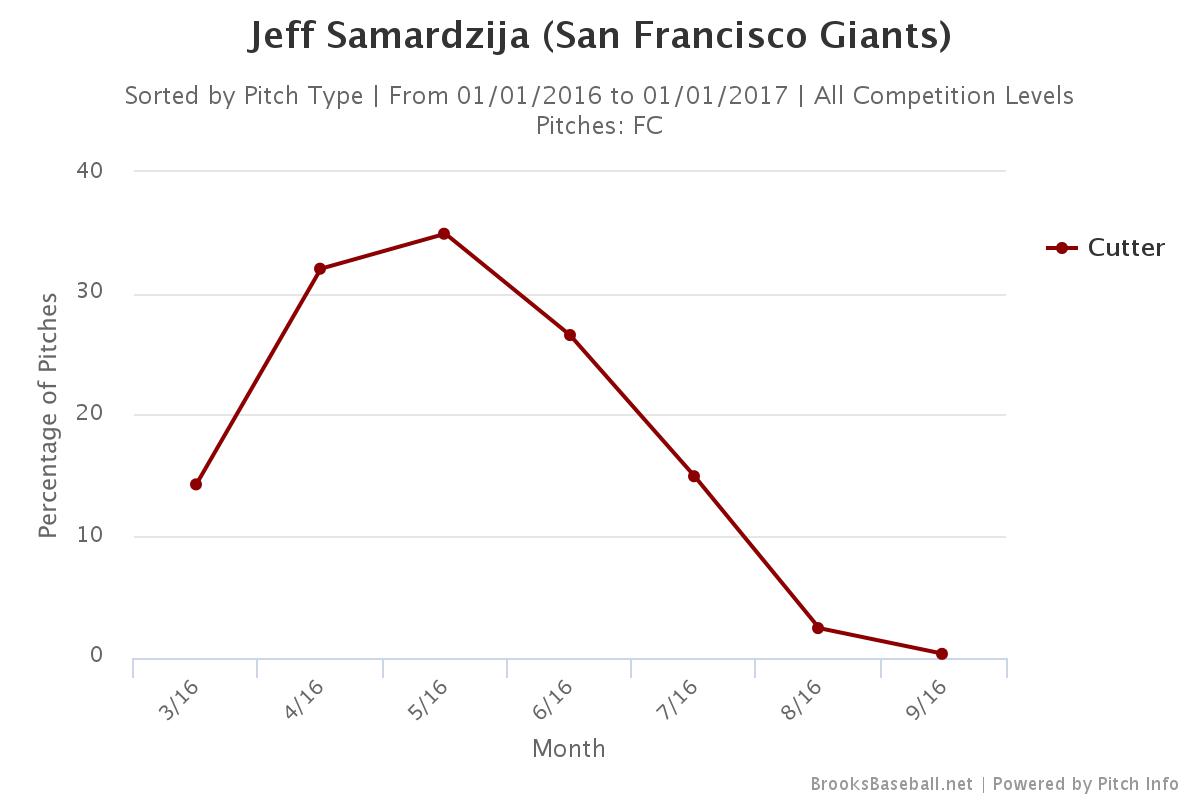 The cutter was his most frequently used pitch this season with two strikes, despite him barely throwing it at all in the final two months. Batters were slugging .448 off of it, which led Samardzija to search for a different out-pitch. That ended up being his four-seam and two-seam fastballs, which he used a combined 158 times with two strikes over the final two months of the season. During that period, batters hit just .184 with a .200 slugging percentage off the combination out-pitch, leading to 31 strikeouts in 65 at-bats.
There are a ton of other factors in each of these games beyond just the starting pitching matchups. The Cubs have a historically great defense, with the best defensive efficiency rating since the 2001 Seattle Mariners. They have a solid offense too, with more than just a handful of hitters that can hurt you. They work pitchers over and force high pitch counts, and that's going to be key for them in this series. The Giants' bullpen blew 30 saves this year, and it seems clear—given Cueto's availability in the wild card game—that manager Bruce Bochy wants to stay away from having to use his 'pen if he can.
But building up a high pitch count on the strike-throwing Cueto will be a challenge for the Cubs. There's no question that Joe Maddon will have this team prepared for whatever may come over the next several days, and if the team executes and plays like they did for the majority of the regular season, we'll be watching a magical playoff run.
If that's going to happen, it'll most likely start with a Game One victory.
Lead photo courtesy Jerry Lai—USA Today Sports.