The Wrigleyville neighborhood has long been known for its restraint and overall calm demeanor on the Friday night of Halloween weekend. So, really, why should we expect any different for Game Three of the World Series?
The Cubs averaged eights run a game during the final three games of the NLCS, and after failing to cash in on opportunities in Game One, the offense returned to form on Wednesday. As Tom Ley of Deadspin noted, the Cubs saw 151 pitches and drew two walks in Game One, but saw 196 pitches and drew eight walks in Game Two. During my NLCS Game Six preview  I remarked that a patient Cubs offense is a more productive Cubs offense. This is what makes the economical Josh Tomlin such an interesting matchup for this patient Cubs lineup. During the regular season, among the league's 74 qualified starting pitchers, Tomlin owned both the sixth lowest pitches per plate appearance (3.6) and pitches per inning (15.0).
For Cleveland, Carlos Santana will move from  DH to left field, getting his first start there since 2012. Keeping his bat in the lineup against Hendricks is a must, as against right handed pitchers during the 2016 regular season and postseason, Santana has hammered fourseam fastballs (.602 slugging percentage), sinkers (.539 slugging percentage), and changes (.490 slugging percentage).
The Cubs have their own outfield drama, as the nightly right field roulette rolls back to the North Side. Jason Heyward has only been effective against fourseam fastball from left-handed pitchers this season, which has been Josh Tomlin's second most frequent pitch to left handed batters during the playoffs. Chris Coghlan and Albert Almora, Jr. have each struggled mightily to handle offspeed and breaking pitches from right handed pitchers all season. At the very least, expect Jason Heyward to be a defensive replacement late, especially if Andrew Miller has come and gone.
When Kyle Hendricks throws his first pitch a few minutes after 7:00 tonight, it will be the first pitch thrown in a World Series game at Wrigley Field since October 10, 1945, when Detroit's Hal Newhouser induced a 6-4-3 double play ball off the bat of Dick Johnson, giving the Tigers a 9-3 win in Game Seven of the World Series. You waited 71 years for that next pitch, so why not kill the last few hours with a breakdown of tonight's matchup?
The Pitching Matchup: Kyle Hendricks vs. Josh Tomlin
In each of Hendricks's three postseason starts, he's gone to his fourseam and change usage significantly above his regular season averages (save for his change usage in Game Two of the NLCS) :
| | | |
| --- | --- | --- |
| | Fourseam Rate | Change Rate |
| NLDS Game 2 | 26.9% | 36.5% |
| NLCS Game 2 | 36.3% | 26.4% |
| NLCS Game 6 | 46.0% | 31.0% |
| Regular Season | 20.7% | 27.1% |
With two strikes, Hendricks's change rate jumps to 50 percent. As the postseason progresses, he is pitching with supreme confidence, unafraid to challenge batters over the plate with his go-to pitches.
Cleveland batters had the league's sixth highest zone swing rate in 2016, so expect them to be aggressive against Hendricks, who has lived in the strike zone early in the count, especially with his fastballs. Below is his first pitch chart from Game Six against the Dodgers: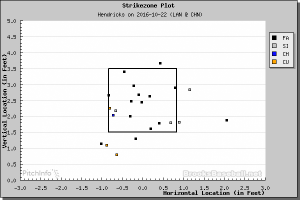 During that Game Six broadcast, John Smoltz marveled at Hendricks's ability to induce weak contact on pitches in the strike zone. That will be key tonight, as Cleveland hitters, on the heels of Wednesday's poor showing and as is their modus operandi, will likely be swinging early against Hendricks.
Josh Tomlin gets the start for the Sons of Lou Brown, and we have seen the lanky right-hander transform his repertoire right before our very eyes this postseason. He relied primarily on his cutter this season, with a 40 percent usage rate (41 percent with two strikes). With right-handed batters (.556 slugging percentage) and left-handed batters (.528 slugging percentage doing roughly equal damage. While Tomlin put up respectable overall numbers (4.14 DRA and 1.19 WHIP) despite the ineffectiveness with his go-to pitch, Tomlin has largely abandoned the pitch in the postseason, going to it just 16 percent of the time in his two starts.
Instead, he's increasingly featured his curve this October, going to it about 40 percent of the time against both left-handed batters and right-handed batters, as well as two-strike counts. Early in counts, right handers have been seeing the sinker and curve, while left handers are getting the fourseam and curve. Tomlin is not a hard-thrower (he lives 87-89), but he does kick it up to 90-91 in two-strike counts.
Despite Tomlin's pitch efficiency mentioned at the top, it's a good bet the Cubs will see that Cleveland bullpen early, as he's averaged fewer than six innings per start this season.
What to Watch for
It goes without saying, but that Cleveland bullpen, man. Andrew Miller did not pitch in Game Three, giving him three days of rest, and making him available for at least 8 2/3 innings on Friday night. Cody Allen will also be on three days rest, meaning Terry Francona can stretch his two most dependable relief arms. Danny Salazar's Game Two emergence could provide Francona with another option in the middle and late innings tonight. Despite not appearing in a game since September 9, Salazar topped 95 MPH with both his fourseam and sinker on Wednesday night. With Zach McAllister and Bryan Shaw scuffling, an effective Salazar would be a huge boost for Cleveland. If he knows he's just throwing 15-20 pitches, Salazar could really cut loose with his fastballs.
If the game is tight entering the middle innings, the appearance of Kyle Schwarber, perhaps the most ballyhooed pinch hitter in baseball history, will become the big story. When will he get an at-bat, and would it come against Miller? In Schwarber's brief career, he's slashed just .143/.213/.268 against left handed pitchers. And against fourseamers and sinkers (the pitches Miller goes to exclusively) from left handed pitchers, Schwarber is slugging .313 and .231, respectively. It will be fascinating to see how Joe Maddon deploys his best hitter off the bench, especially if Miller is clogging up the fifth through seventh innings. Right now, Schwarber and Miller are almost mythical figures, and seeing them collide tonight would be as must-watch as sports can get.
The Cubs should have their full complement of relievers. While Mike Montgomery tossed 40 pitches in Game Two, twice during the regular season he threw at least that many pitches and came back two days later.
The stage is set. The tension will be unbearable. Enjoy the game!
Lead photo courtesy David Banks—USA Today Sports.