Aroldis Chapman's time as a member of the New York Yankees will likely not be what's remembered about his 2016 season. His chief highlight from his tenure in the Bronx was the 105.1 mph fastball he chucked in July, just a few weeks before coming to the Friendly Confines. But for as remarkable as that is, this past season was really about the final months, or more accurately, the final weeks of his season. Fair or not, his 2016 will always be about his postseason performance that was both essential to the Cubs winning it all and a spark for some criticism of Joe Maddon's in-game managing and bullpen use. Let's zero in on his final pitches as a member of the Cubs: the game-tying home run to Rajai Davis followed by the lockdown of Cleveland in the 9th inning, which allowed the game to go to the crucial rain delay, and, eventually, the decisive tenth inning. There's probably the best look at what Chapman as a member of the Cubs was all about: messy, complicated, but essential. For all of the oft circled issues of his life off of the field, the Cubs don't win the World Series without him.
But that doesn't mean that they can't, or won't, win another one sans Chapman. I had the unexpected and unplanned privilege to watch him drive away from Wrigley Field for the last time as a player for the home team. This happened on the day after the Word Series victory parade, when I trekked from suburbia with some friends to Wrigleyville to take in all that was going on. While observing and partaking in writing on the outside walls of the stadium in chalk, we spotted a crowd near the players' entrance. A few minutes' wait showed us that some of them had been coming and going during the course of the day to clean out their lockers. The car we saw being loaded at that time, by pure happenstance, turned out to be Chapman's. So we watched him pack the last of his things and drive away, but not before one of the guys I was with got this picture: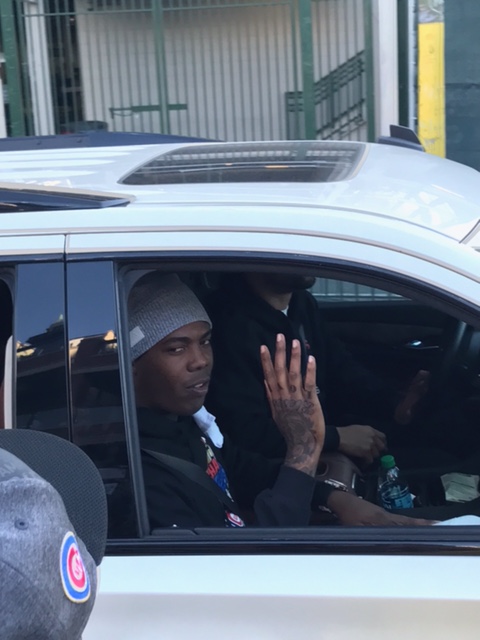 Probably his last moment with any real sort of association with the team, and while it's difficult to tell from one look just how he feels about that, I don't think it too speculative to assume that there might be a bit of sorrow. However much money he's going to make on his next contract, he will never be able to replicate the experience of being a member of the Cubs in 2016 and serving as such a vital cog to a World Series championship.
But maybe I'm granting him too much. Free agency moves quickly, and rumors have already circulated that New York wants him back.
And that's fine. Chapman has served his purpose for Chicago.
Position: Closer
2016 Stats: 59 G, 58 IP, 36 saves, 90 K, .259 oppTAv, 1.42 FIP, 1.55 ERA, 2.04 DRA
How He Fits: 
However the closer position is filled by the Cubs in 2017, they are easily among the teams best-suited to fill that spot from within. Though they've been loosely linked to Kenley Jansen already (covered here previously by Ken Schultz), there are viable options in-house.
However, there are question marks hanging over the Cubs closer for much of last year, Hector Rondon. It's possible he was rushed back from a September injury in order to be available for the playoffs, but in any case, he didn't pitch particularly well in the postseason, even with sparse use. Rondon was at his best in the World Series, but even then he threw just 2.1 innings and was not used after Game Four. Maddon's heavy use of Chapman in the final three games might tell us all we need to know about how much he felt like he could trust the arms of Rondon and Pedro Strop—at least at the time.
There's a possibility, then, albeit small, that the Cubs might decide to bring Chapman back and make full use of a back-end of the bullpen that would consist of Strop, Rondon, and Chapman. Oh, and with some Carl Edwards, Jr. sprinkled in for good measure. For a team that's looking not just to rest on the laurels of a monumentally successful 2016 season, I can see some justification for re-signing Aroldis Chapman.
Why It Won't Work:
The reasons here are pretty simple, and they generally boil down to one thing: the price tag. Chapman has reportedly made known that he'd like somewhere in the neighborhood of $100 million on a 5-6 year deal. Even at three-fourths the price, that's a weighty proposition for any team. To be fair, Chapman has probably earned it, but that doesn't mean the Cubs should be the team writing those checks.
There's also the aforementioned reality that the Cubs organization has more-than-capable replacements on hand already. True, there might have been some concerns regarding Rondon's performance in the playoffs, but again, under different circumstances, he probably still would have been shelved at that time. Given the offseason to rest and spring training to limber up again, there's no real reason to think Rondon won't return to form. Aside from Rondon, Strop and Edwards are both viable options if the Cubs don't add anyone to the bullpen with the ninth inning in mind.
And then there's the pesky problem of Chapman's velocity—it dropped pretty steadily in the waning months of the 2016 season: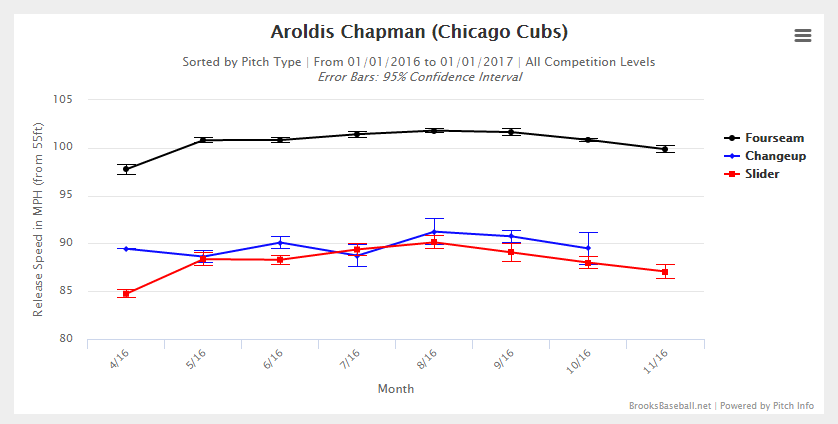 And this isn't a trend that's been consistent in his career, either. Maybe not a red flag as he was still awfully effective, but at least a yellowish one. Even without a hint of a potential concern here, there's reason enough to just let Chapman walk.
Alternatives:
When it comes to realistic closer options, it's not a long list. It boils down to Kenley Jansen, or in-house players like Hector Rondon or Carl Edwards, Jr. The Cubs could also shore up the bullpen with additions like Brad Ziegler, Mark Melancon, or even Greg Holland.
Lead photo courtesy of Tommy Gilligan—USA Today Sports