Position: Catcher and left field, somehow.
2016 Stats: .282/.357/.499, .302 TAv, 2.4 WARP in 283 plate appearances
Year in Review: What did the Cubs do to deserve Willson Contreras? Here is the prospect that nobody saw coming, who wasn't included in the 2013/2014 fantasy lineup that every Cubs fan was explicitly or implicitly putting together in his or her head. And yet, here they are with a 24-year-old rising star at catcher, full of an exhilarating mix of youthful exuberance, baseball instincts, and intelligence.
Contreras arrived not a moment too soon. The catching position, which looked full-up coming into the season, was struggling in May and June, with injuries to Miguel Montero and Kyle Schwarber necessitating the overuse of David Ross and the general use of Tim Federowicz. During this time, Contreras was in Triple-A, following up his breakout 2015 season with a staggering .353/.442/.593 slash line (.378 TAv!) through 240 plate appearances. When he stepped in against the Pirates on June 20th and deposited the first pitch he saw into the right field bleachers, you could almost hear the last piece of the puzzle clicking into place.
This season was promising in many ways for Contreras, but perhaps most noteworthy was his uncanny ability to make adjustments. He has already proved this many times over—as recently as three years ago, remember, he was a middling third base prospect—but this year he did it on the fly at the major league level. The most glaring example is that, about one-third of the time, Contreras was forced to play left field—a position he had never played before this year at any professional level. And he did it pretty well! He finished the year 1.7 Fielding Runs Above Average, just around league average, and much better than anyone worried about his pitch framing (or given the fact that he was playing left field!) would have thought going in. He actually rated out as a slightly above-average pitch framer (4.5 framing runs saved), and he also showed he could control the running game as well, saving 0.7 runs on the basepaths.
He made another significant adjustment during his first month in the league. He started out very hot, but with a strikeout rate much higher than it ever had been in the minors. The sample size is small, so swings are exaggerated, but look what he was able to do about a month into the season (graph via FanGraphs):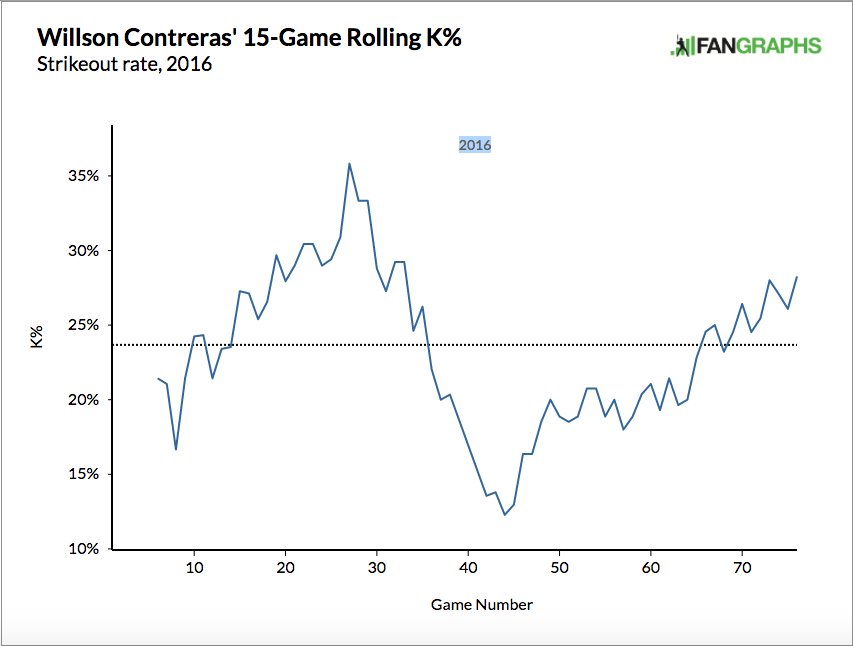 Over the course of 20 games, he dropped his 15-game rolling strikeout rate from 36 to 12 percent, which is likely to stem from a concerted effort to adjust. This is a swing that can only be accomplished in a short sample, but it's clear that the approach changed into something much more sustainable about a month in. He still has some work to do here, but he has shown that he is able to keep improving, and there's no reason for us to think he'll stop now.
In 2016, Contreras established himself (along with Gary Sanchez) as one of the most dynamic young catchers in the game. His incredible ascendance from a fringe prospect to a core member of this Cubs team culminated in a World Series title—and that was only in year one.
Looking Ahead: For somebody still relatively new to relevance, there are many reasons to trust that Contreras will continue to be an important and excellent part of this Cubs team going forward. He hasn't really slumped for an extended period of time in the last two years—be it in Double-A, the Arizona Fall League, Triple-A, or in Chicago. Here are my only remaining questions:
Will he continue his defensive development behind the plate? It seems clear that Contreras will hit well for a catcher, but the biggest area where he can still improve is his pitch framing. Catchers don't usually tend to improve this skill much once they are in the league, but Contreras has repeatedly improved skills that most players don't. He has Miguel Montero's (one of the league's best framers) guidance, and he already seems to have gotten better over the last season. If he can become better than average at this skill while maintaining his offensive output, he could very suddenly be pushing into the conversation for best catchers in baseball.
What is the Cubs catching situation going to look like going forward? A month into the offseason, it still isn't clear what the Cubs plan behind the plate will be going forward. The Cubs and Kyle Schwarber have both indicated that he will still try to catch, and there would be an incredible value in that if he is able to do it. Montero is still on the team, and still very good in certain important facets. Either one could viably form a platoon with Contreras, if they are healthy and able. But it's also hard to imagine Contreras getting only half or so of the playing time behind the plate, and such a situation could lead to slower developement. He could continue to play left field on off-nights, but so could Schwarber, and defensively that might make more sense. The Cubs could also trade Montero (there have been rumors), make Schwarber a primary left fielder, and let Contreras become the clear number one. Balancing player development with the needs of the team is something the front office can be trusted to handle, and it is a result of the incredible depth of the Cubs roster, but it is an open question nevertheless.
Willson Contreras exists as an excellent reminder that even the best-run organizations also need some happy bits of luck to make it all the way. Contreras' unlikely success is a testament to the organizational structure that the Cubs put in place, and the Cubs' success is largely a testament to the hard work and adjustments that players like Contreras were able to put in to make the team better. Nearly all the open questions that remain around Contreras's career are happy ones, and now we're just along for the ride.
Lead photo courtesy Tommy Gilligan—USA Today Sports