Position: Third base…or wherever
2016 Stats: .292/.385/.554, .350 TAv, 9.1 WARP
Year in Review:
Kris Bryant has made a habit of landing on short lists. So short, in fact, they only include his name. He did it on June 27 in Cincinnati, becoming the first player in history to hit three home runs and two doubles in a single game. He did it again when his National League MVP award capped an unprecedented streak of earning baseball's top amateur and professional honors in four consecutive years. This season he became the only Cub to ever amass at least thirty home runs and 100 runs scored before age twenty-five. The incredible factoids go on and on.
Some lists bearing his name are a bit longer, but the company makes them equally special:
Players who homered in the All-Star Game, won the World Series, and named MVP in the same season
1936 Lou Gehrig
1939 Joe DiMaggio
1956 Mickey Mantle
1964 Ken Boyer
2016 Kris Bryant
For fun, let's add, 'and played more than one defensive position,' to the above criteria. Just like that, the list is down to one again. This year Kris Bryant played a mind-boggling six defensive positions for the Cubs while tallying the highest WARP in the majors. Most valuable, indeed.
By the numbers, Bryant's 2016 revealed remarkable across-the-board improvements over his already impressive Rookie of the Year campaign. He racked thirty-nine percent more runs, while home runs swelled by half. He complemented a twenty-two percent rise in total bases with a twenty-three percent drop in strikeouts. Walks held pretty steady. And, though not a significant increase, his RBI column expanded to accommodate a highly satisfying third digit.
Bryant stayed healthy, achieved all he set out to do last spring, and won a ring to boot. While reflecting on his team and individual accomplishments this season, he reportedly joked, "It's all downhill from here." A run like his does seem overdue for a thorough smiting by the baseball gods. No one can keep this up, right? Well, if anyone can…
There was a priceless moment during the Cubs' NLCS victory celebration when Kris Bryant had his turn with the FS1 postgame crew. With some extraneous nonsense omitted, it went like this:
Pete Rose: "You were Rookie of the Year and probably going to be MVP this year. You're setting the bar awful high, buddy. And you'll probably keep up with it because you're such a good player, such a good talent, and you fit right in the middle of that lineup perfectly."
Alex Rodriguez: "Is there a question in there, Pete?"
Kevin Burkhardt: "Kris, you can join us for our next segment. It's called, 'Pete Rose Reads You a Story.'"
Kris Bryant: [Insert killer smile] "It's a pretty good story."
Behind that grin was the self-assured knowledge that everything in his background, approach, and makeup points to the story coming true. Bryant's 2016 performance review reveals plenty about what makes him great — and a bit about what makes him tick. Downhill seems a decidedly unlikely direction.
Back in July, I wrote about the remarkable offensive consistency Bryant had maintained through the first half of the season, effectively avoiding the streaks and slumps that characterized his rookie year. He credited the improved results with offseason swing tinkering, a contact-oriented approach that covers more of the plate, and his ability to pull the ball in response to a heavier dose of inside pitches.
Timely adjustment whenever production slips has been a hallmark of his successful career to date, and 2016 was no different. Yet Bryant deviated from this steady-as-she-goes pattern as the summer heated up: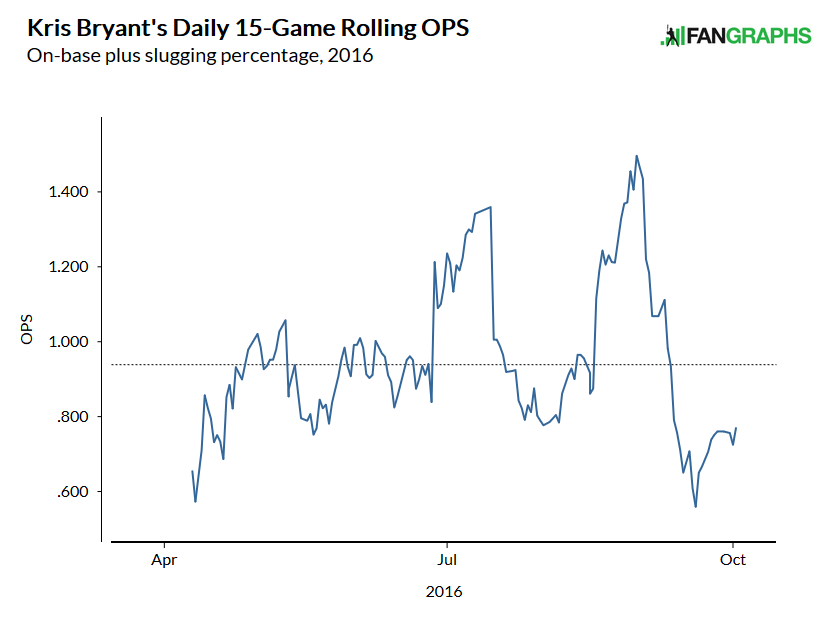 While his first-half OPS hovered rather neatly around the season average reference line, Bryant went on two absolute tears in July and August. Those spikes represent more than his open-and-shut case for 2016 MVP. They remind that Bryant is, amazingly, still developing at just twenty-four years old. Mr. Consistency should already be frightening enough to the rest of the league. Combine him with regular appearances by this locked-in Kris Bryant cyborg, and the potential impact is simply devastating.
It wasn't a perfect end to the regular season. The graph also reveals a significant September downturn for the otherwise slump-resistant slugger. Bryant's line for the final month was an anemic .218/.288/.376. Cushioned by the memories of his recent fire at the plate and the Cubs' early division clinch, the skid largely flew under the radar. It didn't matter if his team won those games. The fortunate scheduling of his cool down may have allowed Bryant to avoid public scrutiny, but his greatest critic certainly took notice. True to form, Bryant corrected and bounced back with impeccable timing, slashing .308/.400/.523 during the Cubs' postseason for the ages.
This ability to keep finding ways to produce as the season (and opposing pitching) evolves goes beyond sheer talent. By all accounts, even as the accolades pile up, Kris Bryant is never satisfied. Personal milestones matter. In 2015, Bryant's RBI total stalled at ninety-nine with six games remaining. A surprising playoff berth and Rookie of the Year honors could not fully erase the needling disappointment. This year, number ninety-nine was followed by a three-game series against the Cardinals without a run batted in. The déjà vu was enough for Bryant to offer all the cash in his wallet to whomever helped him get over the hump.
His lucky charm turned out to be Chris Coghlan, who scored the century mark (along for the ride on a two-run Bryant dinger). Coghlan wouldn't take the money, but gave a pretty revealing interview about his star teammate's motivations. When asked if achieving RBI number 100 with his thirty-ninth home run meant that forty was Bryant's new goal, Coghlan didn't hold back:
"That's how the world works…that's on his list, to knock that off. Trust me, this guy wants to win the MVP, too. I think he's going to win the MVP. But that's how the world works: OK, now it's 40 (homers). But if he hits like three in the next five games, (what about) 45? That's just the way it is…KB is very goal-driven — that's what makes him successful. He has the highest expectations. What I joke with him about is (that) even when you accomplish what you want, there's always something next that presents itself…I try to tell him a lot — just enjoy it. I try to get him to laugh and smile because he doesn't laugh that much. He doesn't smile all the time. He'll smile for a game-winner, but a regular one, it's just, 'Oh, you know, no big deal.'"
Bryant ultimately needed the postseason to surpass forty home runs for 2016, tacking on three in October, but there's always next year for the all-business MVP with a complacency allergy. Perhaps the most intriguing feature of Bryant's personality is his apparent drive to constantly push forward in the wake of excellence. Where some may see a limit, he seems to find a threshold.
After he made the little joke about his early career crescendo being untenable, Bryant promised in sincerity, "I'll continue to work harder than I have ever before to sustain that." Kris Bryant's hard work has never disappointed. Which means, of course, that number seventeen in '17 could be even more dominant.
Looking Ahead:
No matter what the offseason has in store from a lineup perspective, Bryant expects to be batting from a sweet spot between lefties high in the order. It almost isn't fair. As Coghlan sagely foretold, new hitting goals will present themselves in place of this year's accomplishments. Bryant will likely have an eye on .300 for the season (where his average sat this year as late as September 9 before falling off the last few weeks). Building on his positive gains in the walks to strikeouts ratio will also be a target. But, in general, the approach at the plate should be business as usual.
Look for Bryant to continue his development everywhere else, testing more arms with the aggressive base running and eyebrow-raising speed on display in Game Seven and continuing to impress defensively wherever Joe Maddon needs him. Bryant has been vocal about his team-first outlook and feelings on versatility, and becoming an all-around exceptional player seems to be top priority. The attitude is not only refreshing coming from a superstar, it's so very Cub:
"It started back when I was ten years old, moving all over the field. Being the coach's kid, you can't really just play shortstop and bat third every game, so you've got to move all over. I embrace it. I don't want to be the player that just says, 'I only want to play third base.' I want to be able to play, help the team wherever it is. You see the talent that we have. Javy has to play second base sometimes, and Zobrist, and J-Hey, and everybody. It's just something that I take to heart and really embrace it."
For Kris Bryant, being acknowledged as the best in his field is status quo. It has never changed his determination or his approach to the game. If anything about this year affected his motivation in a new way, it may have been recording that final out on November 2. Afterwards he gushed, "I've never won an award as a team. I've always been able to do it individually, but this trumps everything. I'm out here crying, I'm so happy." He definitely smiled after that one, and it seems he's hungry for more.
Can Bryant keep this up? The bar is undoubtedly high, but Pete Rose thinks: "probably." From the man who knows a thing or two about hitting and longevity, I'm going with: safest bet he ever made.
Lead photo courtesy of Dennis Wierzbicki—USA Today Sports