Sixteen weeks have passed since the Cubs won the World Series, and for many Cubs fans, it felt like sixteen years. Baseball, in its tepid early-spring training form, is back. Even if the weather is not spring-like in most of the U.S., Spring Training games always remind me of A. Bartlett Giamatti's The Green Fields of the Mind:
"It breaks your heart. It is designed to break your heart. The game begins in the spring, when everything else begins again, and it blossoms in the summer, filling the afternoons and evenings, and then as soon as the chill rains come, it stops and leaves you to face the fall alone."
For one team's fans, however, the Fall rains aren't so cold, nor the afternoons and evenings so empty. Having won the World Series, they skip the heartbreak for a year and face fall together like a group of climbers atop a newly-summited peak. In 2016, that privilege belonged to Cub fans, and they are clearly still drunk on World Series bliss.
I attended the Spring Training games on Saturday and Sunday in person, as well as the pre-game workouts on Sunday, arriving at 8:30 am on Sunday expecting to see only @CubsDen. Instead, I found over 100 fans of all ages, shapes, and sizes gawking through a fence, around some frumpy beat writers, through another fence, and around several pitching/batting practice screens, all just to see the players stretch and do some pseudo-serious jogging. As more fans packed the Sloan Park facility grounds, it reminded me of the World Series parade. The mere sight of assistant coaches, obscure front office personnel, not to mention Joe Maddon or any recognizable player, prompted cheers.
So the pleasure is clearly exceeding the pressure for Cubs nation.
And the players are vibing on the same frequency. It's not quantifiable, but felt: the players are having a ball right along with the fans. Infield drills brimmed with cheers and cat-calls of equal enthusiasm and volume for every good snag, dropped ball, nifty turn, or slip-up. Nothing was forced or phony. Maybe I'm naïve to think that players, notwithstanding their vacations ending and returning to their jobs, are happy to toss the ball around the diamond with their teammates again.
Putting in Work
1. Outfielders: The Cubs' MLB and advanced minor league outfielders worked on catching balls hit over either shoulder, with the added twist of not using their gloves, but still catching the ball with their non-throwing hand. Heyward looks like he joined this practice from some other, higher, interstellar league where all the players look like NBA power forwards. He's the tallest, smoothest, and one of the fastest.
2. Kyle Schwarber bunting? The biggest skeuomorph of MLB batting practice has to be having power hitters starting their BP session with sacrifice bunts. I saw Willson Contreras, Addy Russell, and even Kris Bryant start their sessions thusly without thinking too much about it. When Schwarber squared around, however, I heard a mental record scratch.
Has a manager in the Cubs system EVER asked Schwarber to lay down a sac bunt in a game? Surprisingly, the answer is yes. Schwarber executed 2 sac bunts in the minors, both with the Cubs' AA-Affiliate Tennessee Smokies in 2015. I can only assume that's why then-manager Buddy Bailey was "demoted" to managing the Cubs' Advanced-A Myrtle Beach Pelicans last year.
3. Javy Baez staying up the middle: As observers have noted, pitch selection is one of the keys to Baez maximizing his offensive potential. He simply swings at too many bad pitches. Another key? Not trying to hit the ball to TRAPPIST-1d every time he gets a pitch to hit. In the Cleveland spring training game Baez kept his interstellar ambitions in check: driving a near-bomb out to right-center in his first at-bat and smoking a single up the middle in the fifth inning. Whether he can maintain the "up the middle" approach during the regular season and playoffs remains to be seen, but so far, so good.
4. Prospects get off the schnied: All of Jeimer Candelario, Ian Happ, and Eloy Jimenez collected their first hits of the spring this weekend. Charcer Burks, however, put on the flashiest debut from the Cubs' prospects in camp with a diving catch and a go-ahead dong in the A's game. Burks won a minor league gold glove in 2016, so his defensive game is sharp. As BP Wrigleyville colleague Todd Johnson wrote, this could be the year he breaks out. If his offense comes around, he could develop into another interesting prospect/trade chip for Epstoyer.
5. Heyward's Swing: I moved around the ballpark on Sunday and got a few good looks at Heyward's swing in his final at-bat. Here they are for professional and amateur analysis: note that the third resulted in a foul ball that almost hit me thus the flinch:
Camp Happenings:
1. Hybrid 6-man rotation? We all strive to vibrate on Joe Maddon's frequency. Most recently, the Cubs manager suggested that both Mike Montgomery and Brett Anderson will have to vibrate between the bullpen and starting rotation this season.
It will be interesting to see whether Montgomery or Anderson gets first the first shot at the fifth starter spot. My guess is Anderson has it pretty much sewn up based on the following 2017 spring training stat: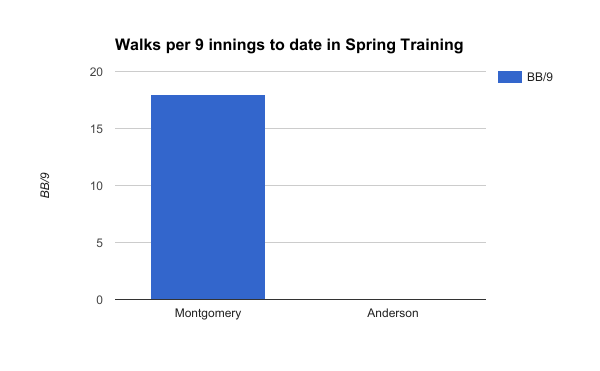 Kidding, obviously, as they both threw just one inning. My real actual best guess? Montgomery starts in the 'pen to help a lefty-light group while Anderson gets first shot to hold down the fifth starter role. If Maddon wants to accomplish his stated goal of reducing the starters' workload, opportunities for Montgomery will arise even if everyone remains healthy.
2. The Cubs' Jester-in-Chief: Head athletic trainer Tim Buss made quite an appearance during Sunday's batting practice. Halfway through the morning BP session, Buss strolled out of the 3rd base sporting a big grin and made his way to shallow left field, ostensibly to help shag fly balls. As Buss walked, Willson Contreras hit a two-hopper a foot or two behind him. Without a care in the world, Buss threw his glove at the ball, missed, and cackled with delight. Reaching a place on the field where few players hit balls during BP, Buss proceeded to talk sh*t to at all of the pitchers and minor leaguers shagging flies, as well as the regulars getting in their hacks. Recording zero balls shagged but with the players sufficiently razzed, Buss considered his job well done and sauntered back toward the third base dugout to whatever hijinks awaited him out of public view. His total time on the field? Maybe four minutes.
Game Results:
February 25 (SS*): Cubs 4, Athletics 3
February 25 (SS*): Giants 8, Cubs 6
February 26 (SK**): Cubs 1, Indians 1
February 27 (SK**): Cubs 4, White Sox 4
*Split Squad
**Sister Kissed
Lead photo courtesy Matt Kartozian—USA Today Sports