What You Need To Know: We're going to have a lot of discussion over what submission move to name the Cubs' offense after (or at least us wrestling dorks will). Coquina Clutch? Hell's Gate? Figure Four? Sharp-shooter? The Cubs ground Zach Davies into a fine paste in the first inning, as Schwarber and Bryant singled on full-count pitches, Zobrist walked, and then Russell doubled the first two home. There wasn't really any looking back because Jake Arrieta was in this form: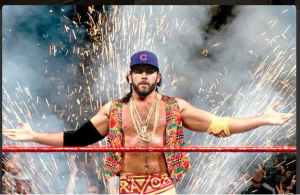 Jake Arrieta is gonna carve you up, Chico. 
Next Level: For the second straight game, Arrieta featured his curve far more often than we've seen as a Cub. It was nearly a quarter of his pitches in his season debut, and we saw that trend again today. Arrieta's velocity still wasn't quite we've seen it in the past (just 91 mph on average), but the yin and yang of the curve offering up a true off-speed option might mean it doesn't need to be. Arrieta's only mistake was getting a little too cute with Eric Thames in the third with two outs, walking him to put two runners on in front of Braun. Braun then basically sat on a curve like it was a post-Indian buffet dinner, making this one closer than it needed to be. After setting up hitters through the first few innings with his curve, Arrieta was free to label fastballs by them for the last three innings, where he racked up five straight Ks.
Also of note is just how hard Jason Heyward was hitting the ball today. He was unlucky to not go 5-for-5, with both Braun and Broxton making great plays to deny him extra-base hits. His exit velocities on his contact today were 96.3, 99.8, 100.5, 96.8, 99.5.
Mmm yes, I'll have some of that thanks. Side of green salsa with it.
Top WPA Play: Russell's double in the first, which gave the Cubs a lead they wouldn't ever really be in threat of losing. (+.154)
Bottom WPA Play: That curveball that was really more of a faint suggestion of a curve to Braun, which he then assaulted the batters' eye with. (-.177)
Lead photo courtesy Benny Sieu—USA Today Sports