Not to pump the brakes on Kris Bryant, but it was a little bit annoying that he followed up his 2016 MVP season by starting the 2017 season 0-for-15 with six strikeouts. File that sentence away under the whiny fan category who can't even bask in the glory of a franchise's first championship in generations for even the first week of the next season. I suppose that speaks to the absurd standards that Bryant has set for himself and that Cub fans have held him to.
Everyone (projections systems, local and national columnists, bloggers, etc.) looked at the Cubs roster this year, saw the talent, and assumed the growth of their young players would continue on a linear path upward leading to another deep playoff run. When all is said and done that will probably still happen, but it certainly has not been smooth sailing for the Cubs through the first half month of the season, especially at the plate. Prior to the start of Monday night's game against the Brewers, the Cubs ranked twentieth in major league baseball in average runs per game, and twenty-eighth in home runs. Obviously standard small sample size warnings apply here, all of this could change after a couple of blowout wins. It's fascinating (in a baseball sense, definitely not in a Cub fan sense) how Bryant's performance so far during this young season has been emblematic of the performance of Cubs offense overall: at times effective, but for the most part underwhelming.
As I mentioned previously Kris Bryant's performance during 2017 is underwhelming in part because of his meteoric rise; from his stellar rookie season to becoming a playoff hero. Bryant has rarely failed at the major league level for any length of time. Bryant's 2015 slash line of .275/.369/.488 with an OPS + of 135 was followed up by an even better line in 2016 of .282/.385/.554 with an OPS+ of 150. Through nearly sixty plate appearances so far in 2017 Bryant's slash line reads .229/.351/.438 with an OPS+ of 117. Like an NBA guard who can get to the free throw line, Bryant will likely remain an above average hitter throughout his big league career because even when his power flickers on and off; his keen understanding of the strike zone allows him to have a steady walk rate that will buoy his on-base percentage.
That's been the case for Bryant so far in 2017; his walk rate and strikeout rate have been consistent thus far with his 2016 performance, but the slugging just hasn't shown up yet. And this isn't just a case of BABIP luck, the consistent hard contact that we've grown accustomed to seeing from Kris Bryant has not appeared yet in 2017. Prior to the 2017 season Bryant hit a home run roughly every eighteen at bats (17.9), for comparisons sake that figure lies between Mike Trout (17.8) and Larry Walker's career marks (18.0). In 2017 it took Bryant forty eight at bats to hit his first home run (and three at bats to hit his second). So has Bryant finally broken out in 2017? The answer might lie with what happens on the first pitch.
Below are first strike zone plots for Kris Bryant over the past two seasons (2015 on left, 2016 on right). As you can see there was a concerted effort after Bryant's excellent rookie season to start off the right handed slugger on the inside edge of the plate. You can see the logic behind it: try to jam him before he can get his arms extended.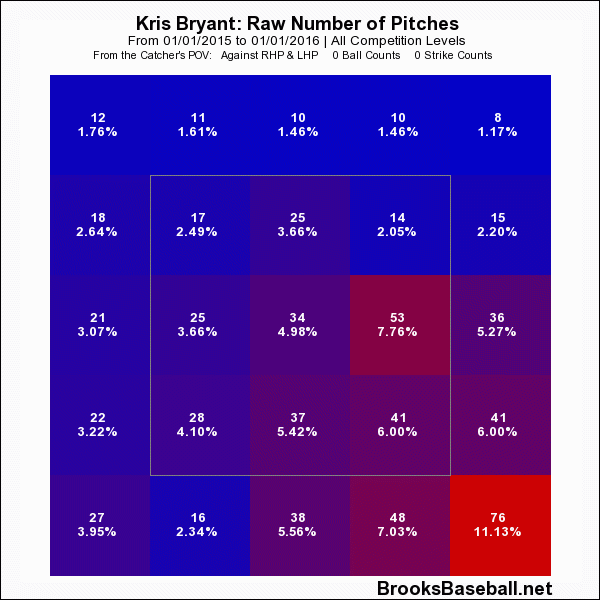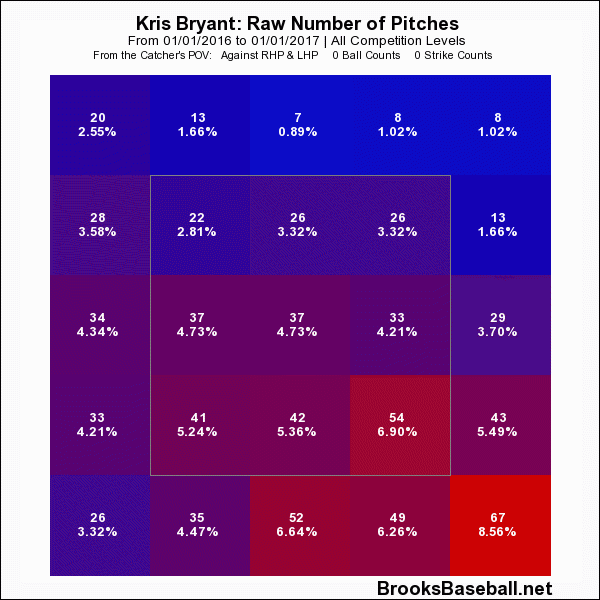 Unfortunately, it's not easy to pitch inside, as there's a small window between hitting Bryant and leaving the pitch out over the plate to be crushed. Adding to that is Bryant's advanced understanding of the strike zone; he's not going to get himself out, and certainly not on a pitcher's pitch that might graze the inside edge of the plate. Below I've broken out the percentage of plate appearances during 2015 and 2016 in which Bryant either put the first pitch in play, took the first pitch for a strike, or took the first pitch for a ball.
| | | |
| --- | --- | --- |
| | 2015 | 2016 |
| First Pitch in Play | 11.8% | 11.8% |
| Started Ahead – Ball One | 38.8% | 39.3% |
| Started Behind – Strike One | 49.4% | 48.8% |
Bryant initially found himself ahead in the count more often during the 2016 season. Now you might think that this isn't a big deal—after all, it was only a 0.5 percent increase. But by getting ahead in the count Bryant initiates a cascade of thoughts in a pitcher's mind, mainly that they have to throw a strike on the next pitch because they can't afford to get behind Kris Bryant 2-0. For most pitchers. that will lead them to their comfort zone: their fastball. Below I've provided a breakout of the pitch types that Bryant faced during 1-0 vs. 0-1 counts during the 2015 and 2016 regular seasons.
It Pays to Get Ahead
1-0 Pitch Types
2015
2016
Fastballs
54.0%
54.2%
Breaking Balls
31.6%
31.5%
Offspeed
14.4%
14.3%
0-1 Pitch Types
2015
2016
Fastballs
52.5%
45.7%
Breaking Balls
36.5%
36.6%
Offspeed
11.0%
17.4%
In both years, over half the time that a pitcher fell behind 1-0 to Kris Bryant, he came back with a fastball. This should go without saying but in case you didn't know, Kris Bryant is pretty good at hitting fastballs. Here are Bryant's career outcomes so far broken out by pitch type.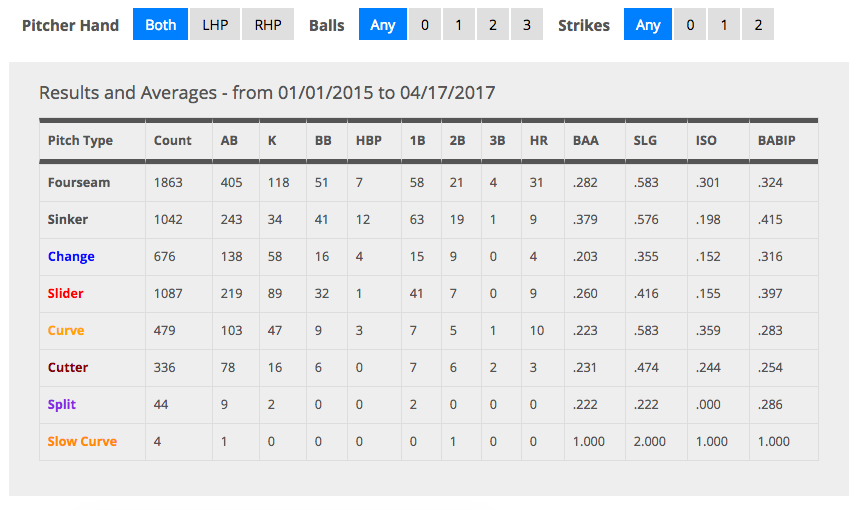 So how does this pertain to Bryant's 2017 season? Here's the 2017 breakout so far of whether or not Bryant has maintained the initial edge over pitchers.
| | |
| --- | --- |
| | 2017 |
| First Pitch in Play | 12.7% |
| Started Ahead | 43.6% |
| Started Behind | 43.6% |
It's too early to tell if this will be a continuing trend, but it looks pretty even in terms of starting 1-0 vs. 0-1 for Bryant so far in 2017. Where it differs from seasons past is how pitchers are responding to Bryant after falling behind.
| | |
| --- | --- |
| 1-0 Pitch Types | 2017 |
| Fastballs | 37.5% |
| Breaking Balls | 41.7% |
| Offspeed | 20.8% |
Again it's early, but during 2015 and 2016 if a pitcher fell behind Kris Bryant 1-0 he came back and threw a fastball around fifty-four percent of the time. This year so far that number has fallen to thirty-seven and a half percent; it's clear that pitchers are going to greater lengths than ever to not throw a fastball to Kris Bryant. We saw in the 2016 World Series Kris Bryant adjust to breaking pitches; it will be up to him to find a way out of this to get back to barreling balls up in 2017.
Despite the somewhat melancholic tone of this post, I'm not worried about Kris Bryant. There's a reason Bryant's won a major award at every level he's been at during the past four years; like all great players he can recognize his mistakes and has the physical and mental tools to adjust in a short period of time. There are however two things that are slightly disconcerting to me.
The first is that it's an irrefutable fact that each team the Cubs play this season will be treated it like a playoff game. I don't mean playoff game as in an Andrew Miller type reliever is going to pitch two-plus innings out of the bullpen, I mean it as in each team that plays the Cubs will have circled the occasion on the calendars and will use their performance against the Cubs as a measuring stick for their abilities. We saw this happen with the Brewers last September, and it's going to carry over to all of the other NL teams, especially within the NL Central division.
The second disconcerting thought is the possibility of the bottom dropping out in the lower half of the batting order. This is especially true if Joe Maddon wants to go with an all-defensive lineup the includes both Javy Baez and Albert Almora. In that case, after the top four (presumably Schwarber, Bryant, Rizzo, Russell), there would be a catcher who hasn't yet played a full season in the majors (Willson Contreras), a right fielder coming off a season in which he had an OPS+ of 71 (Jason Heyward), a super volatile middle infielder with below average on-base skills (Javy Baez), a center fielder who hasn't even had a one hundred and fifty major league plate appearances (Albert Almora Jr.), and the starting pitcher spot. To be clear this Zobrist-free lineup still has a very high ceiling, but it's not unreasonable to think that there will be some growing pains.
That's why it's a luxury to have a guy like Kris Bryant. While other young players can go up and down he just keeps trending upwards.
Lead photo courtesy Caylor Arnold—USA Today Sports