It's a testament to how entertaining and excellent Javy Baez and Jon Lester were during the 2016 NLDS and NLCS that they not only were able to overcome the initial sluggish postseason starts by Anthony Rizzo and Addison Russell, but were also able to nearly completely overshadow Kris Bryant's solid postseason performance up to that point. Case in point check out Kris Bryant's slash line through the NLDS and NLCS vs. his overall 2016 regular season slash line:
Kris Bryant 2016 NLDS and NLCS slash line (44 plate appearances): .333/.409/.538
Kris Bryant 2016 regular season slash line: .292/.385/.554
Another reason Bryant's postseason performance up until the World Series was overlooked was the fact that in ten postseason games Bryant had hit only one home run (which at that point tied him with Jake Arrieta and Travis Wood). It's weird that last years NL Rookie of the Year and this year's consensus choice for NL MVP postseason performance wouldn't be thoroughly discussed, but the lack of pop seemed to be keeping Bryant out of the limelight. Granted if the Cubs had ended up completing their comeback against the Giants in game three of the NLDS (aka the original Aroldis Chapman meltdown), Bryant's game-tying home run in the ninth inning would have caused his postseason to be remembered in a completely different light. But it didn't, the Cubs ended up losing game three of the NLDS, which set the stage for a back against the wall comeback in the top of the ninth in game four (which happened to begin with a leadoff Kris Bryant single) that would become synonymous with the Cubs 2016 postseason.
So when Kris Bryant started off the World Series going one-for-fourteen with three walks to five strikeouts (while chasing pitches that usually only Javy Baez swings at), it seemed to be consistent with his seemingly nondescript 2016 postseason. For all of the Cubs' offensive struggles from Games One through Four of the World Series, the struggles of Kris Bryant were the most concerning. To put it simply, the Cubs weren't going to beat high-level competition with Kris Bryant only getting on base four times in four games. In a sense, because of Bryant's continued struggles (perceived in the prior two rounds, real in the World Series), the task of coming back from a three games to one deficit seemed even more daunting. Then with one swing of the bat in the bottom of the fourth in game five, Kris Bryant changed the entire complexion of the World Series. Prior to the one-one pitch that Bryant deposited into the left field bleachers, John Smoltz warned that the game could get out of reach if the Cubs were unable to score off of Trevor Bauer with Andrew Miller, Brian Shaw, and Cody Allen waiting to finish off the 2016 Cubs. Immediately following Bryant's home run, Anthony Rizzo doubled, and the Cubs tacked on two more runs to take a 3-1 lead. For the remaining twenty-four innings in the series, the Cubs would never again trail.
Bryant picked up where he left off in game six by crushing a Josh Tomlin curveball into the left-field seats in the bottom of the first and setting the tone for the Cubs offensive onslaught. Bryant finished the night with four hits as the Cubs put up more runs in Game Six (nine) than they had in Games One, Three, Four, and Five combined. Suddenly, Kris Bryant went from struggling to possibly being in World Series MVP contention if Game Seven went the Cubs way. And if Aroldis Chapman could have figured out Rajai Davis and kept Game Seven from entering into extra innings (leading to Ben Zobrist's heroics), you could make the argument that this game belonged to Kris Bryant. Only unlike in Games Five and Six when Bryant's power shifted the tide, this time it was Bryant's base running that lifted the Cubs in Game Seven.
Case in point scenario #1: The Indians had just come back to tie in the game at one in the bottom of the third. Bryant leads off the following inning with a single; followed by a Rizzo HBP and a Zobrist fielders choice Bryant stood on third with one out. Addison Russell then hit a shallow flyball to left center. To get an idea of how shallow I've included the screenshot just after Rajai Davis made the catch: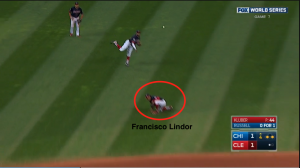 .
Yes, that's Francisco Lindor who has to duck to avoid being hit by the throw to the plate. Even with Davis's semi-inexplicable hesitation on throw home, he's shallow enough that he would still get most baserunners. But Kris Bryant isn't most baserunners, and he arrived just under the tag of Roberto Perez to score the Cubs' second run. The importance of that run can't be overstated; you could not only feel the momentum shift, but Bryant's aggressive baserunning also forced the Indians' hand, which allowed for Ben Zobrist to tag up to get into scoring position. Zobrist would later score on a Willson Contreras double.
Scenario #2: After Andrew Miller induced a double play from Kyle Schwarber, Kris Bryant stepped to the plate and worked a two-out walk on Miller. The Cubs then possibly put on the hit and run, or Bryant went on his own once Miller got two strikes on Anthony Rizzo. Either way, Bryant's headstart contributed to him being able to score from first on an Anthony Rizzo single. Statcast clocked Bryant going from first-to-home in just under nine seconds. Besides Dexter Fowler and maybe Javy Baez, there's not a single Cubs regular who would be able to score from first on that play.
There was a lot of talk prior to the series shifting to Cleveland for Games Six and Seven that the Cubs would benefit playing at Progressive Field since they were built like an American League team. That struck me as somewhat lazy reporting. Yes, Kyle Schwarber isn't a great fielder and would be better suited as a DH, but outside of Anthony Rizzo (who isn't half bad himself) all of the Cubs regular position players have average to above average speed and athleticism. Nowhere is this more apparent than Kris Bryant. Bryant's evolution as a hitter was incredible to watch in his second season, but it's all of his other non-hitting baseball traits (i.e. baserunning, fielding range, arm strength, defensive versatility) that have surpassed even the most optimistic expectations and made him the Cubs best all-around player. It's funny how baseball works. For years, the Cubs struggled under the weight of a lengthy curse of bad management and bad luck, and often had a Cleveland Browns quarterback-like revolving door at third base once Ron Santo left (although we will always have this Gary Gaetti moment and Aramis Ramirez). Now they're world champions and will have one of baseball's best young players patrolling the hot corner for years to come. Holy cow, it's good to be a Cubs fan.
Lead photo courtesy Tommy Gilligan—USA Today Sports