It's absurd to think about the idea of Addison Russell being an overlooked element of the Chicago Cubs. But with performances and personas like that of Anthony Rizzo, Kris Bryant, Kyle Schwarber, and Javier Baez, it ultimately isn't all that surprising. While three of those four have made their mark with their offense first, Russell relied on his defense to provide his initial value to the Cubs upon his arrival to Wrigley in 2015. But with some of the changes that he's made over the course of the last two years, both mechanically and in regard to his approach, we can no longer look at Russell as a glove-first, bat-second player.
(Not that that's how he was largely viewed, but the elite glove far surpassed the raw offensive ability early on.)
The Cubs have obviously benefited from a slew of young offensive talent rising to the major league level over the past few years. For some, like Bryant, the adjustments have been relatively minor (in a general sense), with only small tweaks necessary to elevate their status as a consistent threat at the plate. For others, like Russell, the adjustments have been more critical in order to make him a more consistent hitter. Those adjustments continue to take place, but the improvements in swing and approach are fascinatingly evident.
Those are obviously two separate elements of Russell's improvements over the course of his time at the big league level, and they've taken place over two different periods of time. The swing changes came after his first exposure to the game's highest level, with the noted change in hand placement taking place before the 2016 season. This season, he's combining the mechanical improvements with the approach, and the results have been nothing short of gorgeous to watch through the season's first month.
The changes in his mechanics have been well-documented to this point. Russell dropped his hands in his stance and positioned himself so that his front foot was not as open. The result was a more level swing and harder overall contact. Those improved mechanics manifested themselves in the 21 home runs that Russell hit, as well as the ISO that improved by more than 30 points.
What really has folks buzzing about Russell in 2017, though, is the way that he's managed to improve his approach. As much as his glove, and the increase in power in 2016, impressed, there were still elements of his game to be refined, the approach perhaps above all.
Russell turned in high strikeout numbers in each of his first two years, with relatively low on-base figures. He struck out a touch over 28 percent in 2015, and while he improved it the following year, he was still lingering around 22 percent. That coincided with on-base marks of .307 in his rookie season and .321 last year. Obviously, there were improvements, but consistency at the plate was an aspect whose improvement was paramount heading into the new season.
The swing rates alone indicate that that has absolutely been the case: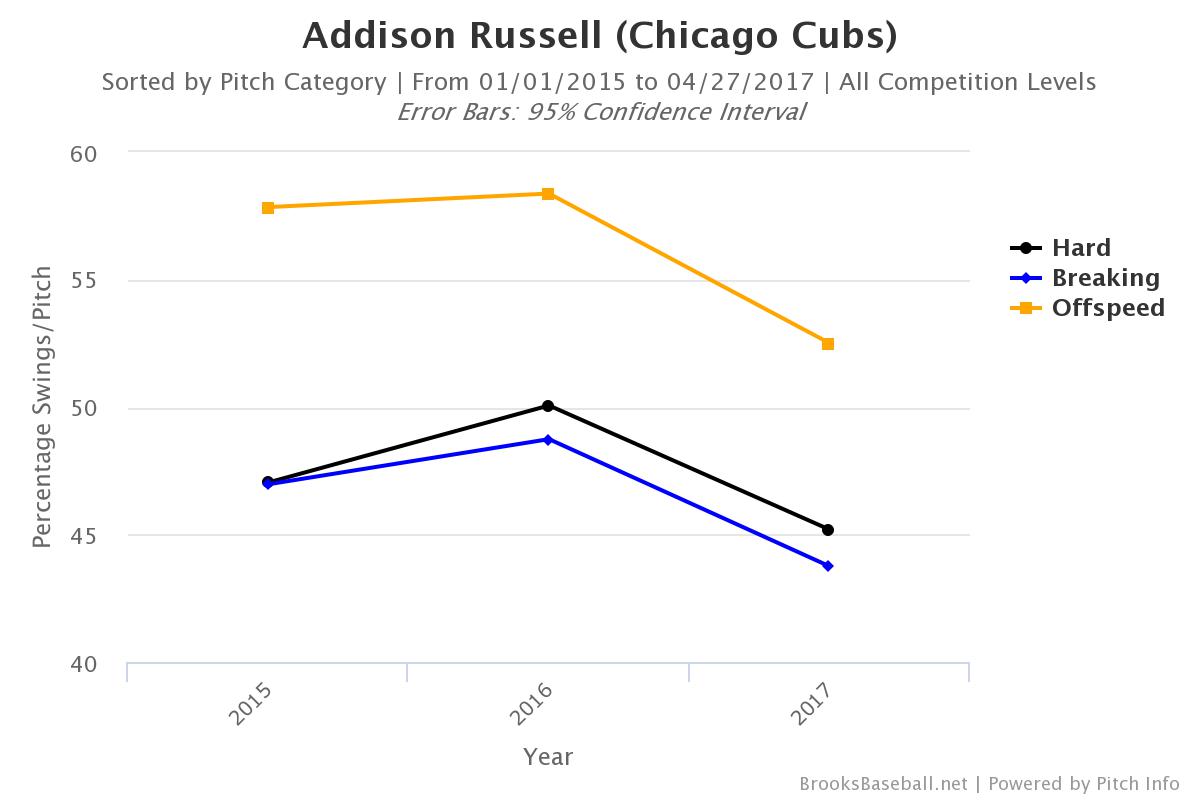 His swing rate has dropped from figures of 47 and 50 percent in his first two years, to just 44.3 percent thus far in 2017. His Swing% on pitches outside of the strike zone has shrunk to just about 22. What's more encouraging is that his strikeout rate and overall whiff rate have each also declined. His strikeout rate is under 17 percent, with FanGraphs putting him at just 9.4 on the whiff side, which would represent a four percent decrease from last year.
Probably also worth nothing is the fact that the decrease in the swing rate is one that is broad in nature. Russell hasn't changed his approach to swing at more hard stuff or anything of the like. It's a zone awareness that he's demonstrating that has that approach, and Russell's value as an offensive player, on the rise.
As the swing, whiff, and K rates have all come down, the contact rates have gone up. Russell's 76.4 percent contact rate represents a six percent increase over last year and easily the highest mark of his career. He's experienced four percent increases in contact rates on pitches both inside (84.5%) and outside (54.1%) of the zone. What's better is that he hasn't only experienced the increase in his contact rate, but the improved approach has him making better contact overall.
Brooks has him experiencing increases in average velocity against hard and offspeed pitches, with his average exit velocity remaining relatively constant against breaking pitches: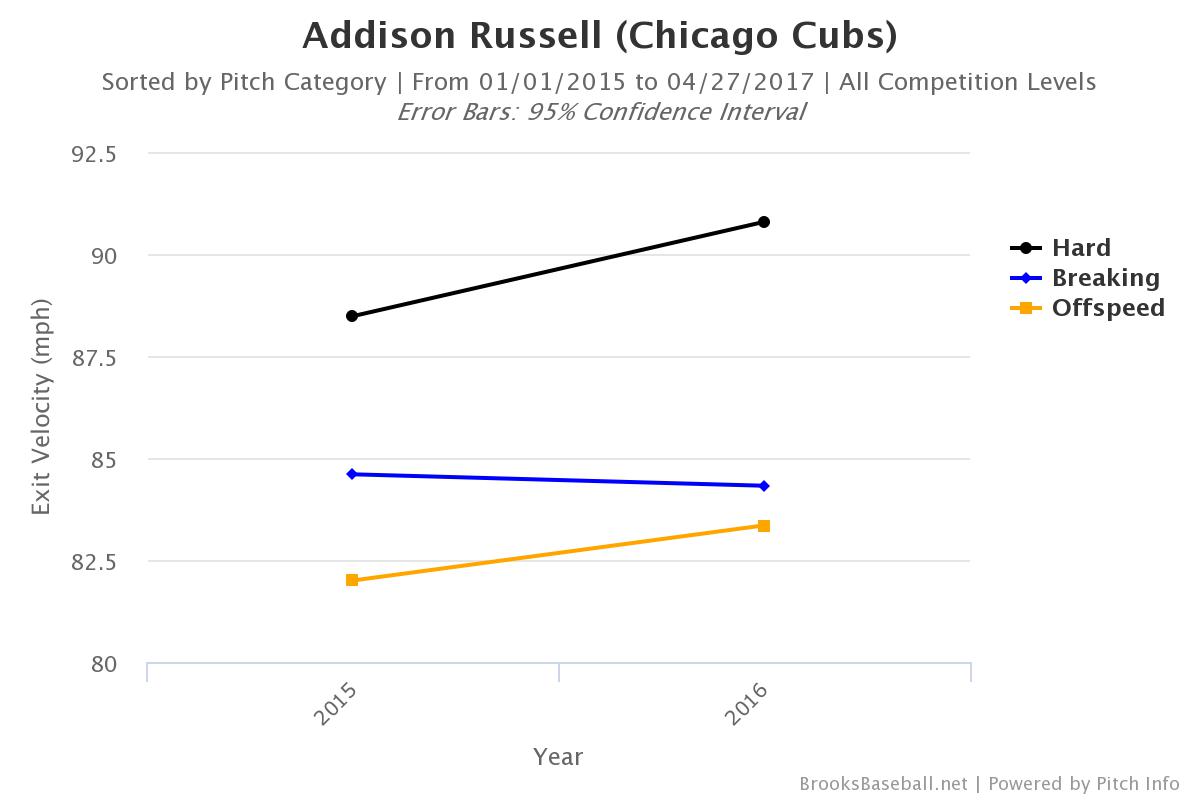 According to FanGraphs, Russell hasn't been making hard contact at quite the rate that he did last year. His 26.1 percent Hard% to this point represents about a three percent decrease from 2016. But what's particularly intriguing about the contact trends is the fact that his Soft% has fallen somewhat significantly. His 15.9 percent figure there is just over an eight percent decrease, and definitely lends itself to the increase in BABIP that he's experienced this year (.277 last year to .313 this year). That increase in batting average on balls in play has helped lead to the increased rate in which Russell has reached base thus far in 2017.
Addison Russell has been an imperfect player during his time at the big league level, but the evolution from raw talent at the plate to the more well-rounded presence we see today is nothing short of remarkable. He's shown a willingness not only to change the mechanics, but overhaul the approach, in order to establish himself as a more consistent threat at the plate. Already an elite product in the field, it's simply astounding to think of how far Russell's bat could go if he continues to demonstrate such marked improvement in a variety of aspects in his game.
Lead photo courtesy Charles LeClaire—USA Today Sports