What You Need To Know: A couple Cubs came in from the cold, came down from the wire tonight. Kyle Schwarber produced a three-run pulverizer that essentially won the game. It was his first homer in nearly three weeks, with the last coming on April 18th. It was only his fourth hit in the last 10 games. Joining him on arriving at the party was Javy Baez, who went 4-for-4. Baez started this little mini-revival last night with a homer in the vacuum of a blowout loss, and while he added another JavyBomb tonight it was his next two hits that make your posture straighten. He lined a single up the middle with two strikes to set up The War Bear. He then had an RBI triple into the right field corner, staying on a 3-2 fastball on the outside corner and not going #HeroBall on it. That's the kind of thing that's going to turn him into a successful hitter, as fun as the JavyBombs are. And look, he's a utility infielder with a .822 OPS at the moment.
Next Level: Jon Lester really had to stick with it tonight, as Toby Basner's strike zone was tighter than a dead alligator's jaw (I think I just came up with my very own Hawk-ism there. Strap it down!). Although when you look at the zone plot for Lester tonight, Basner was pretty much right. It's just we're used to seeing Lester get more calls than this: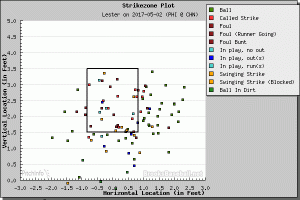 Although if you check some of the Gamecast plotting, you might think a little differently. Let's just say a lot of them were really close. All of it forced Lester into a shorter and very grind-y outing, one that the Cubs could have done without given the pen was a little short. Even still, five walks isn't acceptable even if the ump is on quaaludes back there. But he held the Phillies down enough for the offense to blow it open and then to not let them back in. Given what the rotation has been providing of late mostly, you'll take it.
Even a short pen didn't have any issues after that: Carl's Jr., Rondon, and Wade Davis didn't even allow a baserunner. While Edwards going two innings was more out of necessity, given his dominance to start the season you sort of wonder if Maddon isn't wondering about that sort of outing when the ivy is red. Let's keep it on the back burner for now.
Other notes before we WPA it:
- I never really thought of Schwarber in a slump, even though his average had dipped into the interstate numbers. His ABs are still so good, so it was only a matter of time before things turned his way. He's still in the top-10 in pitches per AB, and he'll get through this.
- This thing where the pen doesn't give up a runner… I'm here for that.
Top WPA Play: Obviously it was the Schwarber home run that put the Cubs ahead for good (+.259). If he keeps getting in 2-0 counts, we'll be giggling a lot.
Bottom WPA Play: Joseph's double in the top of the fourth that tied the game at two (-.059). Lester wasn't exactly thrilled with the pitch that made it 1-1 instead of 0-2. Maybe you'll see why: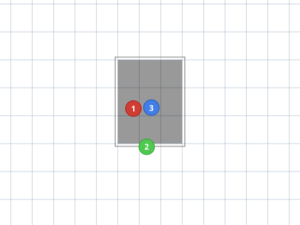 Anyway, onwards…
Lead photo courtesy Matt Marton—USA Today Sports