What You Need To Know: It's the first week of May, but the opener for this series could easily be a preview for a World Series matchup. The Cubs are the reigning champs from last year and the Yankees are off to a red-hot start this season and boasts the second highest run differential (+45) in the entire league. Chicago sent Kyle Hendricks to the mound to face off against Michael Pineda. Hendricks has been off to a slow start this season; he entered the game with a 120 cFIP and 6.08 DRA. The 27-year-old righty was far more effective today. Though he only we 5.1 innings, Hendricks gave up six hits, but he tallied five Ks and did not give up a run, lowering his ERA 3.51.
Next Level: Three of Hendricks' strikeouts got Brett Gardner, Starlin Castro, and Aaron Judge looking. All three punchouts were sinkers according to BrooksBaseball.
In Gardner's at-bat, Hendricks set up Garnder with a sinker high and outside. He followed up with changeup that dropped low and outside. Hendricks finished Garnder off with a high sinker.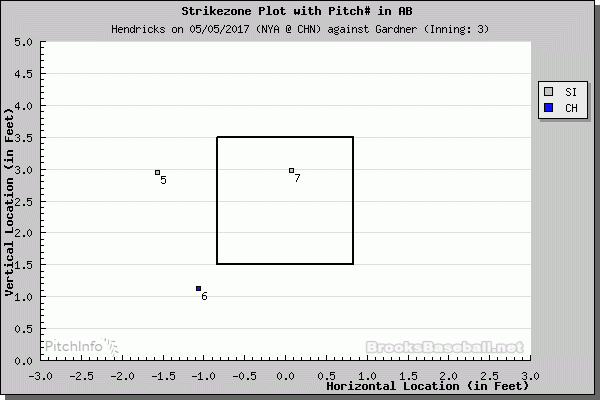 Castro and Judge were victims to the sinking fastball as well. Their strikeouts occurred one right after another.
In Castro's at-bat, Hendricks began the sequence with a fastball in the zone. His next pitch, a sinker, was low and away for ball one. Hendricks came back inside and got Castro to foul off a changeup inside. Hendricks returned inside with a fastball outside of the zone. However, the finishing pitch was a sinker that was low and away, but just a few inches from where the second pitch of the sequence was called a ball.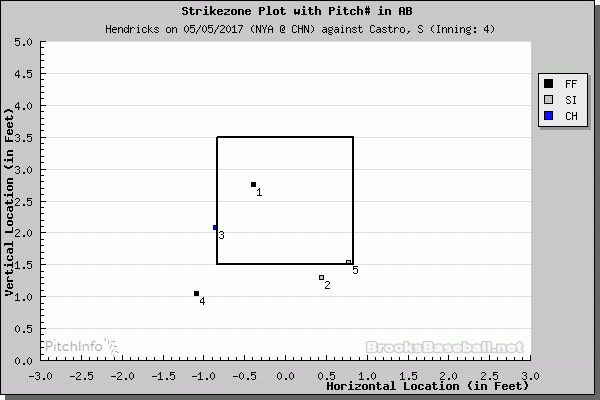 Finally, in Judge's at-bat, Hendricks pounded the zone with his sinker. The first pitch in the sequence was a called strike. The second pitch was a change up that was low and inside. Hendricks returned with the changeup that was low and way for ball two. A third straight changeup was thrown inside and fouled off. Hendricks returned to the sinker that was thrown away from Judge and fouled off. The next pitch was a fastball that was out of the zone and away for ball three. Hendricks, having success with the sinker, came back in the zone with it and got Judge looking.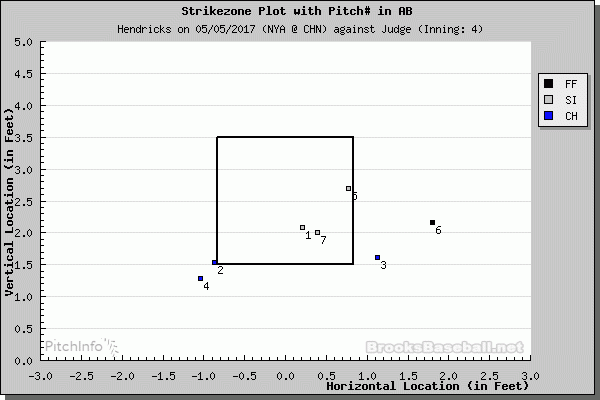 I bring up these three at-bats because his sinker is not a pitch that generates a lot of whiffs-per-swing. In fact, it generates the fewest whiffs/swing compared to the other pitches in his repertoire, according to Brooks Baseball. However, it is the second-most swung at pitch that Hendricks offers.
Hendricks showed improved command today. His pitch selection, along with his ability to locate his pitches, kept the Yankees scoreless through his 5.1 innings of work. If he can maintain the control going forward, we may see the Hendricks we know return.
Top WPA Play: With the bases loaded in the top of the sixth, Chase Headley hit what could have been a sacrifice fly to right. Fortunately for the Cubs, Castro hesitated before heading home. Heyward, who has a cannon for an arm, easily threw Castro out at the plate, preventing the tying run from scoring and ending the inning (+.241).
Bottom WPA Play: *sigh*
Héctor Rondón, man. He has been lights out this season. Small sample size be damned, prior to today, in 11.1 innings pitched, Rondón had a 28.9 percent strikeout rate. However, his walk rate is at 11.1 percent. It's still too early in the season to draw any conclusions about his K-rate or walk rate; however, it is something to keep an eye on.
In the top of the ninth, Rondón got Didi Gregorious to ground out to first. Unfortunately, Headley singled to left and then reached second on a wild pitch. Rondón got Chris Carter out with the backward K, but followed that up by walking Jacoby Ellsbury. With two on and two out, Brett Gardner hit a home run to right field to give the Yankees the lead (-.737).
I mean, look at the the pitch! It was a slider that was out of the zone. Where the hell else was he supposed to throw it?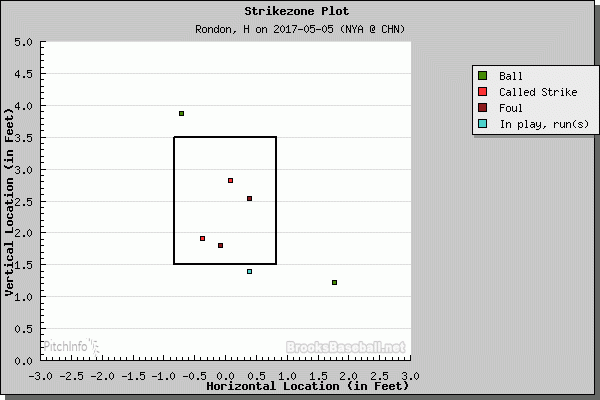 Up Next: The series continues tomorrow for the Cubs and Yankees. Tomorrow's probable starters are Brett Anderson for the Cubs and Jordan Montgomery for the Yankees. The start time is scheduled for 6:15 PM.
Lead photo courtesy David Banks—USA Today Sports