Welcome to Zack's Sack, Vol. 2! The best "Vol. 2" to be released in the past month or so, I assure you, and with Kris Bryant instead of Chris Pratt. Please submit your questions—Cubs questions, baseball history questions, or otherwise—to @beersntrumpets on Twitter.
Questions posed by Twitter followers are unedited, in the interest of making fun of them mercilessly. Let's open up the sack.
"Is there a path for Candelario to the majors or is he pretty much trade bait at this point?" — Mike Gianella
The short answer is no, Candelario is traded unless there's a catastrophic injury.
However… Candelario is OPSing over 1.000 at Triple-A, and he's shown a sophisticated approach at the plate for a few years now. A walk rate around 12 percent, strikeout rate under 20, and praise from his coaches have forced his promotion question as much as possible. Unfortunately, his positional inflexibility (he only plays third base and first base) and the Cubs' current situations at those positions (uh, guys named Bryant and Rizzo) make a future with the team possible only as a backup.
His virtues and drawbacks are well-documented. What matters is context, and it's likely that Candelario would be attractive to trade partners as a polished, major-league level talent at a key position. The writing's on the wall for Jeimer, and he'll get a good opportunity somewhere else.
"How many toothpicks would it take for a bundle of them to match the circumference of one of Rizzo's thighs?" — Mary Craig

"Which member of the Cubs is most likely to be able to control the weather?" — Mary Craig
Mary challenged me to write something to chew on this week for Short Relief over at the main Baseball Prospectus site, and she has challenged me with two… provocative questions here.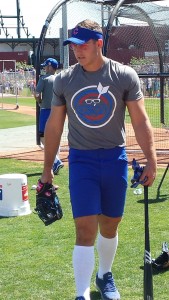 (Courtesy of Carrie Muskat via Twitter)
There aren't enough zeros to express how many toothpicks would comprise those legs. My Twitter followers are wrong, by the way:
anthony rizzo:

— zack moser (@BeersNTrumpets) May 25, 2017
Most likely to control the weather? The logical conclusion is Jason Heyward, considering his impressive rain delay speech last fall. But my gut says Eric Hinske.
"Is Schwarber's potential as the leadoff man dwindling? Who could be an alternative candidate?" — Dylan, better roommate than John; likes the Cubs
There is a vocal minority of the anti-establishment analytics crowd who believes that Schwarber is power-exclusive hitter who won't produce as much as most expect. The Cubs and most who watch him think he's a good hitter who will be better than his 2017 stats show so far. I think the former have some good points about tempering expectations, but that the latter are generally correct. Schwarber is going to stay in the leadoff spot most days, with Ben Zobrist snagging most other starts there, for the next month or so, at least. A Zobrist who is performing well is the next-best choice.
"Is Ben Zobrist better with stirrups or best with stirrups?" — Michael C.
Zobrist has an old school look about him—especially his batting stance—and the stirrups accentuate that. It's a good look.
"Why are the Cubs colluding with the Russians to create rain delays and what can the Marshal of the Supreme Court do about it?" — Louise M./Nick Stellini
They rigged something early last November and haven't stopped their conniving since. The Marshal is powerless, but I did learn that there exists a "United States Supreme Court Police" in my research for this question.
"Theo Epstein: Member of the Stonecutters or Illuminati? I'll hang up and wait for my answer." — Luis M.
Who makes Arrieta good?
Who let go of Travis Wood?
Theo, Theo
Who keeps the Cubbies in first place?
Who's in the presidential race?
Theo, Theo
Who just swindled Baltimore?
Who's Jed Hoyer workin' for?

Theo, Theooooo!
"why is baseball bad" — John, worse roommate than Dylan; likes the Red Sox
It's not bad. Stop watching the demonstrably inferior league.