What You Need To Know: Well, "need" would be a funny word choice for this one. The Cubs got stomped. Mike Montgomery didn't have anything. Couldn't locate his curve, hitters sat on the fastball and pretty much streaked it so hard the spray chart would have looked something like a Jackson Pollock painting. Jack Leathersich…or Seatherlich, or Lack Jeathersich, I'm not sure it's going to matter because we might never see him again, came in and decided to put his face in front of the lit firework (timely joke!) by having the neato ratio of two walks per out he got. And that was basically that, as the Cubs never got to Kyle Davies, a pitcher every other team has found to be pretty much dogmeat this year. Good day all around.
Next Level: Well, trying to look for another level or deeper meaning in this one would be like all the theory classes I nearly failed out of in college. Seriously, what does the lighting on Frasier tell us about society? But I guess this is my charge.
Mike Montgomery has been good as a starter. But let's face it, if everything went correctly, he maxes out as a no. 4? If you squint, and I mean real hard, a no. 3? So that basically means he's going to have a day like this every so often. In fact, every starter does. It's just more frustrating when the Cubs can't seem to tie anything together and feels like it fits into a higher narrative of how inconsistent the Cubs are or whatever. His last start in Cincy was a bit shaky too, but he got into the 7th on that day. You can see how badly he was missing today: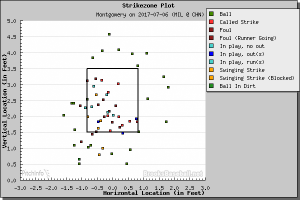 He'll get a nice break after this. Let's see if it helps.
As for the offense, I don't really want to pass comment on a game where they were down nine before they'd even gotten to their no. 8 hitter. There seemed to be something of a chance to make it half-interesting in the 3rd, when the Cubs loaded the bases with no outs for Kris Bryant. And as it seems to be happening a lot lately, he came up with a softly hit ground ball. Then Anthony Rizzo popped out and Ian Happ struck out. Thanks for coming.
Bryant's slugging the past three weeks is .415. Which isn't like, rinse your eyes out with bleach or something (that's probably never advisable, huh?) but it's not what you come to expect from him. He's also hitting .227 with runners on in that time, which isn't going to drive in a ton of runners. I'm not here to pile everything on Bryant, he's had a lot of help in the sputtering Cubs offense. But he's a linchpin, and you'd look to him to carry them when things are tough the way Rizzo has. Bryant is also hitting .091 on sinkers in that time, and just from my eye looks to be reaching a bit. Again, pray he gets the break next week he needs.
Schwarbs struck out twice, so I guess he still sucks. I'm not sure what changes one gets with not even two weeks of a break. Unless it was just a mental thing but man does his swing look a bit longer than it used to. Maybe that'll change too.
Top WPA Play: When everyone went home or over to Nisei Lounge or Gman after the game. Oh, in the game? When Jon Jay singled to lead off the bottom of the 1st. It was only 2-0 then. There were still hopes. There was still light. The beer was still cold. Basically everything went downhill after the very first batter. (+.038)
Bottom WPA Play: Ryan Braun's daily Wrigley homer in the 3rd. They said it was his 14th in Wrigley in his career. I'm sure it's at least triple that. (-.136).
Onwards…
Lead photo courtesy David Banks—USA Today Sports