Halfway through the season, it's become apparent that we're living in one of those alternate PECOTA-projected simulations where the Cubs are a .500 team, the Brewers are just good enough to hold on to first, the Diamondbacks and Rockies are legitimately good, and the Giants are having one of the worst seasons in their history. There have been a lot of surprises this year, most of them unpleasant, like biting into a bone hidden in your sandwich. Surprise! You chipped a tooth. Surprise! Ben Zobrist, Addison Russell, and Kyle Schwarber can't hit anymore. Surprise! The rotation unanimously decided to self-immolate.
It's not all bad though. The bullpen, for instance, has been pretty, pretty, pretty good, in fact. It's been hard to notice since the starters haven't given them a ton of leads to protect, but they have been collectively stellar. Wade Davis has been excellent, Carl Edwards Jr. has continued his dominance, and Koji Uehara has been effective and delightful. None of those performances have been surprising, though.
The back of the pen has gone unappreciated as it often does. Randy Holt already wrote a great breakdown of Justin Grimm's resurgence. Brian Duensing has been as good as anyone though he isn't getting the spotlight, perhaps because it's easy to overlook his nearly perfect two-inning appearance when the game is already out of hand.
One of these appearances came last Thursday when the Brewers made a quick stop in Chicago to humiliate the reigning champs. Duensing, who has mostly been relegated to low-leverage situations has been one of the few good surprises this year. In 38 2/3 innings, Duensing has posted a 2.79 ERA, 3.24 FIP, 0.7 WARP, and 84 cFIP all while getting a little unlucky with a .320 BABIP. He's already shot past his 90th percentile PECOTA projection which had Duensing being a 0.2 WARP player at his very best.
Duensing, who turned 34 this year, was a highly unlikely candidate for a renaissance year. His best season came seven years ago when he was a starter for the Twins. Even then he was an average pitcher putting up a 98 cFIP and a 4.63 DRA in 130 2/3 innings. Before signing a one-year contract with the Cubs, Duensing had been back and forth between Triple-A and the majors as a sub-replacement player. So what has the left-hander been doing differently?
The first thing that jumps out is that his K/9 has skyrocketed to 10.9, which is well over his career average of 6.2. He's nearly doubled his amount of strikeouts from 2015 in 10 fewer innings pitched. At first glance, it looks like something that will regress, and it very well may. But there a couple indicators that suggest he's gotten better at striking hitters out.
For one, Duensing's command has dramatically improved. This year he's posted a 1.03 percent CSAA, or Called Strikes Above Average. CSAA essentially measures a pitcher's ability to put the ball where he wants it, which is generally on the edges of the zone. Pitcher's with better command can stretch out the strike zone to get more called strikes. It looks a little like this: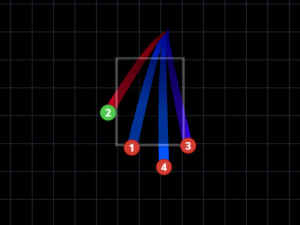 That's Brian Duensing dismantling Domingo Santana. The first pitch was a change-up which Santana swung at and missed. The next pitch was a fastball that just missed followed by a sinker that was out of the zone but called a strike. Duensing was then able to stretch out the strike zone even further and get Santana to chase a changeup below the zone for strike three.
Duensing didn't always have this sort of command. Previously he's posted negative values in this category.
| | | | |
| --- | --- | --- | --- |
| Year | K/9 | DRA | CSAA |
| 2009 | 5.7 | 4.46 | -0.46% |
| 2010 | 5.4 | 4.63 | -0.66% |
| 2011 | 6.4 | 5.61 | -0.41% |
| 2012 | 5.7 | 5.13 | -0.48% |
| 2013 | 8.3 | 4.37 | -0.30% |
| 2014 | 5.5 | 4.99 | -0.48% |
| 2015 | 4.4 | 4.90 | -0.39% |
| 2016 | 6.8 | 6.59 | -0.77% |
| 2017 | 10.9 | 3.47 | 1.03% |
In 2017, Duensing has been much finer with his command, jumping up nearly a percentage point and a half. I don't have a good explanation for why his command has suddenly improved. It might just be a sample-size blip or he might have made a mechanical adjustment. His release points and velocity this year seem to be consistent with his career averages.
Duensing's offspeed pitches have also been more effective for him. After cherry-picking a couple of his appearances from 2015 to 2016 and comparing his stuff to this year, it looks like his breaking balls have been much sharper. He's not hanging as much offspeed stuff and perhaps doing a better job of staying on top of his curveball and keeping his front shoulder from flying open. He's also getting more whiffs on his change-up than he has at any point in his career which helps him attack hitters like how he went after Santana.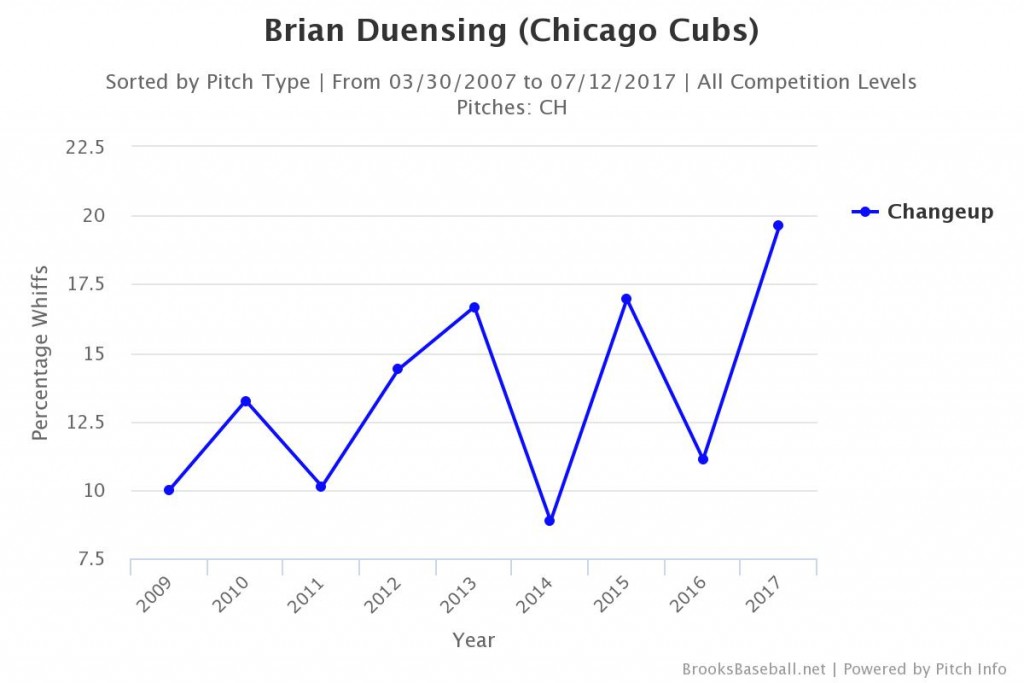 Though a team cannot be made by their bullpen, they can be undone by their bullpen (see 2016 Giants). Duensing's contributions shouldn't be taken for granted. The Cubs won't be desperate for a reliever at the trade deadline in part because of the performance of Duensing, who has done a fine job of holding things together. Now, if only he could get into a game with a lead to protect.
Lead photo courtesy Charles LeClaire—USA Today Sports