This may be a totally stupid question. After all, Weigh Davis is yet to blow a save, and in the end the name of the game is the runs you give up and the runs you score. Davis has never let the opposition score more runs than the Cubs already have this season. That's the idea.
But obviously, things haven't been smooth lately. If given a three-run lead, Davis has taken up all the slack available. Again, having four rough outings out of 11, none resulting in losses, seems awfully picky. Especially for a fanbase that has lived through Jason Motte, Mel Rojas, Dempster-as-closer, LaTroy Hawkins, and Kevin Gregg twice! But still, things getting rougher and still getting done leads one to worry that they might get rougher and then things won't get done.
So is there anything we can see?
The first thing you'd be tempted to check out would be velocity. Is his fastball getting caught up to? Well, no. In April his fastball averaged 95 MPH, and in July it's 95.1 MPH. His cutter is at the exact same 90.2 MPH in July as it was in April. So nothing there.
So maybe it's a movement problem?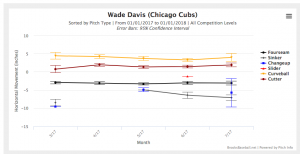 Ok, maybe? The curve has lost some bite moving across the plate, at least it did from April to June, and has rebounded a little in July but still isn't quite sweeping the way it did in April. What about vertically, which is probably the more important thing to consider?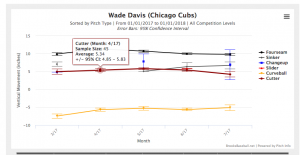 Mmhm. As we can see, the curve doesn't quite have the tilt it did early in the season, Now, losing half an inch of drop on one's curve seems awfully finicky, but as we know it doesn't take much for a pitch to go from being fouled off or whiffed on to the barrel and loud noises. Also, both Davis's cutter and four-seam have flattened out a bit. They don't have quite the same "hop" to them, even though we know that fastballs don't actually rise. When Davis is on, you'll see on TV that his cutter not only darts in on lefties but seems to move up into them as well.
So how has this borne itself out in terms we can understand maybe a touch better?
Overall, hitters have started to lock in on the curve. They didn't have a hit off it in April, hit .143 in May on Davis's curves, .400 in June, and .333 in July (with a 1.333 SLG. OUCH.) Righties, in particular, murdered it in June, hitting .500. You could understand that if the curve has a little less sweep across the plate and a little less tilt, it would have a harder time escaping right-handed bats.
The thing is, Davis might just also be getting BABIP Dragon'd a bit: the actual contact being made on his curve (in small samples) has remained pretty steady all year. He had a 33% LD/BIP on his curve in April. It was straight up 0% in May. It was 33% in June. And the same in July. So they're not hitting it all that much harder. In June, against righties, there was a 50% LD/BIP rate though, even though that sank back to zero in July. It might just be people are hitting them where they ain't for Davis at the moment.
Overall, Davis saw a 36.8% line-drive rate in June, which is obviously too high. It's sunk back down to 16.7% this past month. Needless to say, we could do without the Wallenda Act too many more times. I'm out of Pepto.
Lead photo courtesy Patrick Gorski—USA Today Sports