What You Need To Know: This game had a strikeout/fielder's choice in it. That basically sums it up. I've never seen that called before. It's like they declined the strikeout. Like it was defensive holding or something. That's how strange the last inning got, and that was the overall theme of the game (and probably season, for the Cubs).
Anyway, Joe Maddon trotted out a Sunday lineup with Bryant getting a day off and new catcher-for-some-reason Rene Rivera getting his first start. As you might have guessed, the Cubs were able to punch through only once in regulation and struggled to put anything else together until Roberto Osuna and Raffy Lopez contrived to punt this one away in the 10th. Joe Maddon making some goofy decisions didn't help matters. Kyle Hendricks put in the very definition of a quality start, three runs over six innings. Once the game got to the iffy part of the bullpen, the game got iffy. Funny how that works.
In the end, the Cubs got the win, which got them a 5-2 homestand which is what you would have wanted when it began, if not necessarily the method of bringing it about. Maybe we should just accept it.
Next Level: Again, this game had a strikeout/fielder's choice, so I'm not sure where to start. There? The other strikeout that didn't result in an out that started the winning rally? Alex Avila's throw back to Koji Uehara turning into a sack of earlobes that set up the go-ahead run for the Jays? Maybe Uehara throwing yet another fastball to Kevin Pillar after he'd fouled off, by my estimate, 48 previous fastballs? Justin Wilson continuing to treat the zone like the Bermuda Triangle? You can see my problem here.
Let's go back to the beginning, just like Vizzini told us to. It looked like the Cubs might make short work of Marco Estrada, which roughly translates to "pitcher who is just a guy." Not that they were paddling him around. Rivera reached on a ball that hit Estrada. Jay walked. Hendricks reached on what could have easily been an error on a bunt. But Almora lined a double down the third-base line, scoring all three (the wheels on the Cerebral Assassin!) and had still no outs.
And then…DUHHHHHHH…..
They had a chance in the fifth when both Almora and Schwarber were on with two outs, but nothing. Until the ninth, that was basically it. Meanwhile, the Jays scratched out just enough to haul in the Cubs off Hendricks, who was catching too much of the plate today. You can sort of see that here: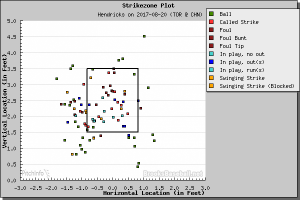 But Hendricks handed it off to Duensing, Edwards Jr., Strop, and Davis, certainly the aristocracy of the pen. They kept it right where it was, which got us to the bottom of the ninth, where all the silliness began.
So Heyward and Avila walk to start the inning, bringing up Jon Jay. This is the Jon Jay that just last week Joe Maddon was telling the press is hitting too well to keep out of the lineup. Against a guy who had yet to throw a strike (though to be fair, Tepera had the ump miss a couple strikes). So what does he have Jay do? Why, bunt of course! With the force on at third, it takes a perfect bunt to get a runner there safely. It wasn't. And from there the inning was basically over. You'd replaced Heyward's speed on second with Avila's "is he actually moving forward" speed. Even if you get that bunt down, they're just walking Bryant and that double-play you were worried about in the first place is back in play. Maybe it doesn't matter when both Bryant and Happ strikeout, but you get it. And Almora, who was 2-for-4 and has been on fire… why was Happ hitting for him anyway?
Oh, but we're not done. Then the tenth hits, and Koji Uehara gets to come off the DL and face the meat of the Jays' lineup. Such as it is. Donaldson, whom the Cubs kept quiet all weekend singles, of course. Then Avila vomits a throw back to Uehara while he's calling for a new ball allowing Donaldson to get to second. At least the Cubs didn't have to deal with the indignity of having a second ex-Cub haunt them, as Barney flew out.
Which brought up Pillar. Uehara's best pitch is not a fastball. It's his split/change. He only threw one to Pillar, and then kept trying to get fastballs by him high and outside, the place where it's actually easiest to catch up to fastballs. On the sixth fastball and seventh pitch, single to right.
Here's another pet peeve of mine, and it's probably only me. When the throw home comes from right, I wonder if catchers aren't better off standing behind home plate and offering the lane in front of them. Unless the throw is absolutely perfect, they have to turn completely around to find the runner. While you'd run the risk of the throw hitting the runner, it's far easier to drop straight down with a tag than swing around. But that is just my thing.
Wow, is this getting long. Ok, the Cubs got five baserunners out of two singles and two strikeouts. I don't know how else to put it. Lopez couldn't handle Osuna's slider. It got Schwarber on with a K. It scored him on another wild pitch that moved Zobrist to second. He couldn't handle the one that struck out Baez, and then fell asleep while Baez ran to first. Three wild pitches in the inning. Osuna also hit Heyward.
Ok, this is just silly. Enough. Let's wrap this up and get on with our lives.
Top WPA Play: Avila's game-winning single that scored Zobrist and Baez. (+.464)
Bottom WPA Play: Pillar's aforementioned single in the top of the 10th. (-.366)
I'm tired. Onwards…
Lead photo courtesy Caylor Arnold—USA Today Sports