With a convincing victory on Monday over the Cardinals, the Cubs eliminated their arch rivals from division contention and whittled their magic number down to one. Barring an unlikely collapse, the Cubs are heading to their third straight postseason appearance for only the second time in team history, and the first time since 1906-1908. The team has rallied in the second half, and most players who performed poorly early in the season have found their footing for the first time all year. In short, the Cubs are rolling, and well poised for the Division Series versus Washington.
The elephant in the room, however, involves the starting pitching. The Cubs currently have five more than capable starters, but each occupies a different station on the rota fortunae. Jake Arrieta is coming off of minor injury. Kyle Hendricks has found success despite velocity dips. John Lackey has pitched well, somehow, despite his tendency to allow lots of home runs. Jon Lester is also coming off of an injury, and is perhaps not fully healed, as he has struggled mightily in the second half. And so, without delay…
Jose Quintana: How Is He Pitching? Is He Pitching Well? Let's Find Out!
Jose Quintana hurled a gem on Sunday, striking out ten, walking one, and allowing only three hits on his way to a complete game shutout in Milwaukee that all but dashed the Brewers' division chances. It was, by far, Quintana's best outing as a Cub and his best outing in 2017, a year in which Quintana has struggled to find the fastball command on which his success depends. During Sunday's start, Quintana eclipsed the 200-strikeout plateau for the first time in his career, and his strikeout percentage this year is a sterling 26.2—or, almost five points better than any other season in his career. The lefty has walked a few more hitters this year than in year past, but that's a league-wide trend, as the overall walk rate has crept back up to 8.5 percent, or the highest since 2010.
That's a sketch of Quintana's season, but what has he done lately? Well, Quintana has been very good. In his past five starts, he's walked only four hitters in 33 ⅔ innings, while whiffing 47. To put that into perspective, that's a 30.1 percent strikeout rate versus a 3 percent walk rate. That's good! That's Cy Young-worthy good. Not coincidentally, he's throwing his fastball harder this month than he has at any point in his career, with an average release velocity over 93 miles per hour. Combined with what appears to be better command on both edges of the plate (in the zone plots below), Quintana has improved his fastball, his most important pitch, wholesale.
These zone profiles are split to catch all of Quintana's pre-August 30th starts in the first chart, and all of his August 30th and later starts—the six starts over which he has posted the above numbers—in the latter chart. One can see his recent tendency to work up in the zone with his fastball, and in his stretch of dominance he has successfully risen to the top of the zone more often, whereas earlier in the season he threw fastballs closer to hitters' knees. The results from those pitches have been very good. Look at how opposing hitters have slugged against his fastballs over those two periods: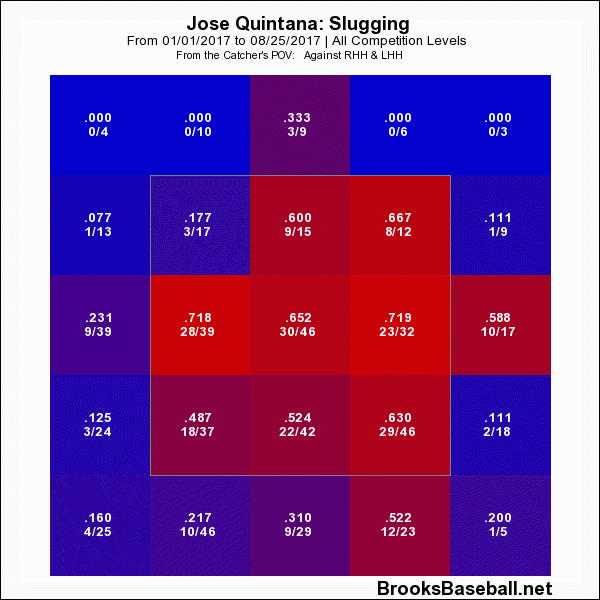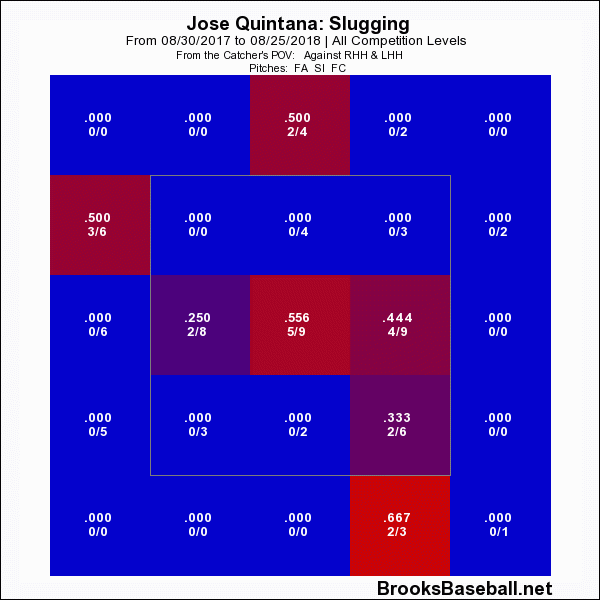 Hitters feasted on Quintana's middle and low fastballs through most of August. Over the last six starts, Quintana has allowed opponent slugging percentages of .147 and .385 versus his fourseamer and sinker, respectively, down from .353 and .542 in his first 26 starts. His velocity and command are clicking at the same time, and they are working in tandem to produce ace-like results.
Quintana's fastballs don't exist in a vacuum, of course: they work in concert with his curveball and changeup. The lefty has found a more effective curveball of late as well, with a tiny bit more drop and slight tick down in velocity. Perhaps spurred by regained confidence in his fastball command, Quintana has mixed his pitches over his last five or six starts more evenly than he had in his August starts, when the left-hander attempted to establish his command by throwing a lot more sinkers. Here are Quintana's pitch usage tendencies over the two periods we have looked at thus far:
Lately versus righties, Quintana has favored his changeup, which, as a pitch dependent on fastball command and velocity, makes sense. His general usage against righties has been flatter, favoring no one pitch overwhelmingly. Versus lefties, Quintana's usage has a less clear pattern, except a flip in fourseam and sinker use. The numbers suggest a pitcher with confidence, and a pitcher unafraid to mix things up. We've already seen the results.
Who will get the ball in Game One versus Max Scherzer? The man who has kicked off each of the Cubs' five playoff series in the past two seasons is the pitcher with the rockiest current situation, and it's unlikely Joe Maddon will tap Lester for the Game One start. That leaves Arrieta, Hendricks, and Quintana, and, considering his recent performance, I am inclined to lean Quintana. A masterful outing versus Milwaukee in a key game is evidence of both Quintana's current run of good starts and of his steely demeanor (something he and Lester share). Breaking up the two similar lefties might be a strategy Maddon adopts, but Quintana is the Cub pitching the best heading into the postseason.
Lead photo courtesy of Patrick Gorski—USA Today Sports