The Cubs have looked helpless facing the Nationals' starting pitchers so far in this NLDS, and they have managed to take the series down to the wire only due to their own starters' impeccable performances that have resulted in a 0.40 ERA. Wednesday night, Stephen Strasburg continued the dominance that he, Gio Gonzalez, and Max Scherzer have brought to this series, stultifying Cubs hitters for seven innings and earning a hard-fought victory versus 7 ⅔ strong innings from Jake Arrieta and Jon Lester. The hard-throwing righty racked up twelve strikeouts against only two walks and three hits, making even the best Cubs hitters look silly in the process.
Strasburg had all of his pitches working exquisitely, but his changeup shined more brightly than his 95-mph fastball and sharp curve. But Strasburg's game plan and success relied on getting first pitch strikes and pitching to hitters with an advantage in the count. The Washington starter faced 25 hitters and threw 17 first-pitch strikes, or 68 percent. More important, though, was his audacity to throw first-pitch breaking balls and changeups.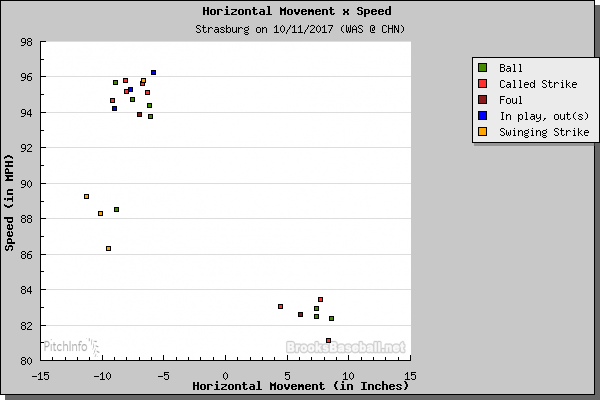 Strasburg snapped off seven curveballs as first pitches, and reeled off four changeups to start off Cubs hitters. Three of the changeups resulted in first-pitch whiffs, a very high percentage. Although three of the curves went for balls, three also fell in for called strikes, immediately putting the batter in the hole. The 14 fastballs are more of a mixed bag, but Strasburg's command of the pitch was good enough to keep hitters off balance when he decided to eschew the fastball.
Pitch type wasn't the only factor contributing to Strasburg's success, though, as you can see from the following charts plotting his release points on those first pitches and their locations as they crossed the plate.
That is a remarkably tight cluster of release points for three pitches that have very distinct movements and speeds. Most of Strasburg's first pitches ended up in the zone or right on the corners, ensuring that Cubs hitters would either whiff or take a strike.
This is Strasburg's hallmark when he is healthy and on his game. Strasburg induced the 10th-most swinging strikes as a percentage of pitches among all qualified starters this year, with a mark of 13 percent. In this game, he was even better. 22 times out of the 106 pitches Strasburg threw, Cubs hitters swung and missed, good for a 21 percent total. 15 of those whiffs came on Strasburg's changeup, for a nearly 50 percent mark with that pitch alone.
Combine Strasburg's stuff with a perfectly executed game plan, and it's no wonder the Cubs were off balance all evening: they didn't know what was coming, what did come looked the same as most everything else, and when it finally crossed the plate it was perfectly located. Strasburg didn't really make any mistakes, and the Cubs hitters had little with which to work. The margin of error, then, for Cubs pitchers and fielders was essentially nonexistent, and that showed up in the box score at the end of the night.
Lead photo courtesy Jerry Lai—USA Today Sports