Position: Relief Pitcher
2017 Stats: 0 saves, 2.74 ERA/3.43 FIP/4.08 DRA, 89 cFIP, 8.8 K/9, 0.8 WARP
Year in Review: When Brian Duensing signed with the Cubs for 1 year/$2 million last December, many thought the move was a call for depth heading into the 2017 season. But Duensing far exceeded the organization's expectations, throwing the second most innings out of any Cubs reliever in 2017. I doubt even he expected anything that good. He turned in what some might consider a career season for him, posting career bests in DRA and cFIP, along with his best WARP since 2010. Pretty remarkable for a guy who was nearly out of professional baseball, spending most of 2016 with two different AAA teams.
A big part of the success for Duensing this year was the improvements he made in facing right-handed hitters. For his career, he's been pretty dominant versus lefties (.275 wOBA), and not so much against righties (.348 wOBA). This year was sort of anomaly, as he was actually better against right-handed hitters (.290 wOBA) than left-handed hitters (still very good with a .296 wOBA).
Duensing also changed some things up with pitching strategy in a fascinating way, throwing pitches in the zone at a lesser rate than ever. (via FanGraphs)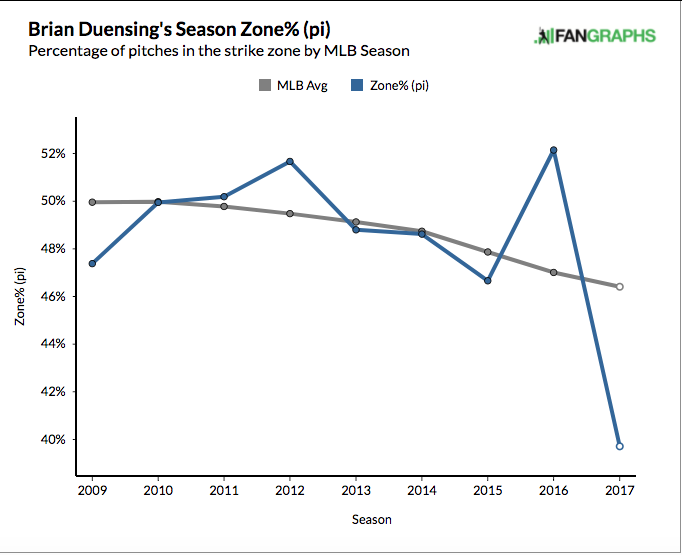 This probably explains career highs in these certain plate discipline metrics.
O-Swing%: 30.5% in career, 32.9% in 2017
Contact%: 81.7% in his career, 76.8% in 2017
Swinging Strike%: 14.7% in his career, 18.7% in 2017
And these things probably had something to do with the insane K-rate jump that Duensing had, a career best 8.8 K/9. Pretty insane to see a guy with a career 6.2 K/9 have this jump at 34 years old. It gets even weirder when you learn that he also improved his command at the same time. Duensing had lost some of his above-average command the past three seasons (3.4 BB/9), but he once again flashed some fine control in 2017 (2.6 BB/9, below his career mark).
Possibly the best thing about Duensing was his reliability throughout the year. Other than his meager 6.2 innings in April, the worst month that he recorded was in September, allowing five runs in 9.1 innings. He was pristine in the first half (2.79 ERA, 3.26 FIP) and then pristine in the second half (2.66 ERA, 3.66 FIP).
If there was any thing negative to say about Duensing's 2017, it was probably that he had luck on his side, suggesting future decline. His DRA was more than a full run higher than his ERA. Another telling sign was his LOB rate of 84.8 percent (15th highest out of out of 274 pitchers, minimum 60 innings), which was way above his career norm of 72.7 percent. His .177/.245/.218 line with men on base will be hard to sustain, something that teams should be wary off when looking at Duensing this winter.
Looking Ahead: Duensing should be a happy man heading into free agency this winter. He struck absolute gold with the season he had. His suitors should include a wide variety of teams in need of a LOOGY/setup man. I'd expect him to get something in the range of a 2-3 year deal, with about a $4-6 million AAV (think the Boone Logan contract with the Indians last year). That would by far the most he's ever made in a season, likely surpassing his $2,700,000 AAV with the Twins in 2015. Like I mentioned above, quite the get for Duensing, all things considered.
The suitors for Duensing's services could include teams like the Nationals, Brewers, Astros, and Angels. All these teams had some bullpen trouble in 2017, particularly with left-handed hitters. The Cubs could very well contend to sign him too.
Lead photo courtesy Dennis Wierzbicki—USA Today Sports