Position: Third base, occasionally outfield
2017 Stats: .295/.409/.537, 29 HR, 6.6 WARP
Year in Review: For most of 2017, the narrative surrounding Kris Bryant was that he was enduring a down year following his 2016 MVP season. For good measure, some of Cubs Twitter spent most of the summer looking at his 73 RBI and his .237 average with runners in scoring position and concluding that he was hopelessly unclutch.
Which was like staring into Bryant's eyes and complaining, "I only see the doorway to 997 churches."
So let's play a game! I'm going to give you a pair of stats and see if you can tell which one was from Bryant's MVP campaign and which was from 2017, the year where he might as well have changed his name to Neifi.
True Average
Year A: .350
Year B: .326
That's an easy one–Year A is 2016. Bryant lost 24 points of TAv from last season. As a point of comparison for how disappointing his performance was, All Star starter Nolan Arenado ended 2017 with a TAv of .317. Which means that this year, Kris Bryant was the best offensive third baseman in the National League by only nine percentage points.
I guess that's what happens when you can't even hit a 51 year old.
Based on Bryant's fall in TAv, it should be pretty easy to guess this next one…
OPS+
Year A: 146
Year B: 143
Again, Year A is 2016. KB's MVP year blows his 2017 OPS+ away by a grand total of…*pulls out calculator*…three points?
Wait… what?
Well, that difference certainly goes a long way to explaining this next category…
OPS
Year A: .939
Year B: .946
See what I did there? I switched the years up to avoid falling into an easily guessable pattern. So you can see that in 2017, Bryant's OPS fell by a total of…
Hold on, I'm being told that Year A is still 2016. So that means that this year, Bryant actually gained seven points of OPS? Because his OBP was actually 24 points higher?
But… the narrative! Won't somebody please think of the narrative?!
wRC+
2016: 148
2017: 146
The evidence just shot the narrative a look and said, "If he dies, he dies."
So you know that guy on the Cubs who won Rookie of the Year and MVP in his first two MLB seasons? It turns out he's still every bit as good at baseball as you thought he was and didn't turn into Kevin Orie 2.0. Weird how that works.
Bryant's season somewhat mirrored the Cubs as a whole in 2017. He began the year with an 0-for-14 stretch, and for the first time in Chicago sports history, nobody flipped out. In this way, 2017 gave us a sight even rarer than a Cubs World Championship: three days of the fanbase acting like grown-ups.
As literally everyone expected, Bryant returned to form by the end of April, punishing opponents to the tune of .378/.463/.644 in the month's final 11 games. And May looked to be more of the same, particularly when Bryant obliterated Philadelphia pitching with an 8-for-13 stretch in its first few days.
But again, like the team itself, things began to tail off, and in a stretch from May 17 to June 28, KB scuffled through a .219/.383/.484 malaise while the World Series hangover narrative really began to take hold. As his OBP and SLG lines show, there have certainly been worse malaises for a player to endure, though. It was like Bryant's batting average woke up every day with bleary eyes and a migraine while his on base and slugging kept insisting "Wait a minute… you don't drink…"
Making matters worse, Bryant needed to be helped off the field on June 28 after awkwardly stumbling over third base attempting to catch a pop-up. Nothing summed up the 2017 Cubs to that point better than their five-tool, athletic specimen MVP appearing to end his season by transforming into Sexy Inspector Clouseau.
In an incredible stroke of good fortune, Bryant missed all of two games with an ankle sprain. And somehow, he came back from that injury scare changed back into his old self. Over the last three months of 2017, Bryant dominated the league with a .325/.423/.554 slashline and 13 home runs over his final 77 games. Paradoxically, the four days off at the All-Star break appeared to be the cure Bryant needed, while his performance after returning proved that he shouldn't have missed the All Star Game in the first place.
When KB helped crush Milwaukee's playoff hopes with a 10th inning home run on September 21 to complete an improbable comeback victory, it was sweet vindication for himself and for the Cubs as a whole. On both a personal and team level, he helped overcome the World Series hangover narrative and proved to be one of the most essential parts of repeating as NL Central Champions.
But after a disappointing performance in the postseason, the word from panicky Chicago sportswriters and fans now appears to be that Bryant disappears in big games. It would be an absolute pleasure if that particular narrative were the next in line to get Dragoed.
Looking Ahead: As far as I know, there are two things Kris Bryant likes to do during the offseason:
Dress like he just signed an endorsement deal with Ricola.
Identify an area of his game that needs improvement and work to correct it.
Last year, Bryant decided to upgrade his ability to drive the ball with power to all fields. That went well: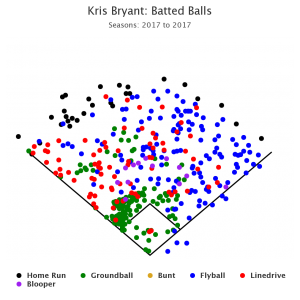 Source: Fangraphs
So what's he going to focus on now? One area might be his fielding. While he can still look good with the eye test and is nowhere near the butcher that some feared he would be, defensive metrics suggested a decline in this aspect of his game during 2017. FRAA put him in the red at -3.9 (following a 1.3 showing in 2016) and the UZR/150 for his time at third base depicts an unfortunate drop to 0.5 (from 7.7 the previous year).
Another possibility is his baserunning. It's one area where we know Bryant usually excels–especially at taking the extra base and going from first to home. But nonetheless, he did see a slight decrease in BRR to 1.9 (from 3.4) in 2017. The ankle injury probably had something to do with it, and it also didn't help that he was caught stealing (5 CS) almost as many times as he successfully stole a base (7 SB).
All of this is definitely nitpicky, but with so many aspects of Bryant's game ranking at an elite level, he can afford to be finicky when identifying skills that check the "needs improvement" box. Beyond that, I'm going to go out on a limb and guess that he'll put up MVP-caliber numbers and say a bunch of nice things on TV in 2018.
And if he does well enough, maybe next winter he can have his friend Bryce over to play.
Lead photo courtesy Brad Mills—USA Today Sports