It happened!
After months (that seemed like years) of speculation, the Cubs finally landed the prize of the 2018 free agent class, at least on the pitching end. Yu Darvish, the one-time Rangers phenom known for his insane, eight-pitch arsenal, one of the greatest pitching GIFs of all time, and, more recently, for his epic World Series collapse as a member of the Dodgers, signed a six-year, $126 million deal (with upside for $150 million) with the North Siders that should keep him in Cubs pinstripes through 2023. (It's worth noting that the deal also includes a player option after two years).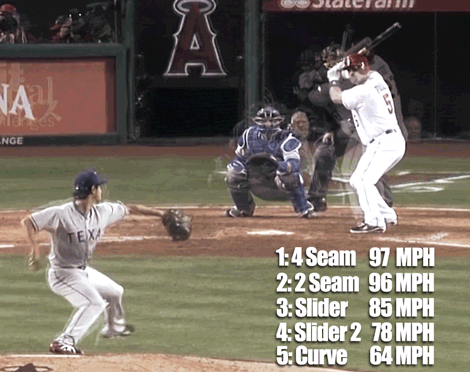 So who is Yu? Or, who are Yu? (Oh no. I swore to myself I'd keep this article pun-free, but they're already happening). BP Wrigleyville's Zack Moser has a detailed breakdown of the deal that is worth checking out. But in the meantime, here are 10 things you should know about Yu (it's really harder than Yu you might think to stay clear of the puns):
1. He's struck out more than a batter per inning in an astounding 87 of his first 131 big-league games. That's the most such games in MLB history by a player in his first 131 games, and it's not that close (Cubs legend Kerry Wood ranks second with 76).
2. Among starters with at least 800 innings pitched in their first five seasons, Darvish has the highest strikeout rate in MLB history at 29.7 percent (and coming in second, yet again, is our man Kerry Wood, at a not-too-shabby 27.9 percent).
3. And while we're here, here's one more "Yu can strike out guys at will" stat: he notched his 1,000th strikeout just 128 games into his big-league career, making him the fastest player in MLB history to reach that mark. For context, it took Kerry Wood 133 games, Roger Clemens 143 games, and Clayton Kershaw 155 games to reach 1,000 Ks.
4. Darvish ranks 12th all-time among pitchers in their first five seasons (min. 800 IP) with a 3.33 strikeout-to-walk ratio. (And interestingly, we've got another ex-Cub just in front of him on the list, as Fergie Jenkins ranks 11th at 3.40).
5. If he can maintain his high-strikeout ways, that K/BB rate could even improve. Why? Darvish has steadily improved his control over the years, either setting or tying a career-best in walks per nine every season he's been in the majors: 4.2 in 2012, 3.4 in 2013, 3.1 in 2014, 2.8 in 2016, 2.8 in 2017.
6. He's been nails against right-handed batters throughout his career, with a .214 true average since 2012 that ranks fourth-best in MLB (min. 350 IP), trailing only Max Scherzer (.189), Clayton Kershaw (.202), and Corey Kluber (.213).
7. Despite needing Tommy John surgery towards the end of 2014 (which caused him to miss all of 2015), he's been able to maintain his velocity over the years, unlike the pitcher he's replacing in the Cubs rotation, Jake Arrieta, who has seen his velocity steadily decline since his 2015 Cy Young campaign.
8. New Cubs' backup catcher Chris Gimenez was Darvish's personal catcher for a brief stretch in 2014. Gimenez caught Darvish 12 times that year before being traded to the Indians mid-season, and the results speak for themselves. In 79.1 innings with Gimenez behind the dish, Darvish posted a 3.29 ERA, fanning 29.5 percent of batters he faced while allowing a .250/.308/.411 slash line. The 3.77 strikeout-to-walk ratio he posted when throwing to Gimenez is also an improvement on his career numbers, as well.
9. Opposing hitters continue to be vexed by Darvish's offerings. Like, Chidi-from-The-Good-Place-level vexed. In fact, the only starting pitchers who have a higher swinging strike rate than his 29.29 percent since he debuted in 2012 (min. 800 IP) are Francisco Liriano (31.08 percent), Max Scherzer (30.17), and Noah Syndergaard (29.64). Darvish even ranks ahead of elite swing-and-miss pitchers like Clayton Kershaw (29.10), Chris Sale (28.39), and Corey Kluber (28.33).
10. Okay, let's talk about the elephant in the room. Darvish's postseason ignominy has been the subject of much discussion this offseason, and rightfully so. He's one of nine pitchers in MLB history to allow four home runs in a single playoff game, which he did against the Blue Jays in the 2016 ALDS. You don't have to look far to find the silver lining here, though: Clayton Kershaw is also on the same list, for allowing four homers in Game 1 of the NLDS just last year.
Of course, Kershaw's Dodgers still managed to win the game, which was their first step towards a World Series berth ultimately spoiled by…Yu Darvish. In that series, Darvish failed to get out of the second inning in Game 3 and Game 7, making him the first player in MLB history with two games of fewer than two innings and four or more earned runs in a postseason series.
Here again, though, one only needs to remove one's recency-bias-colored glasses for a brief moment to realize that the Cubs still acquired an elite arm. Darvish's World Series struggles were possibly (okay, almost definitely) the result of his tipping his breaking pitches, an issue that, one would think, Darvish and new Cubs pitching coach Jim Hickey can easily correct.
* * *
The signing of Darvish rounds out what should be one of the top rotations in baseball. Whether he can bounce back from his unexpected World Series collapse, whether he can maintain his ace-level production into his thirties, whether Cubs writers can resist the urge to litter every Darvish post with "Yu" puns… only time will tell. What's certain, though, is that with spring training right around the corner, it just got a lot more fun to follow the Cubs.
Lead photo courtesy Dennis Wierzbicki—USA Today Sports