During the offseason, it was pretty much a foregone conclusion that the Cubs would have to trade one of their four young players who hadn't quite scratched out star status or a full-time role yet. One of Javier Báez, Addison Russell, Ian Happ, or Kyle Schwarber would be calling the movers, with pitching coming back to Chicago. It didn't quite work that way.
You could see a case for all four to either stay or go. When it came to Russell, the perception never quite matched the reality. A wonderful defensive player, but one who had never had a plus offensive season and whose ambiguously resolved domestic violence case still looms. When Báez filled in for him during his injury absence last year, he put up an offensive season as good as anything Russell had produced (Russell in '16 and Baez last year both sported .275 TAvs) while not losing too much in the field. Clearly, Baez had the greater power and also the greater ability to make you drop/spill things on your living room floor.
So to say Russell's place on this year's team was assured would be a leap. Russell has yet to prove to be dynamic offensive player, and now, entering his fourth full season, you could be forgiven if you'd starting wondering if he would ever. Clearly there's an adjustment going on for Russell so far this season.
It's been something of a rough start, though maybe not in the ways you think. Russell's walk rate has doubled from last year, from 7.4% to 14.1%. So far, he's cut his strikeout percentage about a third, from 23.1% to 14.1% this year. That's good! He's seeing 4.3 pitchers per at-bat, a career-high. This is good stuff. We like this. More of it, with a side of hush puppies, please.
It's when Addison is actually getting the bat on the ball so far this season that someone cues the slide whistle. He's hitting only .222 with an unsightly .296 slugging percentage. That's Eckstein stuff. Nope, hold the hush puppies on that one.
What's strange is that Russell is hitting the ball as hard as he ever has. A 26.7 percent line-drive rate is tops in his three-plus seasons. So is his 33.3% hard-contact rate. He's hitting fewer grounders than ever. A .267 BABIP is low, though not the kind of low that would cause you to curse the gods and their choices, so that doesn't explain it all.
Well what about this? Russell is pulling only 22.2% of the balls he puts in play. That's basically half of what he'd done the previous three seasons. And almost all of that has been transferred to going gap-to-gap, with a 53.3% "center" distribution of his balls in play, contact that is considered neither pulled nor hit the opposite way.
When he goes up the middle as it were, he's got a good line-drive rate and the same hard-contact rate. He's hitting .292 that way, with an okay-though-not-great .417 slugging. Still, Russell's power has almost always been exclusively when he pulls the ball. He only had two homers to the opposite field last year and one was right down the first-base line. Last year he slugged .598 when he pulled the ball, and the year before that he slugged .776 when pulling the ball. This isn't unusual for anyone, obviously, but it shows that Russell's lack of power isn't due to his pull swing.
So what gives? Well, the way he's being pitched might have something to do with it:
Trying to pull pitches that are low and away are a great way to show everyone how the opposing shortstop fields grounders. And Russell's greater spraying is obvious this year. Here is his zone map of pitches he hit for lines drives last year: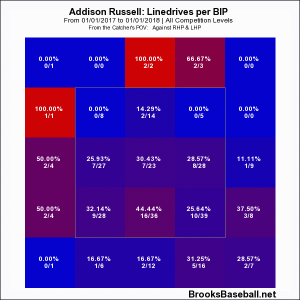 And so far this year: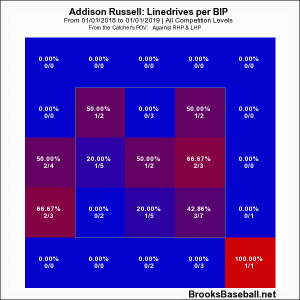 He's doing far better work with outside pitches, he just doesn't seem to be getting the results. All of this could be a ploy to get pitchers to come inside more when he can really show his power.
Does a new hitting coach have something do with it? We can't get there yet. Of all the other Cubs regulars only Báez has shown a great difference in his opposite field percentage than the previous year. But then again, these were perhaps two of the ones who needed to do most, especially in Báez's case.
It's hard to say Russell has been extremely unlucky, but given how hard he's hitting the ball he might feel short-changed a bit. Russell is striking out less, walking more, and hitting the ball harder and more spread out than he ever has. These are all things we've been told lead to breakout years. I would expect an Addy binge any minute now.
Lead photo courtesy Benny Sieu—USA Today Sports