What You Need To Know: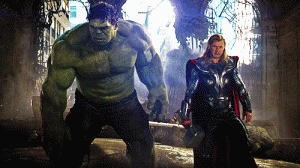 PICTURED: Ian Happ and José Quintana
For the record, this is the third straight recap I've done where the Cubs have scored 10+ runs. I'm not saying you should start a petition that I do every recap from here on out. But I'm not saying you shouldn't either. Anyway, Hey Yo Sal Ramano Ovah' Here Howyoudoin couldn't locate the plate if he was throwing from 10 feet away, and the Cubs turned his six walks into a touchdown with the PAT. José Quintana was locked in and just about as good as we've seen him, providing seven shutout innings for a team that really needed it. And he really needed it. All in all, it makes for two of three with a chance for three of four tomorrow. That's acceptable. More so.
Next Level: Quintana has been the subject of many a think piece lately, including a couple by a truly, deliriously clever and sharp-looking writer at this here site, so it was truly heartening to see him get a dominating start in. One thing I've been commenting on is Q's attempt to be on both sides of the plate with his fastball to right-handed hitters. He's had a hard time finding the outside corner to them, but seemed to have better luck tonight: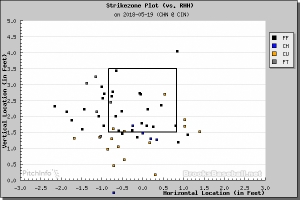 As you an see here, he didn't miss with his four-seamer on the outside corner tonight, which is a good sign. Perhaps Q thought that hitters were starting to lock in on the inside, and it's just going to take some time to alter his repertoire. We'll have to get in a few more starts, and against better teams than Reds, but it's a good start. Like 1000 lawyers at the bottom of the sea.
-After the afternoon's frustrations, it was a relief to see the Cubs cash in on some chances tonight. It felt like it would be the same thing over again when the Cubs had runners on first and third with no outs in both the first and third innings, and contrived to only come up with one run. Anthony Rizzo struck out and grounded into a double play on pitches that might have hit him in the Adam's apple otherwise, and Willson Contreras probably had worse ABs. But a Happ homer in the 4th, to his pull side no less, opened up the floodgates, and then they put it away in the fifth. Like he did in the first game, Rizzo made up for some bad ABs with a double that scored a run, and then Heyward got lucky with a bloop triple, which is a phrase. After that, it was academic.
I'll really only worry when the Cubs aren't even getting the runners on. Yes, they need to be better when they have a chance to score, but I don't think it's a season-long disease. Yet. I'm the opposite of the Boy Who Cried Wolf. I also am not the wind that cries Mary. I whisper in the shadows, I guess.
-It wouldn't be a Cubs game without a Steve Cishek appearance, and he got both in today. Currently on pace for 83 appearances, which assuredly won't leave him basically a pile of plasma come October.
And that's about that. Let's WPA it, baybay!
Top WPA Play: Rizzo's double in the 5th that plated Bryant and Zobrist and made it 4-0 (+.125).
Bottom WPA Play: A Duvall walk in the 2nd. No, seriously (-.013).
Onwards…
Lead photo courtesy David Kohl—USA Today Sports