I questioned it. I thought about it a lot. I wanted to give up on Jason Heyward so many times. But I never completely could. Back in September, I referred to myself as a "high-ranking member" of the Jason Heyward Fanclub (not wanting to seize leadership by force). And perhaps I'll look back a few weeks or months from now and still wonder what the hell I was thinking in doing so. But this version of Jason Heyward very much looks like the one that has made all of the struggles and frustrations of the first two years of an eight-year deal worth it. One far more representative of the player that the Cubs thought they were signing away from St. Louis heading into 2016.
Heyward's been through a lot in two-plus years on the North Side. He signed the big contract and then immediately appeared to succumb to the expectations that such a lucrative pact bring. He's battled injuries, and while he hasn't always missed significant time, wrist, hand, and finger injuries like the ones Heyward has experienced are seemingly always of the nagging variety. When you toss in the mental hurdles that Heyward has had to overcome from his slow start, in addition to smaller, but nagging, health woes, it's no wonder he's found himself where he was coming into this year.
Each winter, we hear about the changes that Heyward has made to his swing to get back to where he was in his days in Atlanta and St. Louis. This past offseason, working with Chili Davis focused a bit more on the mental side, something that was, no doubt, a need for Heyward. Especially after many of his mechanical tweaks occurred to no avail. As such, there doesn't appear to be a wealth of mechanical changes as you watch him swing the bat. But the player that's been swinging since he came off the disabled list on May 18th looks like someone who's healthy and confident in doing so.
The numbers speak for themselves. It's not a situation where those who have defended Heyward have had to continue to do so (except maybe in the case of those who wonder how sustainable his success is). He's been one of the better outfielders in baseball over the past month of the season. His slash features a .322 average and .372 on-base, along with a .494 slugging. Among 71 qualifying outfielders over that span, he has the lowest strikeout rate, at under 10%. FanGraphs' wRC+ has him at 133 for the month.
His performance over the past month of the year has gotten the bulk of the attention, and it's actually led to some strong overall numbers for Heyward. His .269 average, .335 OBP, .269 TAv, and 102 wRC+ all represent highs in his Cubs career. But what is it exactly that has changed for Heyward that's allowed him to experience a better sustained stretch than at any point in the last two-and-almost-a-half years? My own analysis says confidence.
Jason Heyward is hitting the ball at about the same rate that he has over the last couple years. Swing, contact, and whiff rates haven't varied by more than a percentage. But we're seeing Heyward hit the ball harder, without question. His 33.7% hard hit rate is his highest since 2011 with Atlanta, and far eclipses anything we've seen in Chicago. He's also driving the ball to the opposite field with more regularity, with an oppo rate of 23.8% representing a four percent increase from last year. One possible change that has led to the uptick in performance is his pitch selection: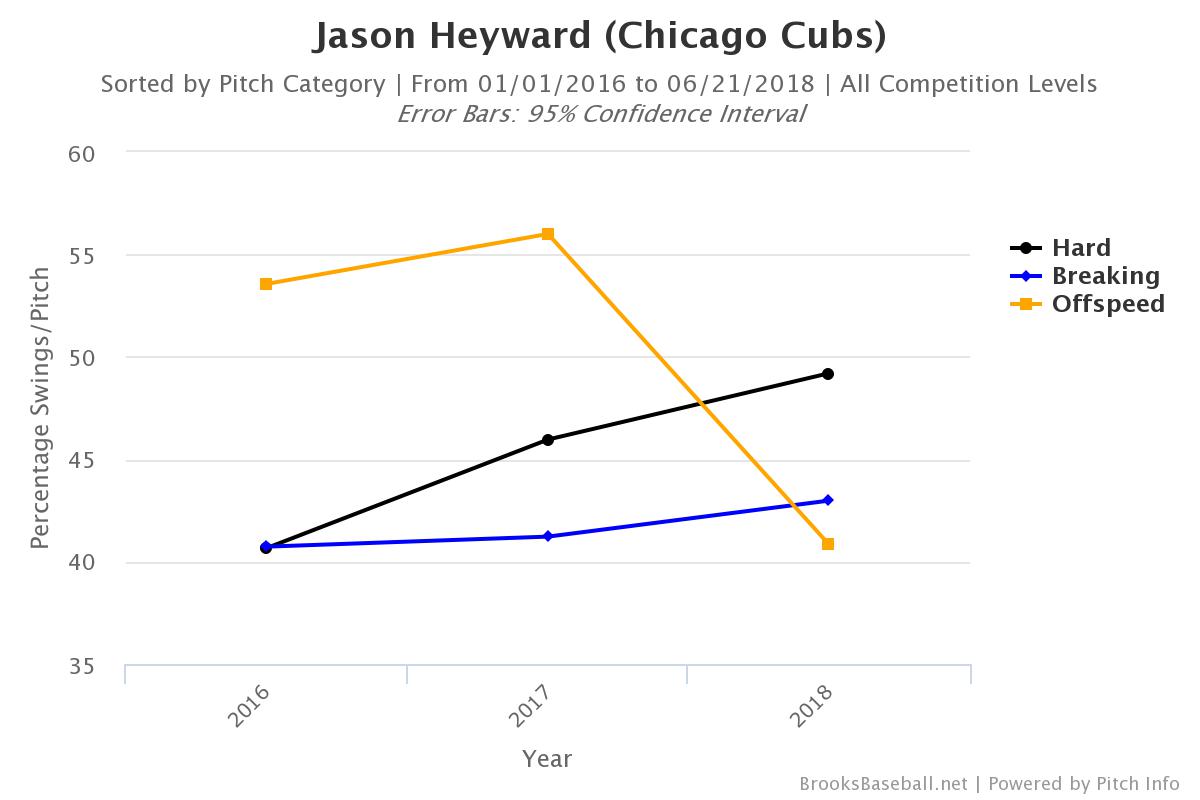 In laying off the offspeed stuff and attacking fastballs, Heyward is obviously finding success and managing to drive the ball. His 3.85 pitches per plate appearance falls in line with his career averages, and his walk and strikeout rates have remained relatively similar to the past. So it's not as if he's completely overhauled his approach. He's just gotten more selective in attacking specific pitch types, or at least that would appear to be the case.
Ultimately, though, I think it comes down to the confidence and the health aspects. There's a lot to be said for his presence at the plate, especially given the lack of noticeable mechanical and approach-related changes. Sure, slight changes in the hands and the changes in selection are contributing factors. But there's a lot to be said for how Heyward has looked at the plate. He looks comfortable and confident. He's swinging with far more authority than we've seen in the last two years. It's tough to overstate the value of the mental side for hitters, and I think that this was something that many people overlooked during his tenure with the Cubs to this point.
The weight of the expectations that came with that contract. The minor injuries that just seemed to nag at him and his performance. It all had to pile up mentally for Heyward. That's obviously why Chili Davis spent time working on him with the mental aspect of it all over the winter. And we're seeing the benefits. Given what he's done with the glove throughout his career, Heyward always had value. But at 1.7 WARP, he's already nearing his 2.0 WARP mark from 2017. And that's with very little offensive output to speak of. The thought of him as an offensive threat makes him such an asset to the Cubs, and his mindset at the plate likely has a lot to do with it. As the season wears on, this is going to be an extraordinary aspect to continue watching. But as for right now, we'll all sit and hope that this is for real and that this is the Jason Heyward that the Cubs are going to get for the foreseeable future.
Lead photo courtesy Jeff Curry—USA Today Sports