What You Need To Know: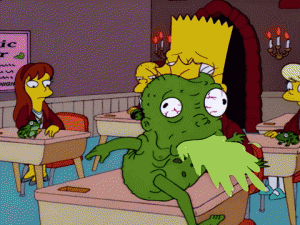 Next Level: Well, it seems we do this after every Lester start the past month, but there's no reason to start anywhere else. Eight earned runs while getting 11 outs. In 32 and 2/3rds innings since July 1st, he's given up 35 earned runs. I don't need to do the math for you so that you'll know the Cubs #1 starter would be confiscated at TSA right now. At least his K/BB ration today was 5:1? And hey, four groundouts out of 11 is ok?
But the contact…it's so loud. Go through the plays on the MLB.com box score and you'll see a lot of "…on a line drive to…" So while Lester was getting more whiffs and strikeouts than we've seen him do for most of the season, when he did miss his spot even by a little he got crushed. Lester doesn't appear to have lost any velocity, as his fastball averaged 92MPH today, which is usually where he was at last year. But it is down from his dominant 2016 by almost two miles per hour, and you have to wonder if that's ever coming back given his age and mileage.
Lester has one quality start in his last eight. We're at six weeks of this. At some point, this isn't a streak. We're not there yet, but there aren't a lot of rest stops between us and that point either. Maybe due to the slightly softened fastball, he's getting seriously hurt when he comes inside to righties. Lester used to live on the outside corner, and he might have to just exclusively get back out there and only come off the plate inside to find success again. Whatever it is, this isn't working.
Beyond that, the Cubs gave a debut for Jorge De La Rosa, because the tomato can quotient out of the pen wasn't high enough. This seems another guy we'll forget was a Cub by November, joining the likes of Rafael Soriano and Joe Smith and whatever other palooka might be your favorite. And Chatwood got three innings of work without giving up a run, which is nice for him I guess.
Ball this one up and burn it. Hope Lester finds something in the next pen session.
Top WPA Play: Rizzo's single in the third, his 1,000th his. (+.094)
Bottom WPA Play: Zimmerman's homer in the first. (-.189)
Onwards…
Lead photo courtesy Dennis Wierzbicki—USA Today Sports