What You Need To Know: Cole Hamels was brilliant, and if it wasn't for a handful of duck-snorts and dog-belches (sure, why not?), he might have made a run at a Maddux tonight. The Reds also played this one as if they wanted to get to Girl and The Goat before it closes, or like a last-place team might. Throw in a clean offensive effort where the Cubs bled a starter enough for comfort, and then tacked on off a bullpen off a bad team to make this one an easy flight down into the easy chair.
Next Level: Your man of the match is Cole Hamels, and it isn't even close. And it wasn't very complicated either, as Hamels basically pumped four-seam fastballs and cutters past the Reds all night. 91 of his 114 offerings were either or, but hitting all four corners made them several different offerings.
Hamels' only choppy water came in the first, when both Billy Hamilton and Jose Peraza coughed up hits that had to apologize for being so before they hit the ground. Had Daniel Murphy (who has Ben Zobrist as a defensive replacement, just so you have some idea of where his defense is) actually been a viable second-baseman, Hamels would have gotten out of it unscathed. He only gave up the one as it was. To see how evenly Hamels was over the plate to dispatch and admittedly less-than-dangerous Reds lineup…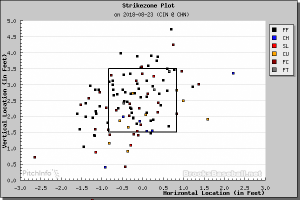 It goes down as the first complete game by a Cubs' pitcher this year, which is kind of a sad statement, but we'll take it now. Hamels has simply been a godsend since he arrived, and don't tell me anyone thought he would be this good. He seems to have found a home here. And the Cubs will need more of it with Darvish now officially done. It's also huge because the Cubs are going to have a bullpen day tomorrow, and only Chavez even warmed up. If Quintana can give them innings on Saturday, then a bullpen day shouldn't even throw them off rhythm.
- Javy Baez hit a homer that probably came as close to landing in the lake as you'll see. The measure was 481-feet, and that might be shorting it a touch. I can't recall the last ball I saw leave the stadium that close to dead center. Sosa's clanging one off the camera stand is about as close as you'll get, and this one may have been farther. It would have landed in the concourse in center had it been pointed that way.
That's the thing with Javy, just about anything is possible anywhere on the field and anywhere on the spectrum. He also made a great diving catch to end the seventh. No one lords over the entire field like Javy can.
- Rizzo homered for the third straight game, and the Cubs look like they may be scoring again. This is not a coincidence.
This is just one of those clean wins, where the Cubs play well and get a comfortable win and make all the plays and get the hits they need against an opponent they should be beating regularly. This is the gear they need to find more often here in the last five weeks, especially in the middle of 23 in a row.
Top WPA Play: Rizzo's homer in the first that put the Cubs up 2-1, and for good. (+.174)
Bottom WPA Play: Ervin's single in the top of the first that Murphy was only able to knock down but not get an out. (-.098)
Onwards…
Lead photo courtesy Matt Marton—USA Today Sports