Ronald Reagan's career in entertainment began, in part, due to his love of baseball. In the 1930s, he worked for WHO Des Moines, "re-creating" Chicago Cubs games: a wire operator sent him code from Wrigley which he then narrated to his audience, often filling in fictional details when the code was sparse. In the spring of 1937, Reagan traveled with the team to their spring training complex in South Catalina Island, from whence he visited the nearby Warner Brothers studio, signing a movie deal days later and officially leaving his announcing days behind him. But Reagan continued to follow baseball, turning to it in 1952 to re-energize his career.
By 1942, Reagan had established himself as one of the most popular actors in the country due to the popularity of such characters as football player George Gipp and orphan Drake McHugh. But after taking a break from Hollywood to oversee and star in several WWII propaganda and AAF training films, Reagan's stardom plummeted. Now in his 40s, he was no longer young enough to be a true leading man and his attention turned to labor disputes within the Screen Actors Guild, of which he was president. While in this position, Reagan fought for the union's rights, but his growing anti-communism led him to blacklist a number of former SAG members, and his popularity among Hollywood elites dwindled.
His contract with Warner Brothers came to an end in 1952, but not before Reagan seized the opportunity to play a role he had always coveted and one which he thought would endear him again to moviegoers: a professional baseball player. Reagan had initially begged his agent to get him the lead role in MGM's 1949 hit, The Stratton Story, but instead it went to James Stewart. Nonetheless, the film's popularity prompted Warner Brothers to put forth a similar film in 1952, and Ronald Reagan received his dream role: Grover Cleveland Alexander in The Winning Team.
The film, starring Doris Day as Aimee Alexander, purported to be the true biography of Alexander, bringing to the screen the pitcher's early career and his struggles to remain in baseball, while focusing on his relationship with his wife. It begins in Nebraska in 1908 where Alexander is working on a farm in order to save enough money to purchase a house for himself and his wife while dreaming of being a pitcher. Finally, his pitching skills earn him a position on an Illinois team, but an injury to his head almost ruins his chance. However, he recovers, marries Aimee, and begins a flourishing baseball career. However, his injury returns and threatens to end his career for good. The film centers on his relationship with Aimee, his biggest supporter, as he works his way toward pitching in the 1926 World Series.
Reagan, who looked several years older than his 41, was a odd choice for the role, but he practiced hard to be able to accurately portray the pitcher. He trained for a number of week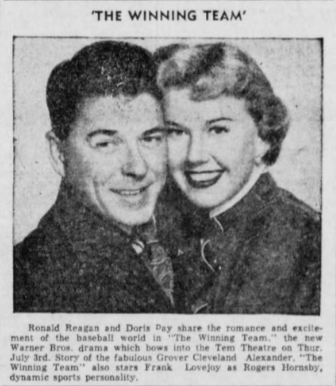 s with several major league pitchers, including Detroit's Jerry Priddy and Cleveland's Bob Lemon. While the future president was able to successfully mimic Alexander's windup and hop, he unfortunately proved unable to throw anything close to a strike.1 However, neither the director nor the studio was concerned with Reagan's lack of skill, and the movie was filmed largely without a hitch.
It, however, did not receive the buzz as The Stratton Story, and the description in the film's trailer of Aimee Alexander "the strength behind his every pitch," proved prescient. While The Winning Team was somewhat warmly received by critics, who enjoyed the story and Doris Day's performance, they agreed that Reagan was good enough to not single-handedly ruin the movie, but was by no means a standout. Variety called the film "a conventionally-treated screen biography" in which "Doris Day, on whose name rests the film's chief marquee draw, contributes a sincere, moving portrayal as Alexander's wife," while Reagan "proves passable as a ballplayer and okay as the man."2 The New York Times' Bosley Crowther applauded the film for its supposedly accurate portrayal, asserting that "Ronald Reagan, playing the redoubtable Alex, and Doris Day, playing his wife, couldn't have possibly put so much yearning and burning into their roles if this weren't [true]."3
Other critics were more hesitant to praise both the story and Reagan's performance. The Chicago Tribune called the film "a sentimental version of the life of Grover Cleveland Alexander" and Reagan's performance a "manful struggle" that combine for a film that "isn't too bad."4 The Davenport Daily Times goes further, asserting that while Reagan is "competent," he is ultimately "not convincing."5 Meanwhile, the Cincinnati Enquirer, in its first review of the film, wasn't inspired enough by Reagan's performance to care about spelling his name correctly, calling him "Donald Reagan."6
Overall, the reviews were not what Reagan was hoping for. The film was the 83rd highest-grossing one at the box office in 1952. It received zero Oscar nominations was not enough to revive Reagan's film career, which was effectively killed in 1954 after his anti-Communist film Prisoner of War failed to cross the $1 million domestic gross mark at a time when anti-Communist sentiments were so rampant the Cincinnati Reds had to change its name to the Redlegs. He was ultimately pushed into television in 1955, despite his distaste for and distrust of the medium. General Electric hired him to tour the country, giving speeches promoting GE's economic views, during which his conservative views hardened and he became involved with politics on a larger scale.
For his part, though, Reagan loved The Winning Team. He relished the opportunity to embody one of his childhood heroes, asserting years later that he had "never had more fun or enjoyed anything more in my life than when we were making that picture."7 If only he had been more convincing in the role.
Notes:
1 Curt Smith, The Presidents and the Pastime: the History of Baseball and the White House, (Lincoln: University of Nebraska Press, 2018), 291-294.
2 Variety, June 1952.
3 New York Times, June 21, 1952, pg. 29.
4 Chicago Tribune, July 7, 1952, pg. 42.
5 Davenport Daily Times, June 21, 1952, pg. 21.
6 Cincinnati Enquirer, June 27, 1952, pg. 7.
7 Smith, 290.