I should put a disclaimer at the top of this, because if you've followed me either here or at my hockey wing for any length of time you know the "Fels M*therf*ck" is a real thing. It's already sort of worked, as I wasn't a fan of Hamels trade when it happened, and he's been left-handed Verlander '17 since he arrived. So if after the publishing of this Hamels begins to resemble a collection of sweaty Def Leppard t-shirts from the Hysteria tour, I'll just have to wear it.
Jim Hickey has not exactly won over a lot of Cubs fans yet. We've documented earlier in the season how both Hendricks and Lester had struggles using all four quadrants of the plate, seemingly something Hickey was stressing. But Hendricks has straightened out, and Lester has been able to string together two dominant starts. Jose Quintana is still having something of a career-worst year, as he is having problems with the "Kerry Wood Memorial Inning At The Zoo."
But it would appear the Cubs and Hickey have unlocked something with Cole Hamels.
Most every pitcher will tell you the beginning of everything is a good fastball. At least until you lose velocity, which Hamels has not. Upon arriving in Chicago, it would appear that Hamels has gone back to the beginning.
In Texas, Hamels was using his four-seam fastball around 20 percent of the time. He started to up the usage in his last month in Texas, where his fastball percentage rose to 29 percent. He was still getting crushed, but the Cubs figured the only way out was through. In August as a Cub, he's using it 40 percent  of the time. The chart does a better job explaining: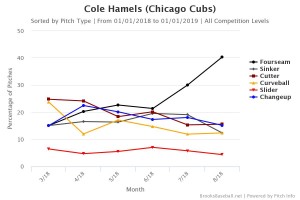 Obviously, that's not the whole story. There's also been a change in how he's using it. Here's where Hamels's fastball was located in Texas vs. right-handed hitters: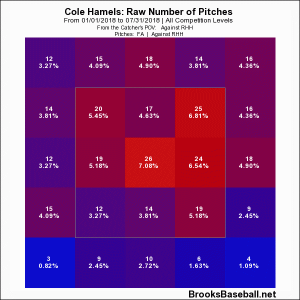 And here it is in Chicago: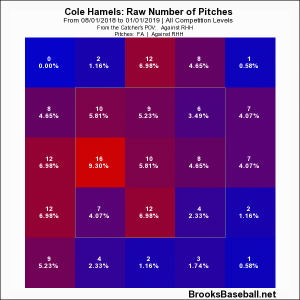 It's basically the opposite of what we've seen with Quintana, where earlier in the year Hickey was trying to get Q to use the outside corner instead of just burying fastballs on the hands of righties as he had done. Here, Hamels is actively trying to go inside more. And it's probably a good idea for Hamels to stay away from the outside portion of the plate to righties, because look at what they slugged against him out there in Texas: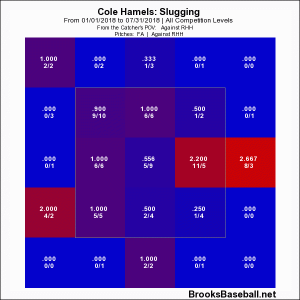 So yeah, staying away from there. Hamels has also changed his release point on all his pitches, but especially his fastball: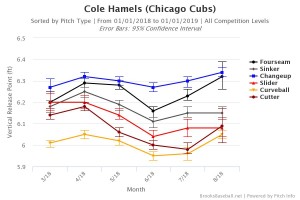 That release point is more in-line with where it was in '15 and '16 then earlier this year and even last year. A higher release point gives him a little more tilt to the fastball, or makes it easier to keep on the hands of righties, and apparently, it's actually made it easier for him to get inside on them.
It's also helped the changeup, which might be his best pitch since getting here. Hitters are whiffing at over half the changes he throws, up some 10 percent from where it was in Texas. And as you can see, his change and fastball are being released from the same point, where there was a gap before. That makes it more deceptive when it's coming out of the same chute. He's also moved it over a bit in location, as you can see here:
That doesn't mean it's going that swimmingly. Hitters are still getting a good piece of his fastball, as righties are still hitting it for line-drives 34 percent of the time, which is high. But he's getting about 10 percent grounders off it, and the BABIP has taken a sharp dive, which is at least partially due to the Cubs' superior defense and not having a parking lot of a runway as you get in the heat in Texas.
So let's call this one a victory, so far, for Hickey and Hamels. And the Cubs.
Lead photo courtesy Patrick Gorski—USA Today Sports