What You Need To Know: In a make-up game that neither team wanted to play and no one wanted to watch, the Cubs easily cruised to a one-run win that was never all that tense and got out of D.C. and back to Chicago about as cleanly as could be asked in this piss-poor situation.
What're you, new?
Next Level: Boy it's hard to know where to start with this one, given the circus-bears-got-into-the-molly nature of it, but we'll try.
Ok, so at first I thought pulling Mike Montgomery in the fifth with one on and no out was antsy at best, panicked at worst. Apparently Monty is still on a pitch count, only mentioned on the radio broadcast. But that doesn't add up. He hadn't pitched in nine days, threw 78 pitches the last time he made an appearance, and only threw 62 this time. Unless there's a new injury I'm missing. You already had to burn through the 'pen last night thanks to Hendricks only going five due to the turnover of the lineup. I'm not exactly sure what the deal is here.
Before we get to all the insanity, let's just point out that Javy Báez today tied the game and gave the Cubs the lead twice, in a streak where he's been struggling. I've already made the case why he's not the MVP, but it will be close. Few more of these and I'll have Fels M********ed him into the trophy.
The Cubs offense continues to be stagnant water that's starting to smell, but there's really nowhere for Joe to turn. Ian Happ got the start in center today and at least got two walks. Ben  Zobrist needed a day off, which put David Bote in left. With Bote in the outfield, Addison Russell has to play, and Daniel Murphy can't pray his way into anything right now. There's no viable replacements for any of it. Basically, Joe is telling these players to get their shit together because there's no other way. And there isn't.
(Sorry, this recap is just going to have to involve profanity. There's no other way).
Ok. So let's get to the nuttiness. Joe pulls Montgomery, but Jesse Chavez can't close the door and the Nats tie it. Chavez has been so good, so you can't really argue once you decide to pull Monty. But then that leaves you without him as a late-inning option, and that's if we accede to your claim that Monty had to be pulled. Sometimes, things just go wrong.
Our next talking point, Carl Edwards Jr. Again, this is almost an impossible balance for Maddon. The Cubs need Carl's Jr. to pick it up, to find the agent-of-death form he hints at being regularly. At the same time, Joe has to win games, but "Good Carl" helps you do that and he's not going to find that sitting in the pen. At the same time, he's nowhere near that right now. But you've already used Chavez and Steve Cishek, you probably want Justin Wilson and Pedro Strop for later, harder innings. Plus, Eaton-Wieters-Robles is hardly The Unblinking Eye.
And Edwards gets the first two outs, no muss, no fuss. But then look at this nibbling to Victo….I'm sorry, VICTOR F'N ROBLES!!!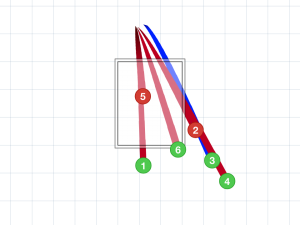 My man had a .740 OPS in Triple-A this year! Just throw the ball down the heart and see if he can keep the bat in his hands! He can't! How hard is this?! If Victor Robles takes you to pound town and they ask you after the game, you simply say you'll give him that fastball again and again and you'll win again and again. THIS SHIT ACTUALLY IS CHECKERS. IT AIN'T CHESS.
I don't even want to get too upset about the Trea Turner AB, because Turner really battled. Though maybe if Edwards was throwing his curve with a little more conviction than "I'm about to piss myself," he could have gotten a swing and miss. But as we know, with Carl right now one thing goes wrong and it all goes wrong.
And oh, now the Cubs really need Edwards to come out of his cocoon of ennui and angst, but we'll get to that in a minute.
This could have been a little easier if the Cubs had actually cashed in on the eighth inning. Anthony Rizzo and Kris Bryant lead off with singles. Murphy hits a dribble that he may have well farted out, but it works as a bunt. You gotta get a run here.
The pinch-hitting for Caratini as a righty is a sound decision. Victor is bad cubism from the right side of the plate. His wRC+ from that side is 27. You could go up there with a live otter instead of a bat and do better.
But again, the options are limited. The one chosen was Willson Contreras, who himself has been an emotionally damaged clown for a month or two now. But all he has to do is make contact. Just contact. He couldn't. That leaves Zobrist, whom Joe didn't want to use at all, because he's the better bet to get a hit with two out than Contreras was against Greg Holland. But Holland has turned into '89 Eckersley in D.C for some reason, and two nasty sliders later all the Cubs had was a big handful of themselves.
It's infuriating, but there's just not too many other places for Joe to go right now.
Now we're gonna have some fun. Strop comes in the 8th, which makes it pretty clear that this is a game that Joe thinks the Cubs have to have. And I don't disagree. Since you've already used Chavez and Cishek (and right now Cishek is good for two outs max anyway), you can't save Strop for a turn through Rendon and Harper when they come around again. And Edwards is busy lighting his own face on fire. It's the only way to go here. Because he's Pedro Strop, he gets five outs no problem.
Because it's written in stone that Zobrist needs a day off, you end up with Terrance Gore in the lineup. Which works out great when he pops up a bunt, because he can't do anything but run, and Albert Almora is somehow worried about Gore getting doubled up if the Nats let it drop. Guess what happens? This kind of thing can't keep happening. Albert is basically lost everywhere right now, and very well might be written off for the season unless he finds some illegal fireworks from Indiana in the next two weeks.
Which brings us to the tenth. The Cubs get a gift when Wilmer Difo watches his hands turn into saltines on Murphy's second apologetic grounder in a row. That gets Bryant to third. The Cubs' MVP candidate has to bunt to get him home, but whatever, it works. At this point we're not asking how.
All of this rolls around to the pitcher's spot, and again Maddon is faced with an impossible choice, or close to it. You've got a one-run lead in a game you pretty much gotta get, and your best reliever is still in position to get the three outs you need (also mind Rendon and Soto were due to lead off the tenth). Who do you want closing that out, Strop or Rosario? There's only one answer here.
Now, if you want to quibble that Strop should have been sent up there with specific instructions to not swing. I'll allow it. I don't think you can do anything thinking that he's going to get hurt running, not all that hard, to first. Managing in fear isn't going to get anyone anywhere. It went as bad as it possibly could have, but let's play it out and you pinch-hit, get the same result, and then Rosario blows it? Same reaction, probably worse.
So of course Rosario goes 1-2-3.
To review, all of Chavez, Edwards, Cishek have pitched two days in a row, Wilson two of three. Strop is hurt and probably down for at least a few weeks. Edwards is a mess. Wilson probably closes now? Forget it, that's a question for tomorrow. You've got six more games until an off-day, but they come against a team you just swept and a Diamondbacks team that can't stop blowing off its fingers to the point where I think they're up the elbow now.
Yeah, I don't know how you do it either. But considering this team has navigated this season without Bryant or Darvish or Morrow or Russell or with a raft of young hitters going through baseball puberty, I'm not betting against them finding a way. That's what these Cubs teams do. Also it's important that during this stretch of hell they're still 14-9. Even two of three in the next two series each would see them 18-11. You would have taken that beforehand and you know it.
Nothing worth having comes easy.
Top WPA Play: Báez's bunt in the tenth that ultimately won it (+.179).
Bottom WPA Play: Turner's double in the seventh that tied it (-.230).
Breathe. Onwards…
Lead photo courtesy @ARizz_44 on Instagram