What You Need To Know: There's a reason people call it a game of inches, and it's not totally lack of creativity. Jose Quintana made two mistakes, and Willson Contreras's drive in the 5th missed tying the game by no more than a couple feet. Add it up along with Luis Castillo's damn fine Kyle-Hendricks-Hopped-Up-Goofballs impression, and the Cubs couldn't complete the sweep.
Next Level: We've all at one point wondered what Hendricks would look like if he could throw really hard. Castillo doesn't have the pinpoint control, at least not yet, but he does feature the same sort of fastball-change attack that flummoxes hitters. He only threw 15 sliders on the day, and the rest of his 97 offerings were either a fastball or a change-up.
It would be easy to dismiss this as another complete dry heave from the Cubs lineup, but Castillo has been on a streak of late and might be a thing in the coming years. The Cubs have gotten to him before, but he was on today. In recent weeks he's shutdown the Dodgers and Cardinals in the same fashion. No joke here.
If I could have one quibble, and it's really nitpicking, it's that Castillo didn't really show he could throw inside to the lefties in the lineup today, as Jim Deshaies pointed out. And yet the Cubs were continuing to roll over his changes to the outside corner. Granted, Castillo gets a ton of movement on that pitch and it darts away, so it might look like something to pull at first before sneaking to the end of the bat with a chortle. But here was his plot to the lefties today: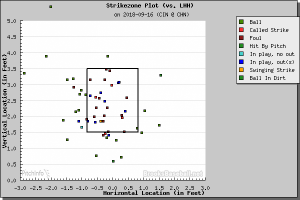 So in maybe the pivotal AB in the 5th, Happ still rolled over on a pitch with two out and the tying run in scoring position. Happ has so much power the other way I'm not sure he should ever look to pull a ball unless it's screaming to have that done, and baseballs don't tend to scream. But again, this is a really minuscule complaint. If he beats you inside, he beats you inside. One day, Happ is going to learn that.
- On the plus side, both Contreras and Almora hit balls hard today. It really has to start with something subtle.
- Quintana was good but you need to get more than five out of him. It didn't matter in the end as the pen was spotless, which is a real miracle considering it contained two innings out of Jaime Garcia. Once again, Q was mostly fastball, throwing 52 of them out of 97 pitches. But he wasn't getting enough whiffs, or not the timely ones, as the Reds were able to foul off enough pitches to extend ABs and innings and cut his outing short. The curve was effective though, and maybe could have been featured a touch more. Q is going to have to be a touch more efficient as we roll on into October here. And it's there for him.
- It's strange, but another couple feet here and there and Bryant ties the game on Wednesday with a homer and Contreras does so today. Maybe these games play out the same if they do, but maybe they don't. That's really all it takes.
Still, two of three in any series is more than fine, and the Cubs have a 2.5-game lead with 13 to go and a game in hand on the Brewers. Seven wins really ought to do it, forcing the Brewers to go 9-3 to close the season to catch. The seven wins are out there, you just have to go get them.
It's going to be all right. You're being very un-Dude.
Top WPA Play: Contreras's double in the 5th, and he's lucky his stare-down of it didn't cost him an out. (+.118)
Bottom WPA Play: Ervin's homer in the 4th to make it 2-0. (-.105)
Onwards….
Lead photo courtesy @Cubs on Twitter