Let me be clear up top. I like the guys at BleacherNation.com. They're smart, good-looking, generally a good smell. They know a lot, aren't pushy about it. So you shouldn't disregard anything they have to say.
And they care. So when they say something is to worry about, it's because they're worrying about it. Tuesday, Michael Cerami had this to say about what lies in wait for the Cubs in the postseason. You should read it. It might get you in a tizzy, and exiting a tizzy can be difficult. I don't like tizzies. You don't either, but it's best to be prepared.
If you don't have time and just want the nutshell, basically the five possible playoff opponents for the Cubs—Braves, Dodgers, Rockies, Brewers, Cardinals—all are in the top-10 in the second half of the season against left-handed pitching. Which is something of a problem, given that the Cubs are going to sport three lefty starters in the playoffs. Worse yet, they really only have three righty relievers for sure for the postseason in Steve Cishek, Carl Edwards Jr., and Jesse Chavez. We hope on Pedro Strop, but we don't know. Mike Montgomery will be used heavily out of the 'pen in the playoffs. So might Jorge De La Rosa, god help us. Justin Wilson will be, too.
So yeah, not great.
But let's pull over to the soft shoulder here for a second. Looking at half of a season against a certain type of pitcher gives you something of a skewed sample. And I like studying skews.
Of the 62 starters that qualified for the ERA title this year in terms of innings pitched, only nine are left-handed and in the National League. Only two are in the top-30. Quite simply, there are a dearth of quality, left-handed starters in the Senior Circuit. So when you say a team feasts on lefties, what you're saying is that they get to tee off on a lot of crappy pitchers.
Sure, there are way more lefty relievers and these teams have hit them as well, but relievers are relievers, and if the starters do their jobs, you can pick and choose your matchups a little better. Of course, the Cubs starters haven't exactly been masters of getting through six or seven innings. And in the playoffs, the third-time-through-the-order penalty is even more magnified.
This is where Tyler Chatwood's dance with the devil kind of hurts, because you could have easily seen a scenario where if he was effective Joe Maddon would have used him to burn through a right-handed heavy lineup after a lefty starter once through. Oh well.
So perhaps it's better to see how these teams stack up against the actual pitchers the Cubs will throw at them. So…
(All splits courtesy Baseball Reference. Please click to expand.) 
Cole Hamels
vs. Braves
Only Kurt Suzuki has really hit him well. Ozzie Albies and Ronald Acuña Jr. don't have a sample, but they're also great hitters, so that was always going to be a problem. Such is life.
vs. Dodgers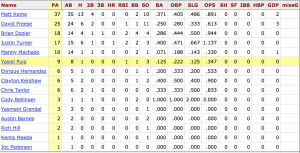 Matt Kemp and Justin Turner have been problems, but Manny Machado has been neutralized and so has Yasiel Puig. Not too bad here.
vs. Brewers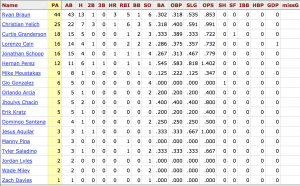 Yelp. Christian Yelich and Ryan Braun have been a problem. The Cubs can't get out Lorenzo Cain if they tried it with a superball. Hernán Pérez has been a problem. So this could be better.
vs. Rockies

Better. I'm not going to spend my nights worrying about Drew Butera, and if I do I give you permission to euthanize me. Carlos González has hit Hamels well, but traditionally has been terrible against lefties. Something will have to give. Feel better about this.
vs. Cardinals

This one's a little iffy because the Cardinals are sporting a lot of kids now who haven't seen Hamels much, if at all. For what we know, Matt Carpenter hits everyone as we know and Jedd Gyorko has always mashed lefties. The rest are kept under wraps. This wouldn't worry me much.
Ok, let's move on to Jon Lester….
vs. Braves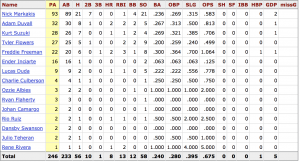 Good news here. Plenty of sample, and Nick Markakis and Freddie Freeman don't end the world against him. Again, Acuña and Albies aren't accounted for,  but that's just where we are.
vs. Dodgers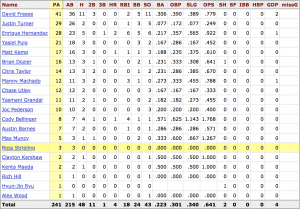 More good news. David Freese hits him but not for much power, and only Cody Bellinger has really gone nutso on him. It's still the Dodgers, and it's still scary, but at least we don't have to put a book on our head.
vs. Brewers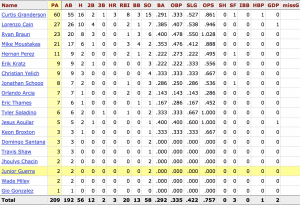 Not as encouraging. Cain, Mike Moustakas, and Braun have had fun. But I've already resigned myself to think that Curtis Granderson is going to be annoying again, because that's just the way the world works.
vs. Rockies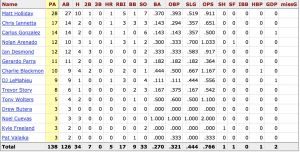 Better. Matt Holliday doesn't figure to play much, and only Charlie Blackmon has done major damage. Nolan Arenado has been ok, but he's Nolan Arenado.
vs. Cardinals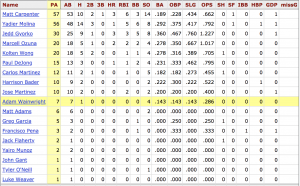 Obviously the largest sample size here. Gyorko is the only one who's been a consistent danger. No books on head here.
So we move on to José Quintana…
vs. Braves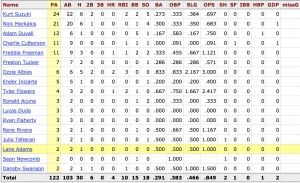 Not much to go on here. Only Markakis and Kurt Suzuki have seen him a lot, thanks to time in the AL. Both have done ok, though not much power.
vs. Dodgers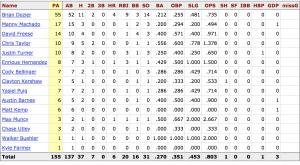 Not too many happy memories here. The science experiment that is Chris Taylor has torched him, and Freese has been a problem, too. Enrique Hernandez was particularly annoying last time we did this in the NLCS. Get the books for heads.
vs. Brewers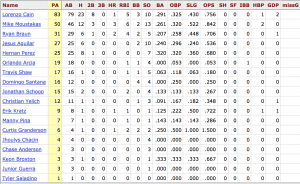 Ah, there's relief. As you probably know, Quintana has owned the Brewers since he got here, and while you worry about more and more exposure, it hasn't yet. There could be a mental thing with him and the Brewers at this point. He had that one bad star this year, but then backed up with 6 2/3rds of shutout ball against them last out.
vs. Rockies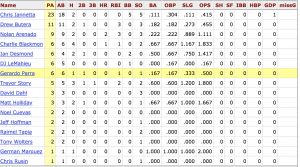 Not much to go on here. But between you and me and this beer here, the Rockies offense sucks. And it's worse with a banged-up Trevor Story. The problem with the Rockies is their rotation, strangely. Ok, I'm avoiding the argument here but… HEY LOOK OVER THERE!
vs. Cardinals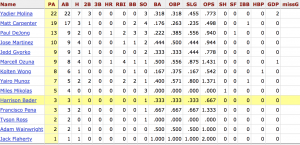 Some good, some bad. We all remember the start where he gave up six in the first. He had another wonky one against them earlier in the season, to go along with two good starts. It's not perfect, but it's not the world-is-ending either.
Look, I'm not going to tell you everything is going to be fine. It's baseball. It's never fine. But there are hardly automatics here. These five teams are far from guaranteed to bounce a lefty within three innings. It's just not as bleak as it was painted.
But again, those dudes smell good.
Lead photo courtesy @Cubs on Twitter