Kyle Hendricks's 2018 looked a bit like his 2017. And I think this is probably something that we're always going to see with The Cerebral Assassin. His first half and second half didn't have the pronounced differences that 2017 had, but they were there. Hendricks was ok-to-good in the first half. He was dominant in the second.
The story explaining that was a small, mechanical adjustment. Because everything with Kyle has to be just so. He has next to no margin for error. If he misses the corner by an inch to one side, it's a ball. If he misses to the other, it's an invitation for very loud noises. So even the smallest tweak to his delivery or sequencing or grip either gives him the inch he needs or takes it away and leaves him quite vulnerable to turning around aggressively.
Given how perfect Kyle has to be with every delivery, it's not a big surprise that there are starts, weeks, even months where something is just a tick off, even though we can't see it. Let's deep dive.
Kyle Hendricks
Position: Starting Pitcher
2018: 33 starts, 199 innings, 14-11, 3.44 ERA, 3.13 DRA, 69.8 DRA-, 5.0 WARP, 7.3 K/9, 2.0 BB/9
Year In Review – It wasn't that Kyle was bad in the season's opening throes. His ERA in April was 3.10 and in May it was 3.26. He wasn't walking anyone, per usual, but he was having a problem with fly balls carrying out and landing amongst the yahoos and punters. Kyle's FB/HR percentage in the first half was 16.5 percent. That dropped to 6.2 percent in the second half. Both of those numbers basically straddle his career-mark of 11.2 percent.
There wasn't really a change in the kind of contact he surrendered from one half to the next, either in terms of grounders and flies or hard and soft. There was a dip in line-drive rate and a slightly bigger dip in hard-contact rate, but there was also just some correcting of luck in where flies ended up.
But as it was in '17, Kyle's stuff just got better as the season went along. Here's horizontal and vertical movement of his pitches by month. It's hard to see, but again, Kyle's changes never need to be more than a smidge or scosche or smattering or whatever other s-word that means "not much" that your Jewish family uses (or is that just me?):
Interestingly, and perhaps weirdly, Hendricks's arm angle dropped throughout the season. You could see where a lower one would increase horizontal movement on his pitches, but you would think it would hamper the downward tilt he would want: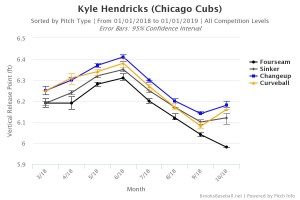 It's the opposite phenomenon of his most successful season, 2016: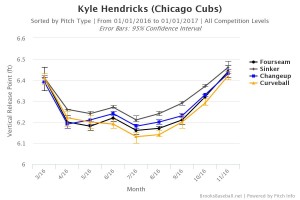 I don't really know what to make of it, other than Hendricks is always maneuvering and adjusting. The pocket seems to be in July and August of both years, when he was at this best. I doubt we'll see this lower arm-angle to start 2019.
Looking Ahead: In some ways, Hendricks is the starter you can count on most for next year. Jon Lester and Cole Hamels are fighting a battle with time that each are winning for now. But that's not a fight anyone ever comes out on top of in the end, and we don't know when the cards are going to reflect a shift in that bout. Yu Darvish is coming off an injury. José Quintana has been pretty steady, but he hasn't been Hendricks.
And that's not a slight on Q. Very few pitchers have been Hendricks the past three seasons. In that span he has the 17th best WAR among starters, the 20th best FIP, the seventh-best ERA. Which means he's yet another position from which the Cubs are getting a hilarious amount of bang for their buck. Hendricks is one of the few who keeps the payroll down for whatever splash they want to make. Because on the open market, and this sounds really weird given his repertoire and personality, he's a $20M-a-year starter. Maybe more.
Hendricks enters arbitration for the first time this winter, which will help keep his salary down. He can probably double his $4M of last year, but that's still a huge bargain. And he might enter the year as the number-four starter. That's not a bad place to be for anyone.
Lead photo courtesy Jim Young—USA Today Sports