The prevailing wisdom around baseball these days is that once you turn 32, you better get ready to star in a comedy with Kevin Kline or Michael Caine. The velocity-revolution has left those without the quickest of twitch muscles behind, and as players come to the majors quicker and at younger ages than before, they're dragging the thought of a "peak period" down with them. If you go simply by WAR this year, in the top 20 only J.D. Martínez, Lorenzo Cain, Matt Carpenter, and Jed Lowrie were even over 30.
Which makes it pretty awkward for free agents who are hitting the market well over 30, which is what Nick Markakis is doing. This will be the second time he's done so, coming off a four-year deal with Atlanta. So he's already cashed in once, and coming off his first All-Star appearance, he may think he can do a little better than the $11 million per deal he just ran out. Remains to be seen on that one.
Nick Markakis
Position: Right Field
2018: 705 PA, .297/.366/.440 10.2 BB%, 11.3 K%, .345 wOBA .293 TAv. 4.2 WARP
How He Fits: The Cubs are clearly looking for more bankable production in the outfield, given all three spots were at best up-and-down this season, and they might be afraid that prolonged use out there will eventually cause Ben Zobrist to need a Razor scooter to get around.
Markakis didn't have quite a career-year in Atlanta last year, but he came close. His batting-average was the highest since 2012. His on-base the second-highest since 2010. His slugging the highest since that 2012 season. So the first thing you probably think, if you're skeptical and numbers-inclined (hence, unpopular), is that Markakis benefited from some large bolt of luck from the skies/gods. But he didn't. His .318 BABIP is right in line with his career .317 mark, and lower than his 2017.
So how did Markakis raise his TAv nearly 30 points last year? A decline in strikeouts certainly helped. Markakis has never struck out much, but he dropped his strikeout rate nearly five points to just 11.3 percent, and the Cubs could use all the guys who get balls in play they can find. Markakis also has a walk rate over 10 percent, which wouldn't be remiss around these parts.
While Markakis isn't a tremendous advert for the "launch-angle revolution," he certainly has seen the benefit of getting the ball off the ground. Markakis dropped his ground-ball rate nearly 5 points, and almost all of it went into his line-drive rate. Markakis also boosted his hard-contact rate by a huge margin, up to 40.6 percent.
Was there a change in approach? Seems to be. Markakis had been lessening the amount of offspeed pitches and breaking pitches he swings at for years, but really brought it to a minimum this past season: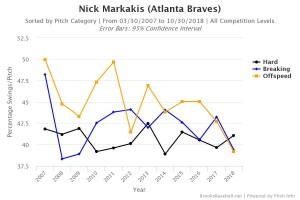 Markakis also lessened his whiffs-per-swing percentage across the board last year. By mostly focusing on hard stuff, Markakis was able to put up a higher slugging against fastballs and sinkers than his career mark.
Why He Won't Fit: The first red light would be age. Whatever kind of season Markakis had, and for whatever reasons you attribute it to, he's 34. He'll be 35 in a couple weeks. Yes, Ben Zobrist just had a great season at an older age, but he did that partially taking less ABs and time than he had in previous seasons. The Cubs are after more permanent solutions.
At his age, the good thing is Markakis probably can't be looking for more than two or three years, and is likely to end up with two years. If you think his answers are of a more permanent nature than "BASEBALL!" you can justify paying him until he's 37.
Defensively, it's a debate. BP had him as a plus right-fielder this year, though that's after three subpar seasons. FanGraphs doesn't think much of his defense at all. You could see where a team might prefer to stick him left. The Cubs have someone they'd have to dislodge in left to do that. The truth is probably Markakis is more than serviceable in right, maybe a touch better. Wrigley doesn't require a huge amount of range, just a huge amount of patience with wind and sun.
Alternatives: Obviously the big fish of Bryce Harper, and Andrew McCutchen and Michael Brantley are younger. But if the Cubs are looking to fill a hole in the outfield for cheap and short-term if they have bigger and better answers a year or two from now, you could do way worse.
Lead photo courtesy Dale Zanine—USA Today Sports