Position: Right fielder par excellence
2018 Stats: .270/.335/.395, 97 DRC+, 8.8 FRAA, 3.0 BRR, 2.6 WARP
Year in Review: On June 6 of this past season with the Cubs trailing the Phillies 5-3 and with two outs in the bottom of the ninth, Jason Heyward stepped to the plate with the bases loaded. In the previous two years, such a situation would have been cause to immediately Google the question: "Has there ever been a walk-off 15-hopper to second?" 
(The answer, incidentally, is a phenomenon otherwise known as "hitting the ball six inches to Daniel Murphy's right.")
Heyward worked the count to 2-2 against Phillies reliever Adam Morgan. And with one strike separating the Cubs from defeat, he crushed a 97 MPH fastball on a high drive to deep right field. Off the bat, it looked like it was gone instantly. And everyone who had watched Jason Heyward hit since joining the Cubs knew exactly what that usually meant…
A fly out that dies just in front of the wall. Because the only thing in the history of baseball to fare worse on the warning track than a Jason Heyward fly ball is an Italian Sausage running in front of Randall Simon.
So as Aaron Altherr raced back toward the vines, I couldn't have been the only person in Chicago whisper-screaming "Run out of room…run out of room…IN THE NAME OF ALL THAT IS GOOD AND HOLY, RUN OUT OF ROOM!"
It was not just one of the best moments of the year, it was one of the feel good Cubs moments of the decade. Wrigley Field was so loud, you couldn't even hear "Go Cubs Go." Because for one night, Jason Heyward produced the kind of joyous noise that somehow would have felt lessened if you could use it to form syllables.
2018 was something of a redemption year for Heyward at the plate. Note that I described it with the words "something of a redemption" and not "great" or even "particularly good." But with a .267 TAv and a 99 wRC+, Heyward was decidedly… acceptable. It was the Sam's Choice Dr. Thunder of offensive seasons. And after Heyward's 2016 and 2017, Dr. Thunder tasted like Dom Pérignon.
Statistically speaking, Heyward's 2018 turned out to be only a moderate step up from his 2017. He gained in just about every offensive category but the sum total of his improvements amounted to this: 11 points of batting average, nine of on base, and six of slugging.
Yet it felt like such a better season because there were multiple stretches throughout the year when Heyward was a legitimate offensive weapon. Most memorable of them all was the 28 game sequence from May 29 to June 30 where he put up a "who are you and what have you done with Jason Heyward" line of .359/.395/.530. Much was made in 2016 of Heyward paying for David Ross to stay in hotel suites on every road trip. In June of this year, he decided to top himself by subletting his body to the spirit of Roberto Clemente.
And even though he wouldn't come close to matching that for the rest of the season, there were still enough moments of offensive competence scattered throughout the latter half to make it feel like 2016 Heyward was gone for good. A 9-for-21 spurt in mid-July. A 7-for-20 in mid-August. And a 4-for-4 game against the Reds four days before a hamstring strain would cost him half of September.
Jason Heyward is most famous for a locker room TED Talk that motivated his teammates to greater heights than they ever could have imagined. 2018 was the year he finally started listening to himself.
Looking Ahead: And if Heyward's 2018 was a TED Talk entitled "Chili Davis was my hitting coach and my OPS actually went up?!" this is the part where he would bring in the visual aids. Because how does Heyward keep his hitting stats going in the right direction going into next year and beyond?
Well, let's look at his spray chart from 2017:
And from 2018: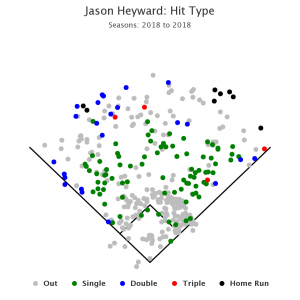 Simply put, Jason Heyward's plate approach needs to lean so much to the left that it gets booked for a nightly segment on The Rachel Maddow Show. Posters of his spray chart should only be sold at stores owned by Ned Flanders. His walk up music should be "Pass the Dutchie on the Left Hand Side" (aka: "What an odd tribute to Harry's widow…").
Walk off grand slams aside, the ball jumps off of Heyward's bat the most when he goes to the opposite field. And as the above charts demonstrate, his offensive results bear that out. Going to left field as often as possible seems to be the best place to start if Heyward wants his 2018 numbers to be his new offensive baseline. Or even… dare I say it?… get his slugging percentage over .400…
It would also mean the majority of Ryan Braun's camera time in 2019 would be with his back turned. Which would be the best way since his walk off slam for Heyward to get a grateful nation to sing "There Goes My Hero."
Spray charts courtesy of Fangraphs.
Lead photo courtesy Jeff Curry—USA Today Sports