While no one was mentioned by name in Theo Epstein's post-season treatise on everything, when he got to the line about evaluating players on "production, not talent," it was pretty clear there were only a couple players he could be talking about. Namely, they were Albert Almora, Kyle Schwarber (to an extent), and Ian Happ. And Happ might be the one most in the crosshairs.
Which in some ways, isn't all that fair to Happ. After all, it wasn't Happ who called himself up after barely a year and a half in the minors. It wasn't Happ promoting himself when he'd never really dominated at any levels in the minors other than High-A. No one questions the talents and athleticism of Happ, but he's been asked to shape and mold and learn at the major league level, and there can't be too much harder than that. He was also asked to do that while shuffling all over the field defensively, a lot of the times to positions he barely had any familiarity with.
That doesn't mean Happ is completely absolved. He's got his changes to make. But it felt like the Cubs hit on 17 a few too many times after things went so well with ultra-quick promotions to Kris Bryant, Addison Russell (sort of), and Schwarber (certainly at first). Can Happ be salvaged? That seems like a silly question to ask about a player who is only 24. Let's see what we can find.
Ian Happ
2018: 462 PA, .233/.353/.408, 15 HR, .279 TAv, 167 SO, 70 BB,  1.3 WARP
Year In Review: It was a bit of a comedown for Happ-ster, who was worth almost twice the WARP in 2017 in 27 fewer games. That was somewhat due to Happ riding the juiced ball and every fly ball in the country landing out in unwashed masses of various bleachers. Happ actually made better contact in '18 than he did the year previous, with rises in his line-drive rate and hard-contact rate. That was canceled out by a reduction of his HR/FB rate by nearly a third, which is at least partly attributable to luck.
But that's nowhere near the whole story, of which you know the subject line. Happ walks a lot, which is good, and he strikes out a ton, which is bad. The frogurt is also cursed. And it's not much of a secret what and where pitchers attack him with when he's batting left-handed: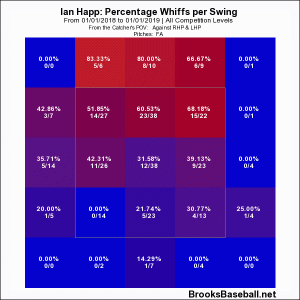 Happ actually has pretty good discipline, which I know sounds ridiculous but hang on with me for a second, in that he doesn't chase balls above the zone. He really doesn't. Look: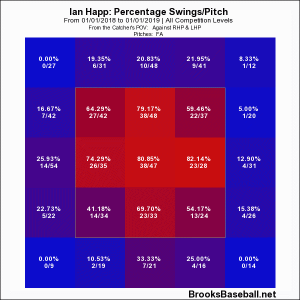 The problem is, as the first chart tells you, is he can't get to fastballs even in the upper part of the zone. And laying off of them might make sense very early in the count, but at some point, you've got to get the bat to the ball when fastballs are just below the letters. Happ hasn't. And if he doesn't, this very well might always be the story for him. Perhaps this is one of the adjustments Chili Davis referenced that players were unwilling to make. Happ certainly never really appeared to change much during the season.
Happ also had simply an abhorrent season hitting right-handed, but that doesn't mean he should swear it off. Yes, a 69 wRC+ is pretty unsightly, But the year before he was just about league-average hitting right-handed. It's not hopeless. Happ's line-drive rate right-handed sank and his grounders went up, so he needs to correct that. Which is kind of the opposite problem he has when hitting left-handed.
The problems are clear. As Happ chases and misses those high fastballs, he's more and more susceptible to the breaking pitches aimed at his ankles on either side of the plate.
Happ's value is also embedded in his flexibility in the field, at least so goes the theory. Except he's not really any good at any of the positions he plays. Which again, isn't entirely his fault, as the Cubs have shoehorned him wherever they can just to get him in the lineup and claim flexibility. He had limited experience with most of them. Happ seems to grade out best in left field and third base. But the Cubs have guys at both of those spots. He's utterly lost in center, where he just doesn't seem to have a lot of instincts.
Looking Ahead: This is where it gets tricky. A player with pop and on-base skills who can at least not strangle himself at multiple positions is a valuable commodity. And at 24, he still has ample chance to bring his strikeouts down, his contact up, and if he did that even a little in each category suddenly he's a very spicy dish indeed.
Of course, that might make him the most attractive on the trade market. In reality, the Cubs could just have a choice between him and Schwarber in left field, and Schwarber promises the bigger fireworks with at least the better body of work in the majors. Some of this depends on if the Cubs are going to add anything in the outfield this winter. Because they almost certainly don't want to enter 2019 with just Almora in center, no matter how badly Happ might need water wings there. Any move might shift Jason Heyward into center more, which would make Happ's presence there superfluous. And then you're back to the choice between Schwarber and Happ again.
It's not an easy answer, but this winter is about making the tough choices. Happ might be on the short end of that.
Lead photo courtesy Rick Scuteri—USA Today Sports