Date: April 13
Opponent: Cincinnati Reds
Location: Wrigley Field
Remember Henry Rowengartner's second appearance out of the bullpen for the Chicago Cubs? After his disastrous debut against Potato and the New York Mets, he hit the first San Francisco Giants batter he faced, prompting everybody in the stadium to declare, "Oh no, not again."
Monday night was bookended with similar sentiments for Jon Lester. After six batters the Cincinnati Reds led 3-0. Lester threw 23 pitches in the first inning, the fourth time in six innings in 2015 he had thrown at least 18 pitches. He departed after surrendering three earned runs on 25 pitches in the sixth.
Lester had eight days in between starts. For a starting pitcher who threw only 70 pitches during spring training, and relied on his fastball more than 80 percent of pitches on Opening Day (about 17 percent above his career average), that does not seem conducive to shaking off the rust and finding a groove. As Len Kasper alluded to during the CSN broadcast, Joe Maddon views Lester's first two starts as a sort of extended spring training.
It just so happened that the second start came against a team that has the opened season with a power surge.
The Reds entered the game sixth in the NL in runs scored, despite being just ninth in team OPS (.655), tenth in hits (43), twelfth in strikeout percentage (24.8 percent), fourteenth in BABIP (.246), and fourteenth in line-drive percentage (18.1 percent). So, how are they scoring runs?
Patience and power. The Reds entered the game second in the league in walk percentage (9.1 percent), home runs (9) and home run to fly ball ratio (19.1 percent). Joey Votto, in particular, was off to a torrid start, with three home runs and four walks in the first six games.
For Lester, who struggled in the opener to locate his fastballs and find success against tough left-handed batters, it would prove a difficult challenge.
Just how did it all go down? Let's delve deep.
Traditional Line
6 IP, 10 H, 4 K, 0 BB, 6 ER
Pitch Breakdown
95 (59 strikes)
| | | | | | |
| --- | --- | --- | --- | --- | --- |
| | Total | Velocity (Max) | AVG | SLG | BABIP |
| Four-Seam | 29 | 92.5 (94.1) | .444 | .778 | .500 |
| Cutter | 31 | 88.7 (91.0) | .750 | 1.000 | .750 |
| Sinker | 16 | 90.6 (92.8) | .000 | .000 | .000 |
| Change-Up | 5 | 84.5 (84.9) | .000 | .000 | .000 |
| Curveball | 14 | 75.6 (78.2) | .000 | .000 | .000 |
After going to his four-seam and cut fastballs a combined 80 percent of pitches against the Cardinals, Lester was exactly in line with his career average of 63 percent on Monday. That's the good news.
The bad news is Lester's cutter (32.6 percent of pitches against Reds, 29.9 percent on season) has become a concern, with hitters posting a .579 batting average and .737 slugging percentage against the pitch in 2015. So far, hitters, especially left-handers, are not chasing the cutter outside of the strike zone. Instead, they are jumping on the numerous ones Lester is leaving over the plate. Against the cutter, the Reds were 6-for-8, with two doubles.
In 2014, Lester threw his cutter second most of any pitch (30.8 percent), and held opposing hitters to a .234 batting average and .367 slugging percentage. At the moment, that is difficult to imagine.
On a more positive note, on Monday, Lester threw his changeup or curveball 20 percent of the time (19 of 95 pitches), a 5 percent increase from his first start. His curve produced three of the ten whiffs, and so far, batters have "hit" .000/.000/.000 against those two pitches, with two strikeouts. Unlike with his fastballs, Lester has done an excellent job of keeping both pitches down in the zone.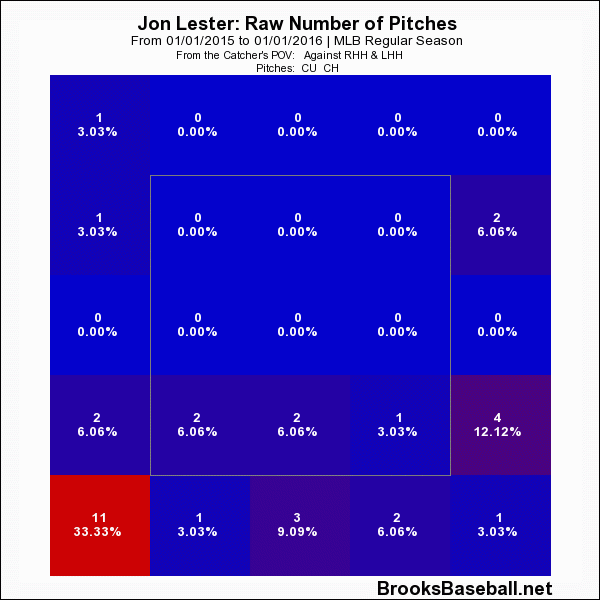 As we discussed after his first start, Lester seems to fall back on his four-seam and cutter. At the moment, however, his curveball is his most effective pitch. If Lester continues to struggle to find the feel and velocity for his fastballs, it is worth monitoring to see if he and Ross temporarily rely on his curve with more frequency.
For the record, only once in 254 career starts has Lester thrown his curve more than his four-seam and cutter. It came last September 14 at Seattle, when Lester threw it 32 of 105 pitches. On the day, Mariners hitters were 0 for 10, with seven strikeouts and zero walks against the pitch.
Trends
I promise you, loyal reader(s), this section will change throughout the season, but it is evident after two starts that left-handed batters are having zero difficulty handling Lester.
As we discussed after Lester's first start, in 2014 "left-handed hitters (.254/.307/.389) had significantly greater success against Lester than right-handed hitters (.227/.273/.344), for only the second season in his career." On Opening Night, lefties went 6-for-11 with a walk and two doubles.
The Reds started only two left-handed batters. Unfortunately, for Lester and the Cubs, one was Votto, who has been excellent throughout his career versus LHP (.295/.390/.500). The other, Jay Bruce, has shown excellent power (.203 ISO and 16.9% home run to fly ball ratio) against lefties.
On Monday, Votto and Bruce combined to go 3-for-6 with a double, triple, and two runs batted in against Lester. It is a small sample size, of course, but in Lester's two starts left-handed batters have posted a .529/.579/.765.
Like in his first start, Lester attempted to get left-handed batters to chase his four-seam fastball and cutters away, as you can see below: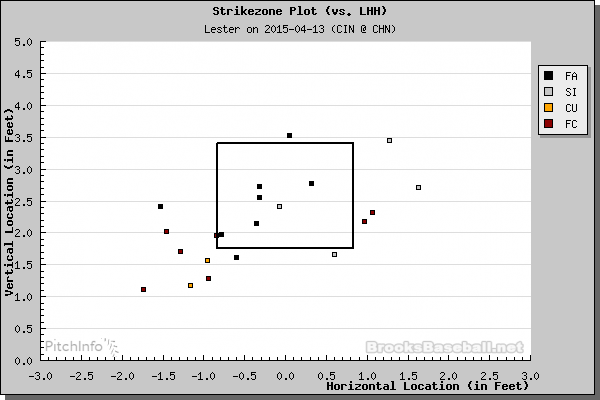 However, Votto and Bruce were mostly patient, and waited for Lester's 93 mph fastball to come back over the plate, just as the Cardinals hitters did last week. Both of their first innings hits came on fastballs in the heart of the strike zone.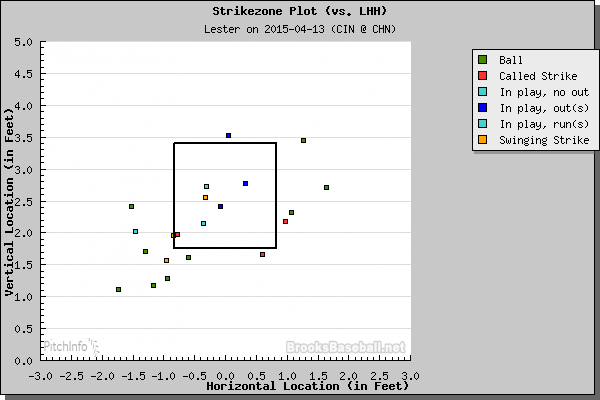 When Lester is at the top of his game, he is able to induce left-handers into weak contact and whiffs, often on pitches out of the zone. In a September 2013 start at the New York Yankees, Lester induced three weak groundouts from Robinson Cano, who finished the season at.313/.383/.516. All three groundouts came on two-seam fastballs (sinkers). Below is the final at-bat, in which he sets up Cano with a four-seam fastball in, before getting him to chase and rollover a 92 mph two-seamer down and away.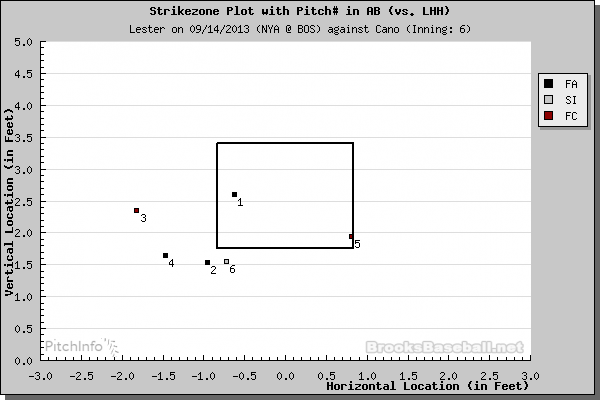 When Cano would not bite on the four-seamer and cutter way out of the zone, he came back just enough to entice him to swing. In 2015, Lester has been either too far off the plate, or catching too much of it against left-handed batters.
Key At-Bat/Sequence
Inning: Top Sixth
Score: 3-3
Situation: One out, bases empty
Batter(s): Brandon Phillips, Marlon Byrd, Jay Bruce, Brandon Pena.
Lester found a groove in the middle innings, retiring eight batters in a row. He began to look more comfortable, needing only 30 pitches to get through the eight batters. However, after a Todd Frazier line-out to open the sixth, things once again unraveled.
First, Phillips lined a single to left on a 90 mph cutter that stayed up in the zone: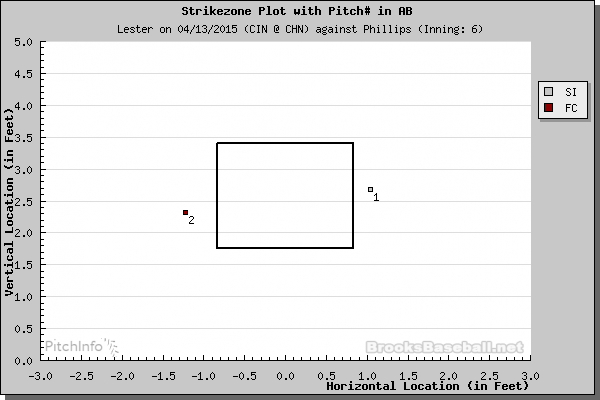 Next, Marlon Byrd doubled down the left field on an 89 mph cutter that did not cut and stayed out over the plate:
Jay Bruce followed with a double to right against a 90 mph four-seam fastball that caught too much of the plate, as Lester was still attempting to get left-handed hitters to chase fastballs away: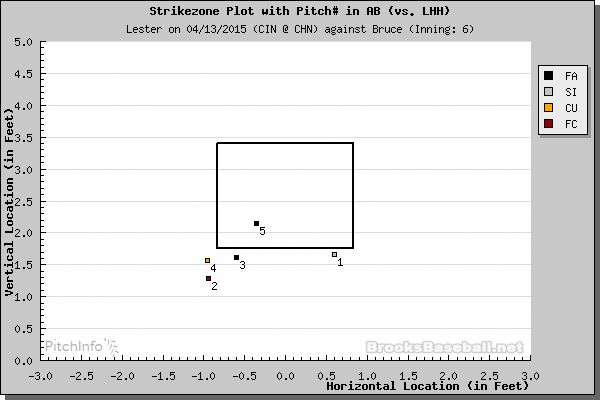 Lester started Pena with a cutter down and away and curve down and in. He then attempted to jam him with a 93 mph four-seam fastball, which Pena was able to hit it the other way for a RBI single: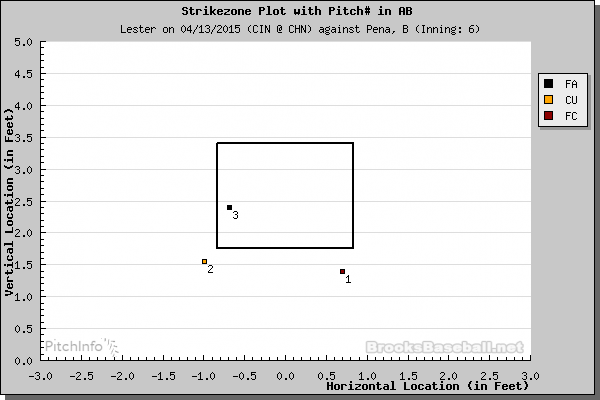 This four-batter sequence was emblematic of Lester's first two starts. Batters laid off pitches out of the strike zone, and waited for Lester to leave cutters that do not cut and flat four-seam fastballs out over the plate.
Keep In Mind
Lester is still ramping up to regular-season form. Not to be a broken record, but Lester threw just 70 pitches in spring training. For comparison's sake, James Shields, Clayton Kershaw, and Tim Hudson each threw more than 200 pitches. Lester is pitching for his third team and pitching coach in the span of about 65-70 regular-season games; an adjustment period should be expected and tolerated. And not to harken back to Lester's 2013 postseason dominance, but that year his ERA was as high as 4.61 in early July and there was heavy sports talk radio debate about whether he even deserved a spot in the rotation. Lester has struggled before, only to return to ace form.
But you know, if his next start is poor, all bets are off.
Conclusion
Lester's second start was not pretty, but he showed some flashes of turning a corner. In those middle innings he found a nice rhythm against a good offense. Lester and Ross also demonstrated an increased willingness to go to his curveball, which has been his best pitch. Lester did not issue any walks against a very patient team (minus Phillips, of course). His fastballs, however, remain astonishingly ineffective and up in the zone, and left-handed batters are smashing everything he throws. According to Joe Maddon, Lester's next start is his true opening day. Yay?
Season-to-Date
0-1, 10.1 IP, 7.84 ERA, 1.94 WHIP, 4.1 BB%, 20.4 K%
Next Start
Sunday, April 19 vs San Diego (Andrew Cashner)