With the season underway and the picture for some players and prospects becoming clearer than they were in November, let's take a look back at the Cubs 25-and-under list with fuller, more in-depth write-ups for each player. 

Anthony Rizzo, 1B
It seems like Rizzo has been tinkering with his swing forever. He's adjusted his hands over the years, dropping them lower in his pre-load stances but the biggest adjustment Rizzo made was creeping closer to the plate. Rizzo's positioning in the batter's box was drastically different last year as he made an adjustment to a hole in his swing on the inner half. It resulted in a fair amount of HBP's, an increase in home-run output, and a marked improvement all across his slash line. Pitchers became wary of working Rizzo inside last year, which meant more pitches away or out over the plate, allowing him to get his arms extended and punish the baseball with authority.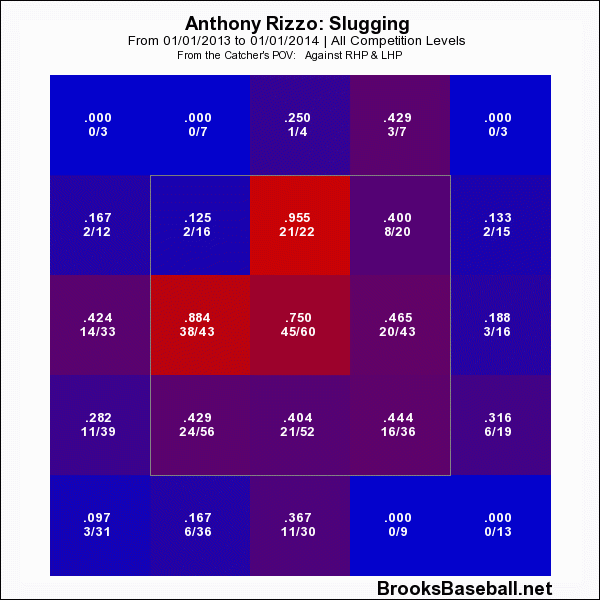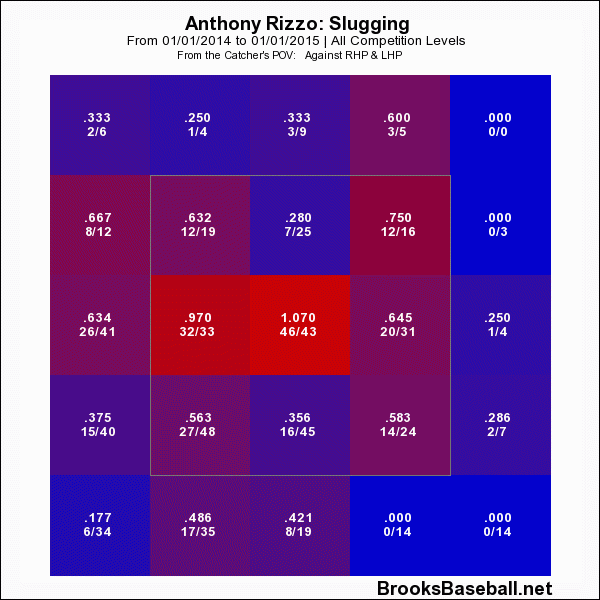 On Opening Night, Wainwright displayed what the game plan against Rizzo should be moving forward, as he attacked inside on Rizzo with both the fastball and the breaking stuff. It'll still be a hard plan to execute as very few pitchers have the command Wainwright. Pitchers will try it and Rizzo will have to make the adjustment back, but while I don't see a return to a .280 average, I believe in the rest of the slash line. Rizzo should be very good for years to come.
Kris Bryant, 3B
There's no shortage of strong opinions regarding what the Cubs should have done regarding Kris Bryant. Regardless of whether we agree with it or not, the business decision has been made and Bryant will be down in the minors while the Cubs pray for rain and wait to gain an extra year of control.
As for the baseball part, Bryant is a tremendously talented hitter with some things to smooth out defensively at third. Bryant has elite power that can tie in with a solid average hit tool to produce some really fun results. The man hits the ball hard to all fields and has a refined approach at the plate. Marry all that with plus plate coverage and you have yourself a potentially elite power hitter. Sure, his long arms create some gaps in the swing, but Bryant has the talent and eye to overcome those deficiencies. There's not a whole lot left for him to prove at the minor-league level, save for the defense. Ultimately he might profile best as an outfielder, as the glove looks to be capped by his range. If it weren't for Jorge Soler, Bryant would be the option in right where his arm would be an asset.
Starlin Castro, SS
The Cubs tried to instill a more patient approach with Starlin Castro at the end of 2012. There were some positive signs, as Castro saw a bump in his walk rate and he entered 2013 with high expectations on his production. Castro flopped badly, as he looked lost at the plate and for the first time in his career was consistently late on fastballs.
Castro went back to a more natural approach in 2014 and the results rounded back into form with bonus power production, particularly against hard stuff. According to Brooks Baseball, Castro had a .366 slugging (.103 ISO) against hard stuff in 2013. Last summer he started turning on fastballs with more frequency and saw his power numbers jump, as he slugged .517 with a .176 against the hard stuff. If it weren't for an injured ankle that took him out for the final month of the season, Castro would have had an outside chance at hitting 20 home runs.
For a player as established as Castro, there are a lot of questions surrounding his future. The defense is tough to love, but it has improved from poor to fringe average. He'll never be an OBP guy but Castro has a natural ability to hit the baseball and he's starting to drive the ball with more authority. The contract is team friendly and his overall player profile will always inspire trade rumors since the Cubs have other options at short. At the end of the day, wherever Castro winds up, he will remain what he is: a plus offensive shortstop with a fringe-average glove.
Addison Russell, SS
For all the shine Bryant's spring training onslaught got, Russell's spring numbers generated relatively little buzz. Russell is major-league ready with the bat and the glove, so perhaps more should have taken notice. Russell has the potential to have a plus hit and plus power with the ability to stick at shortstop. Russell shows aptitude for short with good actions and a strong arm. Those guys don't grow on trees. Russell should be up at some point in 2015 and the Cubs will have all sorts of decisions to make with their shortstop situation. It'll be difficult to move Castro off short and keep him on the team, so there's the possibility that it'll be Russell who moves to another position to accommodate Castro.
Jorge Soler, RF
Last year Soler picked apart high fastballs during a torrid start to his major-league career. Soler slowed down some after pitchers started to work him away with the soft stuff. He was happy to chase those pitches in 2014 but Soler's plan of attack in 2015 appears to be different. All throughout spring training Soler stacked solid at-bats, laying off the breaking stuff out of the zone and forcing the pitchers to come up with their fastballs. It gets harder to follow that approach in the regular season, but I believe Soler has the ability to lay off the soft stuff down and away. Soler has elite power potential and a plus arm in right. There are two things that he must do to maximize his potential: maintain an advanced approach throughout the season and stay healthy.
Javier Baez, 2B
My, how quickly things can change. It was around this time last year that Cubs fans were clamoring for Baez to make the Opening Day roster; a rally cry that ended as soon as Baez hit .172 in April with 22 strikeouts in 63 plate appearances. Baez eventually righted the ship and made the majors, where he got off to a hot start but faded fast. Once thought to be a potentially elite producer at the highest level, the expectations have shifted on Baez. He's had an offseason where he lost 15 pounds and tinkered with his swing. Optioned down to Triple-A Iowa, Baez will have to re-establish confidence in himself and his ability if he wants to come back up and stick at the major-league level. There is a history of struggle before domination when it comes to Baez, so getting him into a groove in Iowa is a smart idea. He's not likely to reach those prodigious heights many projected for him, but if Baez can be a power hitting plus defender at second with a below-average hit tool,he will have value.
Arismendy Alcantara, 2B/CF
He doesn't have the playing time now, but Alcantara has the talent to find plate appearances. He has more pop than you think, thanks to his strong wrists and plus bat speed. Alcantara has some speed too, and he can play just about anywhere the Cubs can put him on the field. He's not ever going to be a star, but Alcantara has a broad base of skills and he can be a solid-average player for a very long time.
Albert Almora, CF
The potential for a plus hit tool is still latent in Almora's bat but I'll be damned if he didn't try his hardest to make people forget that last year. Every so often, a player comes along with preternatural ability to put the bat on the ball and the player forgets about the difference between good and bad contact. Almora can put his bat on just about anything, but for the most part the contact he was generating in 2014 was weak. This led to his walk rate completely cratering, creating some concern about the future utility of his hit tool. Development isn't linear, and for Almora he's still young enough to weather the bumps on the path to the majors. He still has natural hitting ability and a plus centerfield glove thanks to the reads he gets on balls off the bat. There's some work to do for Almora, but hey, maybe let him work through it.
Kyle Schwarber, C
At the plate, Schwarber displays plus bat speed and a high aptitude for the strike zone. He knows what he can and can't hit, which allows the hit and the power to play up to solid average and plus respectably. He's a smart hitter. Behind the plate, Schwarber has a ton of work to do and even if he puts the work in, Schwarber's ultimate defensive future might be that of a part-time catcher. The defensive profile is limited here and if the catching work falls through, he's a left fielder for sure. Schwarber's work ethic and IQ are frequently praised, so even if the odds are stacked against him defensively these are the types of players who tend to break the mold.
Kyle Hendricks, RHP
His big swing-and-miss pitch is the changeup which should clue you in on what type of pitcher Hendricks has become: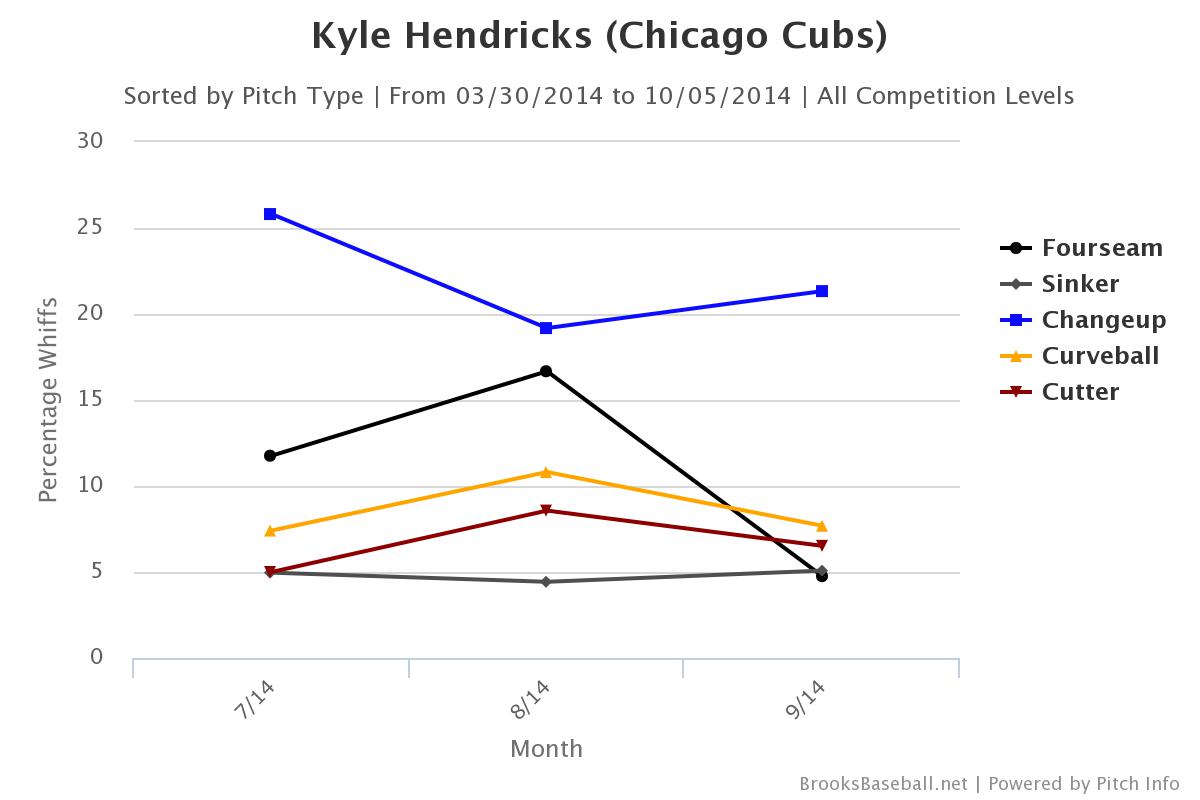 He keeps hitters off balance with a mix of plus pitchability and a knowledge of how to attack hitters. He owns average stuff so he'll have to stay on top of his scouting reports to survive, as the margins for error are razor thin for Hendricks.