Photo courtesy of David Kohl-USA TODAY Sports
Date: April 24
Opponent: Cincinnati Reds
Location: Great American Ballpark
Introduction
Jon Lester's fourth start of the season offered us plenty of Good News/Bad News. So, what better way to break down the introduction than through this convenient and not-at-all lazy framing device?
The Good News: It's getting so damn close, isn't it? Lester had a season best mark in pitches (104), strike percentage (63 percent), whiffs (13), strikeouts (10), hits allowed (5), and baserunners allowed (6). It was the first time he reached double-digit strikeouts in a game since last July 10, dating 14 starts and three different uniforms. He finished very strong, retiring the final seven batters he faced, with five coming via the strikeout.
Also, for the first time in 2015, Lester shutdown left-handed batters, who entered the night hitting .474/.500/.737. In Lester's April 13 start against the Reds, Votto and Bruce went a combined 3-for-6 with a double, triple, and two runs batted in. On Friday, they went 0-for-6 with four strikeouts. This included this great sequence in his third inning strikeout of Votto:
Pitch 1: Four-seam fastball on the outside corner, called strike one
Pitch 2: Four-seam fastball way off the plate, ball one
Pitch 3: Cut-fastball over the plate, fouled off
Pitch 4: Four-seam fastball just off the plate, swinging strike three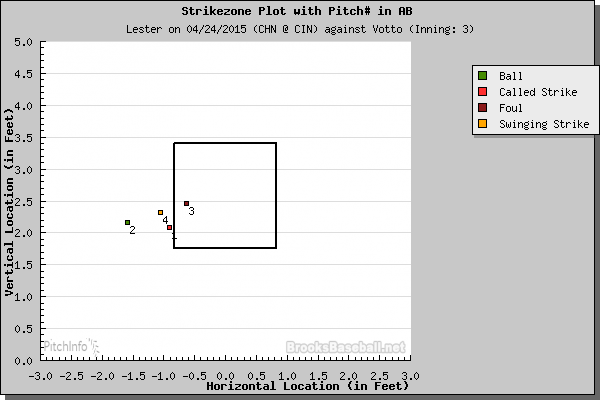 Lester continued to attempt to get Votto, like all left-handed batters in 2015, to chase pitches away. Those other left-handed batters have mostly laid off those pitches and waited for Lester's fastballs to catch too much of the plate. In this at-bat, however, rather than come back too far over the plate where Votto can do damage, he came back just enough on the third pitch to induce a foul ball. To get the punch out, Lester then went back slightly off the plate, getting Votto to chase.
The Bad News: Teams are hitting the ball hard against Lester, as evidenced by his absurd 40.3 percent line-drive ratio. It is more than twice his career percentage (19.7 percent) and nearly twice the league average from 2014 (20.8 percent). In fact, of 107 starting pitchers in 2015, Lester has surrendered line drives at a higher rate than ANY other pitcher in baseball. Not coincidentally, Lester's .424 BABIP is also higher than ANY other pitcher in baseball. As we discuss in the proceeding sections, when you miss your spots with 86-92 mph fastballs, opposing batters will take advantage.
The first inning also remained a struggle, as we will discuss below. For the season, opposing batters are hitting .400/.400/.650 in the opening frame, with four of the seven extra base hits Lester has allowed coming in the first.
So, like we said at the outset, Lester's most recent start brought the good with the bad. Keep reading below to see how it all played out.
Traditional Line
6.0 IP, 10K, 5 H, 1 BB, 3 ER
Pitch Breakdown
104 (65 strikes)
| | | | | | |
| --- | --- | --- | --- | --- | --- |
| | Total | Velocity (Max) | AVG | SLG | BABIP |
| Four-Seam | 44 | 92.2 (94.2) | .000 | .000 | .000 |
| Cutter | 27 | 87.2 (89.2)` | .375 | .625 | .750 |
| Sinker | 14 | 90.6 (92.9) | .667 | .667 | .667 |
| Change-Up | 5 | 84.8 (85.8) | .000 | .000 | .000 |
| Curveball | 14 | 74.5 (76.6) | .000 | .000 | .000 |
Of Lester's 10 strikeouts, eight came via the four-seam and cut-fastballs. They accounted for 68 percent of his total pitches, his highest total since Opening Night. Below in the Trends section, if you can somehow wait that long, loyal reader(s), we will discuss the effectiveness of his four-seamer.
Despite recording four strikeouts via the cut-fastball, Lester's cutter remains, in the parlance of our times, a hot mess. The Reds went 3-for-8 with two doubles, and batters are now hitting .469 and slugging .719. In just four starts, he has surrendered five extra-base hits off the cutter, already a quarter of the total he gave up in 32 starts in 2014 (21). Todd Frazier and Marlon Byrd both doubled off the cutter, but on a somewhat positive note, neither pitch was left up in the zone. In Byrd's case, Lester got an 86 mph cutter down, but it was still out over the plate: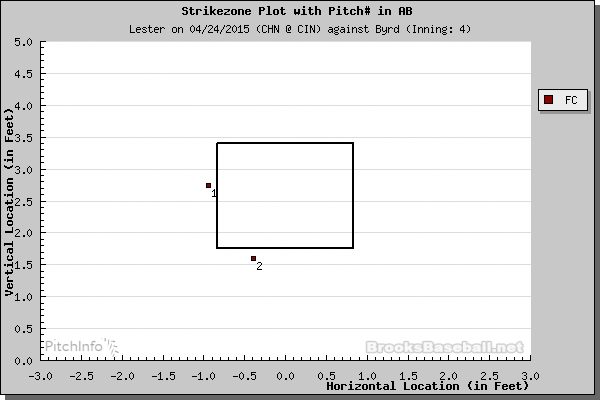 On another positive note, Lester got four whiffs off the cutter, his highest total of the season.
Lester's curve continues to be his most underutilized and effective pitch. In 2015, he has thrown it just 12.5 percent of his pitches (15.4 percent career average), but has yet to allow a single baserunner. After each of the first three starts we pondered if Lester & Ross would go to the curve with greater frequency while he gains a better command of his fastballs. It has now only been four starts, but I think it is safe to say we can answer that we a definitive, "No."
Trends
Let's get crazy and discuss a positive trend for the first time all season. Put aside Lester's difficulty locating his sinker and cutter, first-inning struggles, and left-handed batters early success. It's the weekend, the sun has begun to shine occasionally, and we are going to focus on Lester's four-seam fastball.
Lester had it working against the Reds. Entering the night, batters had been hitting .304 with a .478 slugging percentage.  On Friday, though, Reds hitters were 0-for-8 with four strikeouts. As you can see below, Lester stayed down with the four-seamer: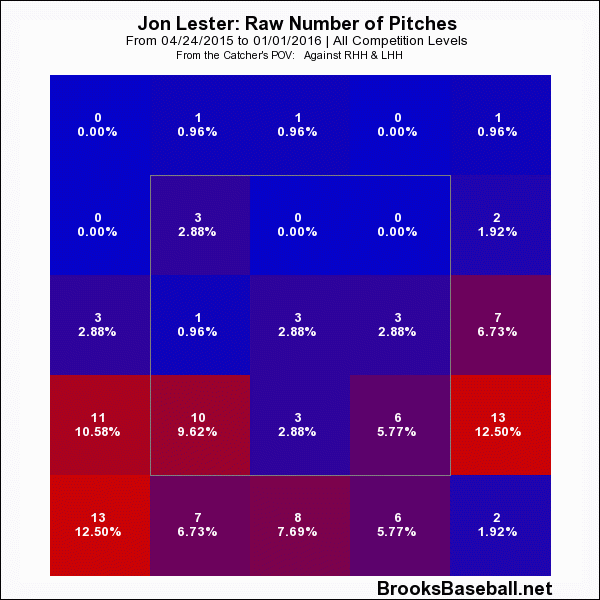 And when he missed, it was down and off the corners. Compare that to Lester's first three starts, when he missing up and out over the plate far too often with flat 91-93 mph four-seamers: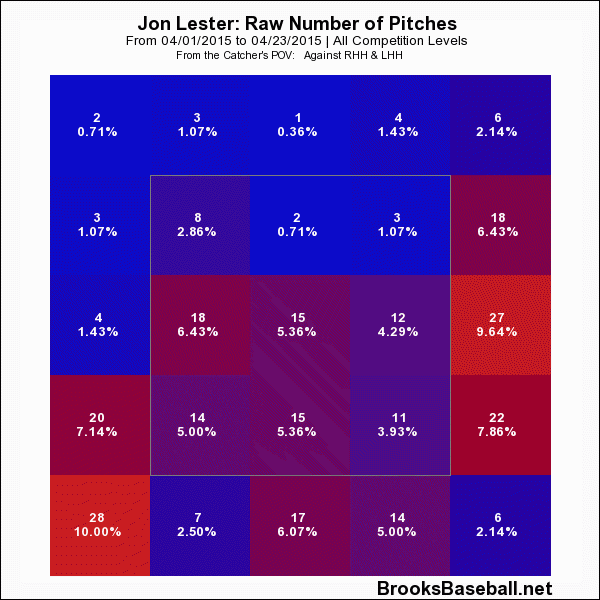 It is another positive to take from Lester's fourth start. I don't know about you, but I could get used to having more positives on which to focus.
Key At-Bat/Sequence
Inning: First Inning
Score: 0-0
Situation: Billy Hamilton leading off the game
Batter(s): Billy Hamilton and Joey Votto
Well, that overt positivity was fun while it lasted, huh? The first inning would not prove the difference in the game, but it was a perfect example of what has plagued Lester so far in 2015.
Lester, as we noted after his last start against the San Diego Padres, has struggled to consistently locate his pitches. When that has happened, opposing batters have hit the ball hard. The Reds' first two batters of the game illustrated this lingering problem.
Billy Hamilton led off the game for the Reds. After battling to 2-2, Ross set-up very low and away: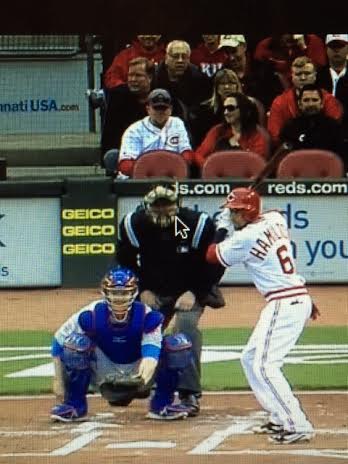 Lester, however, comes back over the plate with a 91 mph sinker, against which Hamilton has hit .340 in his career, by far the most success he's had with any pitch:
Not surprisingly, Hamilton lined a base hit back up in the middle.
Call it poor pitch selection or poor location, but either way it brought Votto to the plate with a runner aboard. Like in their April 13 match-up, Votto laid off multiple cut-fastballs and sinkers off the plate: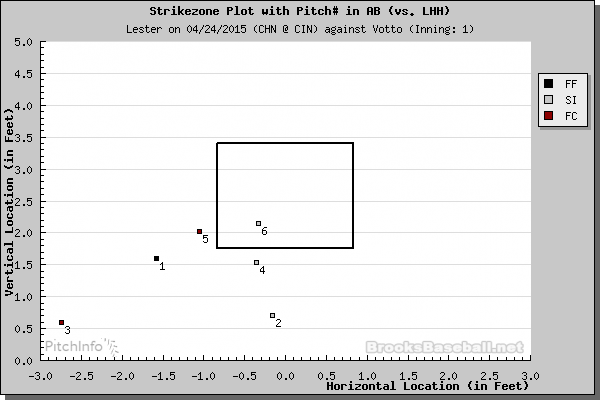 In fact, he did not take the bat off his shoulder until the at-bat's sixth pitch. On 3-2, Ross set up on the inside corner:
Lester, though, missed the spot by coming back up over the plate with a 90 mph sinker: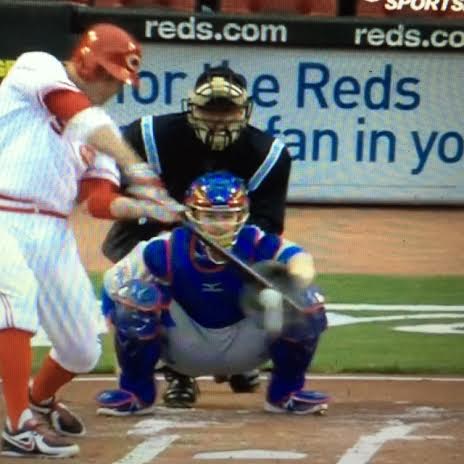 Votto took the pitch back up the middle for an RBI groundout. Lester struggled to locate his fastballs against Hamilton and Votto, as he has throughout the season. When this has happened, opposing batters have made Lester pay.
Keep In Mind
Lester might get through April without a victory or pitching into the seventh inning, and the Cubs have still asserted themselves as serious playoff contenders. Would you have believed that scenario on Opening Day? And as BP-Wrigleyville writer Rian Watt noted on Twitter, despite Lester's poor location and high line drive percentage, he is still fifth in the NL in both WAR (0.7) and FIP (2.11). It has yet to be ideal, but Lester is moving in the right direction.
Conclusion
We saw some vintage Lester against the Reds. Batters were whiffing at his four-seam fastball. He also finished the night strong, which if you watched his 2013 playoff starts, is a sign that he is feeling good. Sure, Lester continues to grapple with consistent pitch location, especially with his sinker and cutter, and batters are hitting the mistakes hard. It was a Good News/Bad News night for Lester, but for the first time in 2015, I think it was more good than bad.
Season-to-Date
0- 2, 6.23 ERA, 1.57 WHIP, 25.0 K%, 5.2 BB%
Next Start
Friday, May 1 vs Milwaukee (Peralta)