Photo courtesy of Kamil Krzaczynski-USA TODAY Sports
Jorge Soler started the season playing pretty well—he had an .894 OPS through the first 13 games of the season—but has fallen into a bit of a slump of late, and we can't blame it on bad luck as his BABIP is an astonishing .412. What's been alarming has been his contact rate, or lack thereof, which has led to a strikeout rate over 36 percent so far on the season. In fact, Soler ranks seventh in strikeout percentage among those with at least 50 plate appearances on the season.
Soler's scouting report prior to his call-up late last summer stated that he was a patient hitter with good pitch-recognition skills. Overall, he has shown that patience at the plate which correlates with his slight above-league-average 8.8 percent walk rate. But lately, we've seen him chasing pitches outside the zone quite a bit more than usual.
"He has shown in the past to be a really patient hitter who doesn't really chase, and he has been (chasing) more recently," Cubs manager Joe Maddon said. "For me, the old scouting adage, if he's shown it to you before, he's going to show it to you again, applies here. So I know he's going to go back to being that guy. I just think that with the great start he's had he's probably just pressing a little bit more. All he needs to do is just take his walks. When you're walking, you're hitting, especially guys who are that good. It means you're not expanding your strike zone, you're not chasing that guy's pitch, you're making him come to you more."
Making Soler expand his zone is something that pitchers seem to be trying to do, especially low and away. Here's how pitchers have been attacking him in 2015.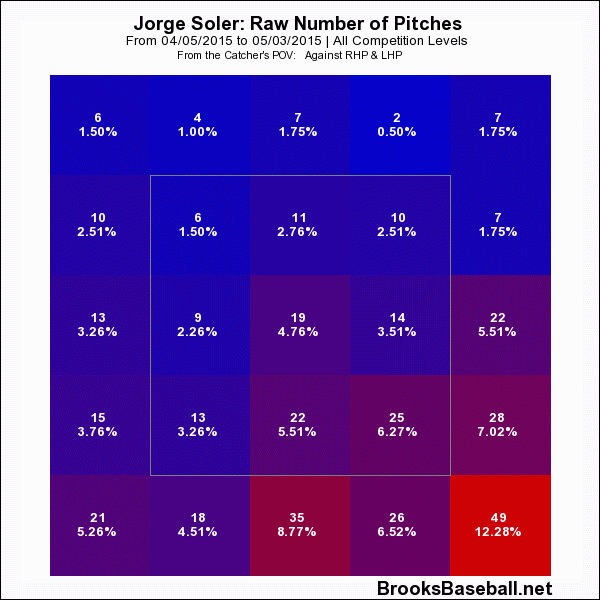 As you can see, pitchers are attacking him low and away, and actually giving him pitches outside the zone at a considerable rate. In fact, almost 50 percent of the pitches he has seen in 2015 have been below the strike zone. This isn't a completely new trend. When pitchers learned they couldn't exploit Soler on the inner part of the plate, they quickly started attacking him away towards mid-September last season. That trend has continued in 2015 as we see almost no red on the inner portion of the plate.
So far this season, Soler is swinging at more pitches outside of the zone (32.5 percent compared to 27.8 percent), fewer in the zone (61.9 percent down from 64.4 percent), and he's swinging and missing more often, particularly on breaking balls.
Pitchers have attacked Soler below the strike zone with said breaking stuff as well as off-speed pitches this season quite substantially. Here's the zone profile against Soler on breaking and off-speed pitches.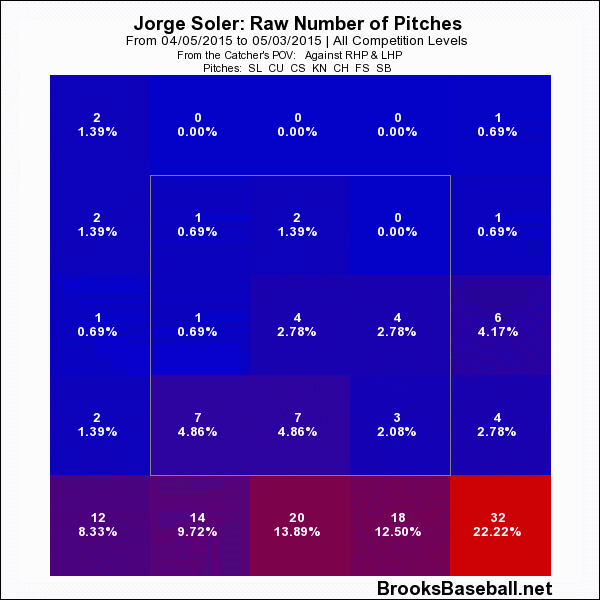 It's been almost exclusively below the strike zone, and as the next chart shows, it has led to a lot of swing and miss.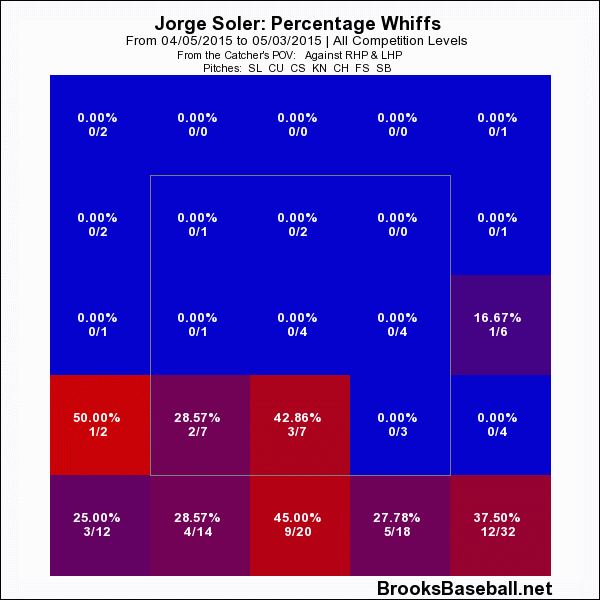 Here's Soler's numbers showing his percentages against pitch types since his arrival in the big leagues.
| | | | | |
| --- | --- | --- | --- | --- |
| Pitch | AVG | ISO | BABIP | Whiffs/Swing |
| Four-seam | .385 | .289 | .515 | 26.0% |
| Sinker | .356 | .178 | .378 | 16.3% |
| Slider | .156 | .133 | .318 | 56.5% |
| Curve | .250 | .000 | .667 | 50.0% |
| Change | .214 | .143 | .300 | 44.8% |
Soler looks to be sitting dead red on the fastball, in general, any hard stuff, and is doing damage when he gets it. So, why not throw him soft away? He's shown the tendency to chase this season, and he's struggling with breaking stuff in particular, so until he shows improvement, we'll likely see pitchers continuing to approach him the same. He's even seeing breaking and off-speed pitches on the first pitch seven percent more often this season, which isn't a huge difference, yet still shows us that pitchers are not wanting to give him a fastball to start the at-bat.
Let's not forget, a lot has been made of Soler's struggles being due to the cold. Well, it is something new for him. In fact, as Brian Cartwright pointed out on Twitter, Soler never played in a game below 51 degrees in Cuba.
"I don't disagree with that," Maddon said when asked whether the cold weather has been a factor for Soler's struggles. "The bundled up facemask thing. There's definitely something with the cold weather thing. When you've never done it before, it's uncomfortable. But he was doing ok when it was cold earlier. I just think he's gotten to the point where he's trying to do too much and cover too much. The moment you see him spitting on balls and just taking his walks. Cuidado, heads up."
Thankfully for Soler, baseball in the cold won't last all season. As we all know, there will be plenty of 90 degree days on the North Side this summer, and will hopefully bring more comfort to Soler. However, with the injury of Adam Wainwright and the realistic chances that the Cubs could make the playoffs, the cold weather in October is a concern to keep in your memory.