Photo courtesy of Caylor Arnold-USA TODAY Sports
Date: May 1
Opponent: Milwaukee Brewers
Location: Wrigley Field
Introduction
"April showers bring May flowers bring Lester victories."
                        -Grandma Felper, May, 1961
Welcome to May on the North Side. As we noted after his last start, Jon Lester made it through April without a victory or pitching into the seventh inning, and the Cubs have still asserted themselves as serious playoff contenders. If that is not cause enough for celebration, Lester's fifth start certainly gave you a reason to shell out the $2.50 for the Old Style 40 ounce.
Lester was in command, retiring the final ten Milwaukee Brewers he faced, and 16 of the last 17. After needing 48 pitches to get through the first three innings, Lester needed just 42 pitches to get through the final four innings. The four baserunners allowed were his fewest in a game in which he went at least seven innings since last May 3 against Oakland. Only two Brewers reached third base.
Granted, Friday's opponent is hardly an offensive juggernaut. I mean, what can be said about the Milwaukee Brewers offense that cannot be summarized with some shockingly inept statistics? Entering Friday's game, the Brewers ranked in the bottom three in the National League in runs scored (71), on-base percentage (.277), slugging percentage (.350), on-base plus slugging (.627), strike-out percentage (23.1 percent), walk percentage (5.5 percent), line-drive percentage (19.1 percent), and home run to fly ball ratio (7.9 percent). The team leader in plate appearances—Jean Segura—owns a 2.2 percent walk rate and .664 OPS. In short, the Brewers do not hit the ball hard, get on base, or drive in the few runners who actually do manage to reach base.
Not much of that changed with Lester on the mound. From the first inning, Lester looked sharper than he has at any point in the season. He was relying heavily on his four-seam and cut fastball (see below) and hitting his spots consistently We highlighted Lester's first inning control problems against Cincinnati, when missing spots with his sinker to Billy Hamilton and Joey Votto gave the Reds a 1-0 lead after two batters. We will cover (SPOILER ALERT!) Lester's pitch location in Trends, but it was evident from the first inning that he was able to locate his pitches.
Yes, the difficulties against left-handed batters continued, but Friday looked like the Lester of the 2013 postseason and 2014 regular season. Please, continue reading below to see how it breaks down, and for our 21-and-older readers with limited financial resources, crack open that Old Style.
Traditional Line
7.0 IP, 3 H, 4 K, 1 BB, 0 ER
Pitch Breakdown
90 pitches (56 strikes)
| | | | | | |
| --- | --- | --- | --- | --- | --- |
| | Total | Velocity (Max) | AVG | SLG | BABIP |
| Four-Seam | 49 | 93.4 (95.1) | .077 | .077 | .091 |
| Cutter | 20 | 88.9 (91.3) | .200 | .200 | .250 |
| Sinker | 3 | 92.1 (92.8) | .000 | .000 | .000 |
| Change-Up | 5 | 84.9 (86.4) | .000 | .000 | .000 |
| Curveball | 13 | 74.9 (78.8) | .333 | .333 | .500 |
Lester had thrown his sinker 16 percent of his time in his last three starts, with batters hitting .400 against the pitch. We mentioned above his issues locating the sinker against the Reds in Cincinnati. So, how did he fare with the pitch against the Brewers? Well, against Milwaukee, Lester and Ross shelved the sinker, and went to the four-seam and cut fastballs 77 percent of the time (69 of 90 pitches). His velocity was his second highest of the season, just behind his third start against San Diego.
Lester went to his four-seamer 55 percent of all pitches, way above the 39 percent season average with which he entered the game. It has emerged as his best pitch by the numbers in 2015, with batters now hitting .182 and slugging .273 against it. Thirteen of 28 strikeouts have come via the four-seam fastball.
Alas, the curveball no-hitter watch is over. Gerardo Parra's fourth inning single on an 0-1 curve that stayed over the plate was the first hit Lester has surrendered off the pitch in 2015.
Trends
Two consecutive recaps with positive trends? No, it's not some dizzying dream. This is reality. Even to the naked eye, it was clear to see Lester was locating his pitches from the very first inning. Obviously, I am not masochistic and self-loathing enough to recap every spot Lester hit against the Brewers. I mean, I am, but who wants that? Instead, take a look at an early at-bat that indicated Lester would have improved location.
The game's second batter, Hector Gomez, worked the count to 2-2. David Ross then sets up on the inside corner: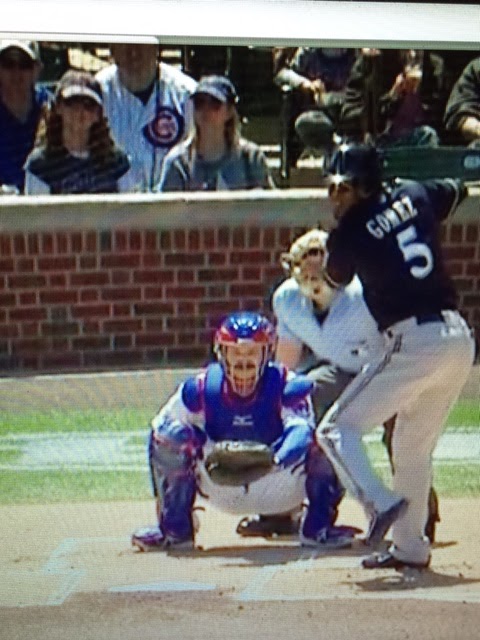 Lester hits the spot with a 94.6 mph four-seam fastball that froze Gomez for the strikeout.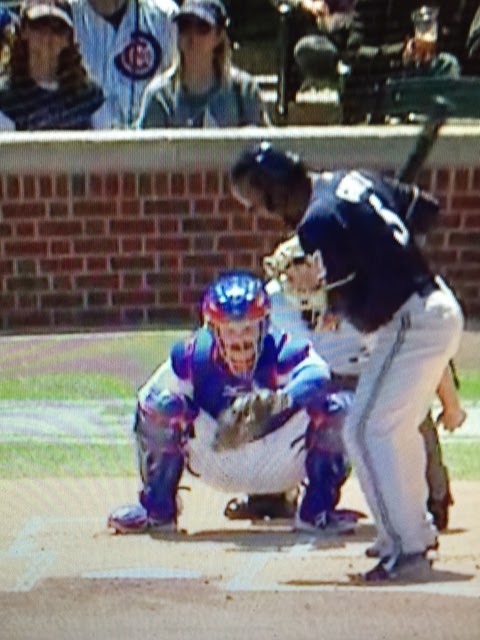 The ball did not drift back over the plate, as had been the case with so many early season fastballs.
Case in point, on Opening Night, Jason Heyward was the game's second batter. On a 1-0 count, Lester and Ross set up low and slightly away for a cut-fastball: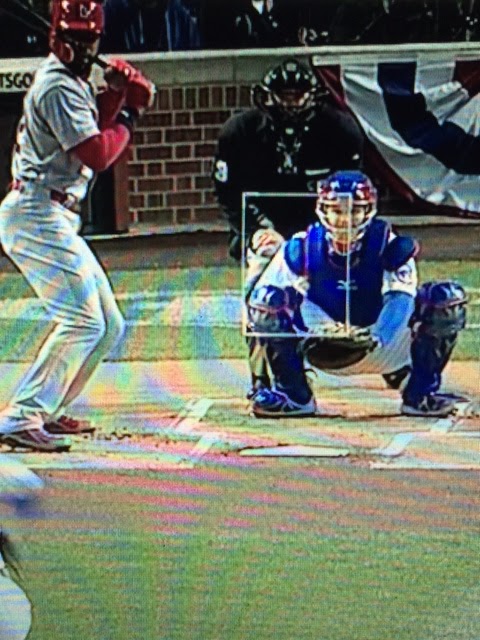 Instead, Lester missed up and out over the plate with the 90 mph cutter: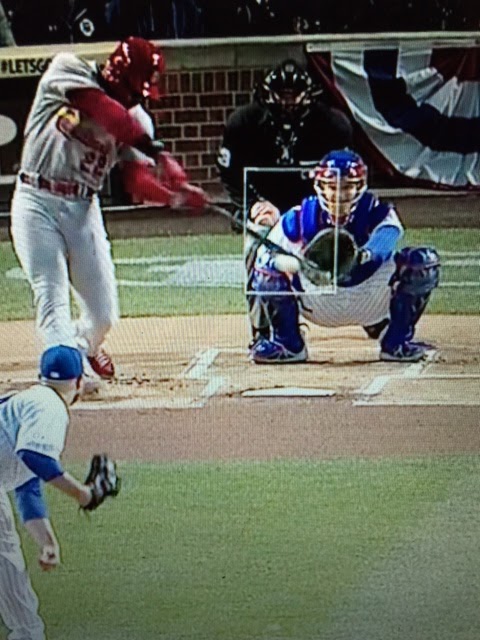 Heyward laced a double down the right-field line, and would come around to score the game's deciding run.
I know it is but one example, but I am big believer in telling the universal through the specific. Lester's location was vastly improved from his first four starts. And when Lester did miss against the Brewers, it was not out over the plate or so far off that he could not induce swings. Jason Rogers' fourth inning at-bat encapsulated perfectly Lester's improved pitch locating: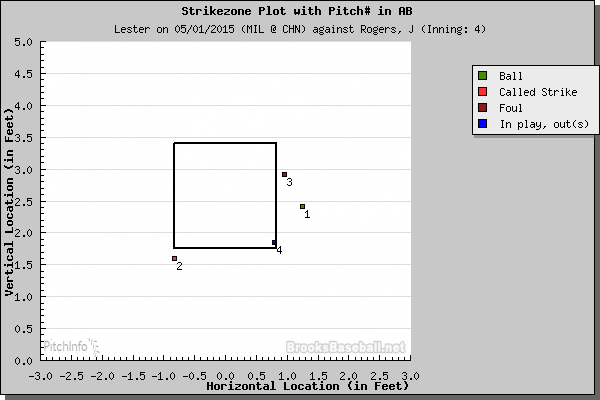 Lester never came back over the plate, but was able to induce swings from Rogers, eventually leading to Rogers rolling over a changeup for a groundout to short.
Key At-Bat/Sequence
Inning: Third
Score: 0-0
Situation: Jean Segura on third, one out
Batter(s): Ryan Braun
Through two innings, Lester had shown better command, but still had some familiar early game struggles. He needed a strikeout of pitcher Wily Peralta to escape a bases loaded in the second inning.
So, when Jean Segura led off the inning by being hit on his left foot with a pitch, it looked, even just momentarily, that Lester might be in for a rough afternoon. Hector Gomez, though, laid down a sacrifice bunt to the pitcher, doing Lester a favor. With Segura now on second, up stepped Ryan Braun. While Braun has struggled against left-handers in 2015 (.267/.313/.267), he has a .484 slugging percentage and .290 ISO against four-seam and cut fastballs, Lester's primary pitches on Friday. And as you can see below, Braun has done all his damage on fastballs over the plate, which has been Lester's greatest weakness in 2015: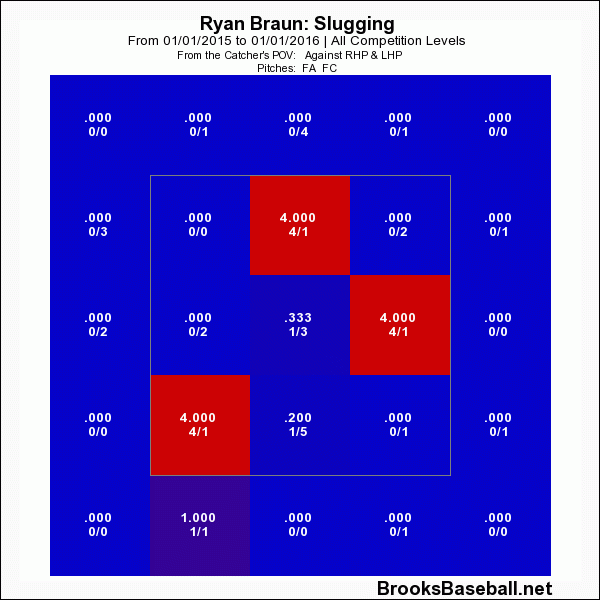 Lester, however, never missed out over the plate, as you will see below. He set up Braun with four four-seamers and cutters up and off the plate, where Braun has done no damage in 2015. Unlike the cut fastballs he left over the plate for extra-base hits against Heyward on Opening Night and on the home run surrendered to Will Middlebrooks in start number three, Lester stayed away from the danger zones.
After battling to 2-2 with all fastballs, Lester and Ross finally went to the curveball. Despite its effectiveness this season, Lester has gone to the curve just 13.6 percent of pitches to right-handed batters, and 18 percent of the time when he gets two strikes.
Braun entered the game hitting .280 and slugging .550 in his career against curveballs from left-handed pitchers. He has, however, struggled in 2015, hitting just .111 with three strikeouts. This combination—Lester's sparse use of the pitch to right-handers and Braun's struggles in 2015—made it the perfect pitch selection. Braun seemed caught off guard by the pitch, as he flailed and whiffed at the 58 foot curve in the dirt.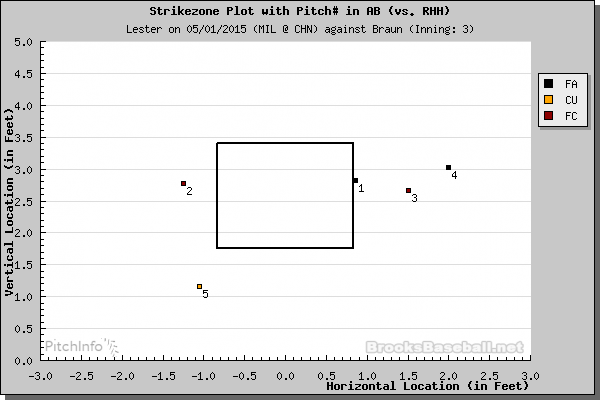 The Brewers would never again threaten against Lester.
Keep In Mind
This is a negative KIM © (Keep In Mind), unfortunately. The Brewers started only one left-handed batter, Gerardo Parra, and he had two of the three hits. Left-handed batters are now hitting .393/.414/.571, with dozens of games remaining against Joey Votto, Jason Heyward, Matt Carpenter, and other very good left-handers. The four-seam and cut fastballs, in particular, remain a problem. Lester has thrown that pitch to left-handed batters 74 percent of pitches, and they are now hitting .400/.423/.600. As we have discussed repeatedly and ad nauseum, the damage has come from Lester catching too much of the plate's outside corner: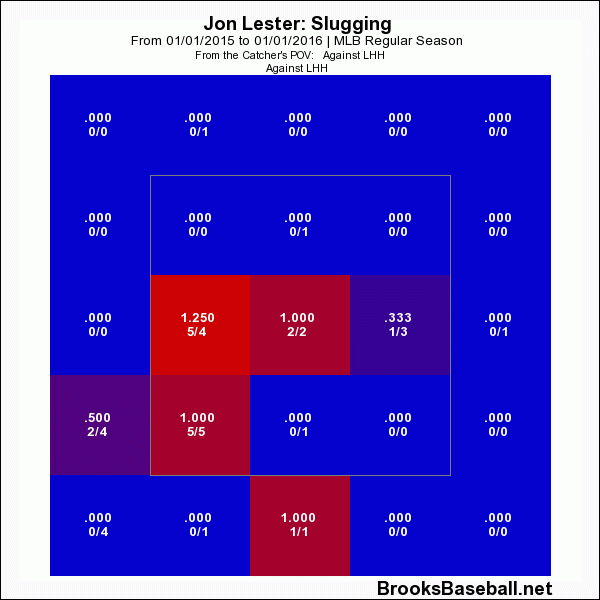 Parra's second inning single came on a first-pitch 90 mph cutter that did not cut and remained in that danger zone: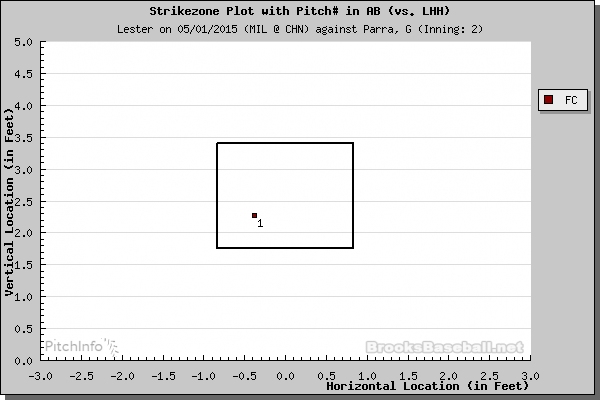 Teams have not stacked their lineups with left-handers, but it could only be a matter of time if the numbers do not improve.
Conclusion
I am not saying the Brewers are a bad offensive team through the first 25 games, but they could probably slide Jon Lester into the middle of the lineup and see an improvement. But, and this is speaking objectively and scientifically, who cares? This is now two consecutive starts with more positives than negatives. The four-seam and cut fastballs were located consistently, not catching too much of the plate like in the preceding starts. Lester and Ross even showed a willingness, finally, to break out the curve in key situations. The weather is warming up and Lester is looking more and more like the staff ace the Cubs were expecting. It's starting to come together.
Season-to-Date
1- 2, 4.71 ERA, 1.33 WHIP, 23.0 K%, 4.9 BB%
Next Start
Wednesday, May 6 at St Louis (Lance Lynn)