Photo courtesy of Jeff Curry-USA TODAY Sports
Hey, have you heard? Kris Bryant still doesn't have a home run! It's true, and now he's heading into a weekend series against a pitching staff that held him to one hit—and that one was a pop up that barely fell for a double—and six strikeouts in 12 plate appearances.
Joe Maddon commended the Brewers approach against Bryant and his team after Milwaukee took two of three in the series while whiffing 37 Cubs. Bryant's at-bats stood out in particular, mainly because it was the first time he had an entire series in which he didn't really hit a ball hard or take a large amount of walks.
The Brewers stuck to hard stuff and breaking balls against Bryant, not throwing him a single changeup or splitter the entire series. The Brewers plan of attack seemed to work, especially when they attacked Bryant with hard stuff up in the zone.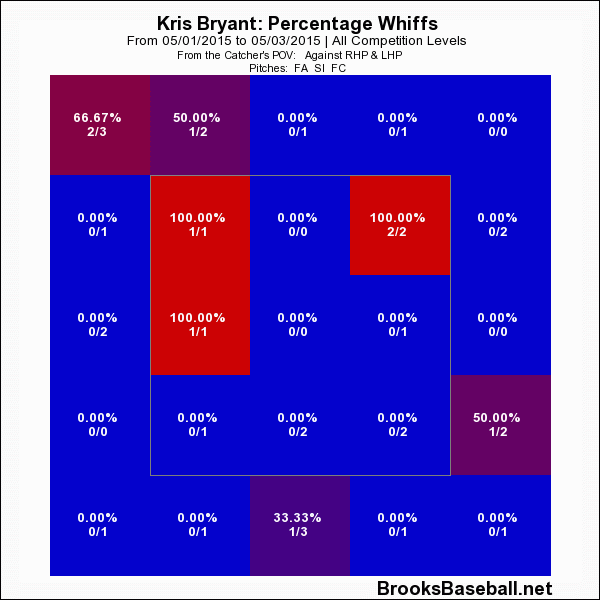 And while the Brewers certainly took advantage of Bryant up (and even in)—that high heat is tempting for any power hitter—they also got away with a few mistakes. Some would argue that Bryant should be a little more aggressive with heat in the zone, especially in the zone, but I think that will start to happen—and a little more research suggests he's not being as passive as I'd originally thought, as I'll show below.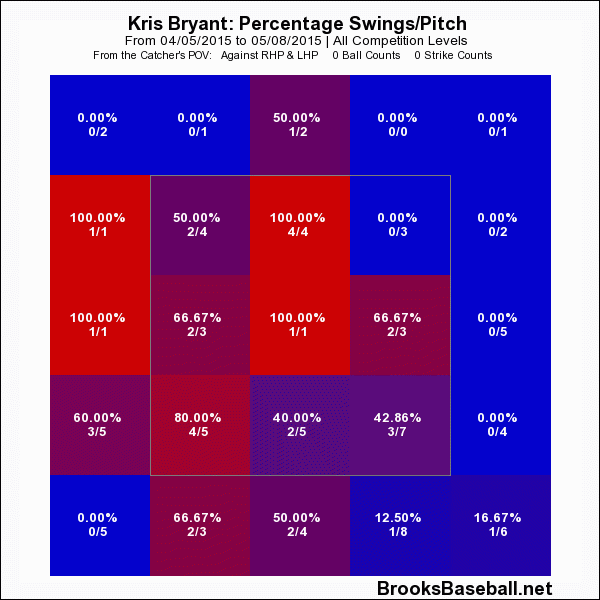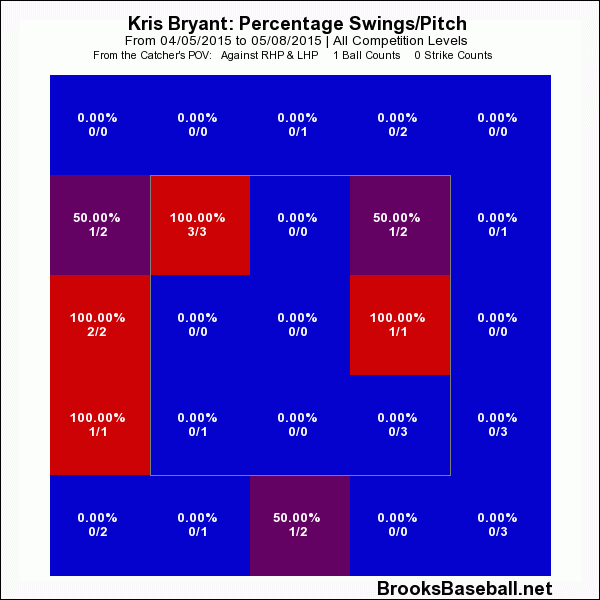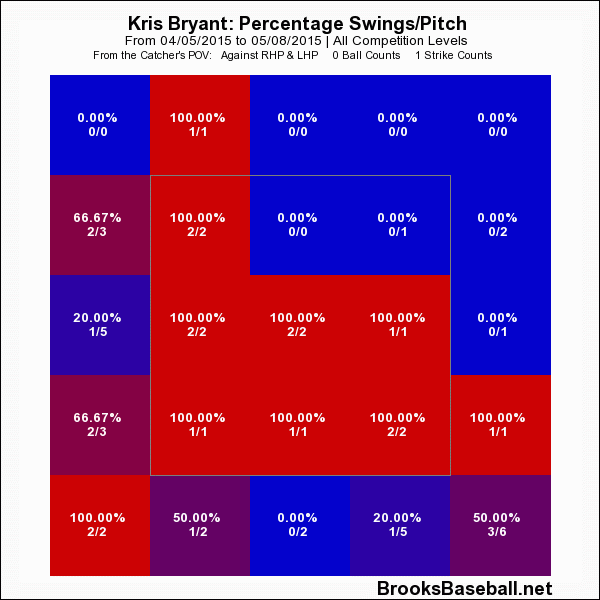 The above charts show what Bryant has been swinging at in an 0-0, 1-0, and 0-1 count all season. When it comes to the first two pitches in the count, Bryant doesn't appear to be as passive as I'd believed he'd been. The charts showed similar results with the third pitch of at-bat as well. Especially with pitches in the zone, which is where he obviously needs to be aggressive. It appears it's not as much a case of Bryant not swinging at his pitch, but rather a case that he's just missing his pitch.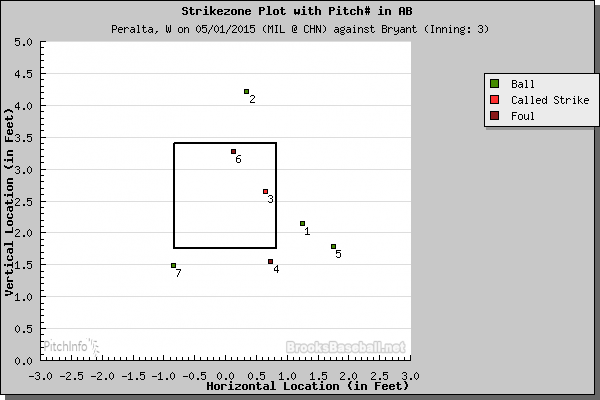 This is the second at-bat in the first game of the Brewers series. It ended up a walk, one of two that Bryant coaxed in the series. Pitch number six is what I'm interested in. That's a hanging slider that Bryant normally hits a long way. Here, he hits it foul.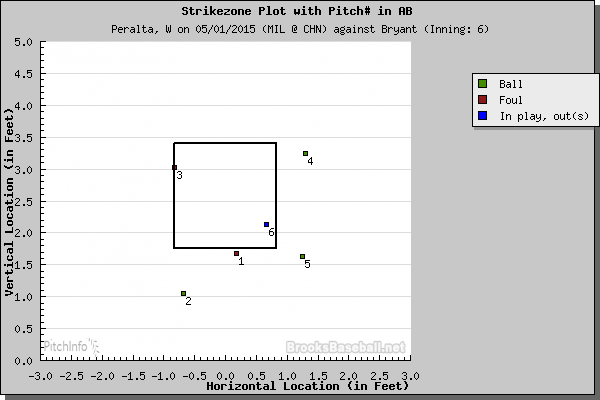 Here, in his third plate appearance of the first game, we see Bryant actually attack the first pitch, a fastball just below the zone, and once again he fouls it off. It turns out to be the best pitch he gets in the sequence, and he ultimately flies out on a slider that stayed in the zone but was diving away from him bat.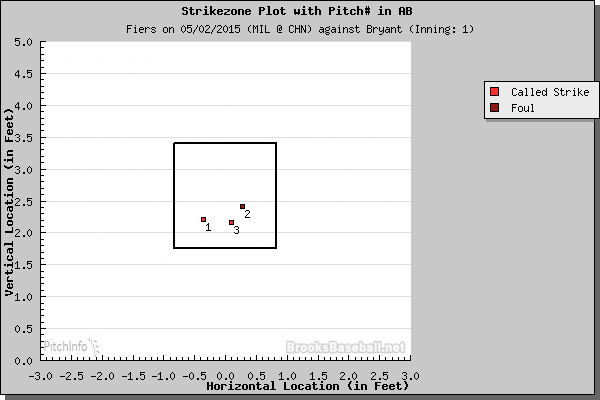 Here's his first at-bat against in game two against Mike Fiers. Fiers is throwing cutters in the upper 80s and a four-searmer in the low 90s. He went cutter/cutter/four-seamer to Bryant, and Bryant fouled off a very hittable cutter on the second pitch and took a four-seamer over the heart of the plate (likely expecting something out of the zone and certainly not what he got) for a backwards K.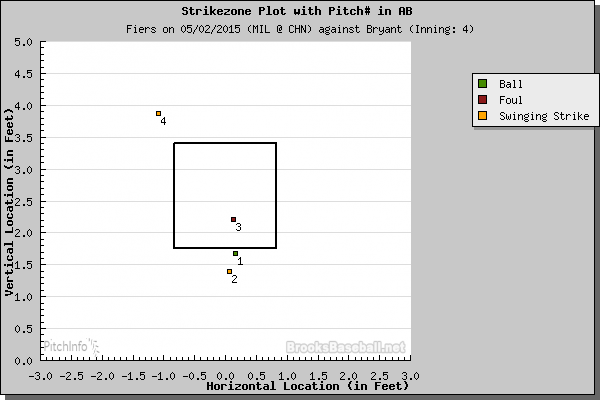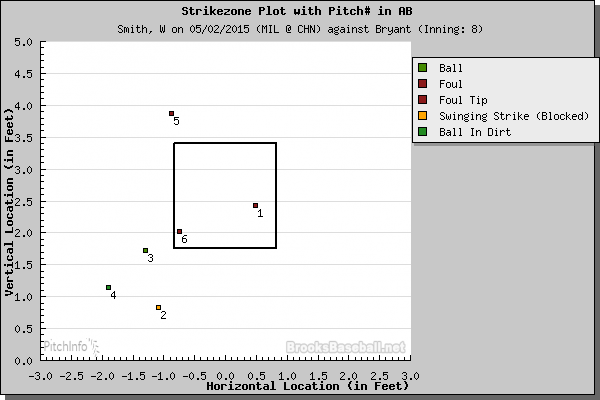 Again, we see Bryant foul off pitches in both his second plate appearance against Fiers and his first against Will Smith in game two of the series. This happened quite a bit against the Cardinals as well, leading one scout, who has been following Bryant since his college days, to text me this:
"Seems like he's been fouling off pitches he normally drives. For most guys that's what causes a slump. For Kris, it just leads to historic walks totals."
And that's the key here, Bryant isn't hitting for power yet, but he's also not slumping. He still maintains an on-base percentage of .435. Yes, it's certainly odd to see that .089 ISO associated with Bryant, but as the same scout said, "The thing I'd worry about the least with Bryant is whether his ISO will recover."
So why is Bryant just missing his pitches and is it reason for concern? According to the scout I spoke with, he said he's putting a good swing on it, he's just barely missing his pitch. He was adamant it isn't reason for concern.
"You go through these stretches every year," the scout said. "Your timing is just a hair off for the moment, and I'm sure some of it is related to major-league adjustments going on for him right now. His swing and approach look really good, he'll be himself in short order.
He went on to say that if he were chasing pitches or if his swing looked bigger, there'd be cause for concern, but everything looks how it should, he's just fouling off pitches he normally drives. Let's see if that continues through the weekend. My guess is, if the Brewers—or any future opponent—try and get away with anything over the plate, Bryant is going to make them pay for that mistake and assure that they never get the chance to attack him up in the zone. He's not being too patient in waiting for his pitch, he's just barely missing it when that rare opportunity arrives. But you can guarantee that he's not going to be missing them for long.