Photo courtesy of Matt Marton-USA TODAY Sports
Cubs fans had every right to be excited entering 2015. In addition to the wealth of young talent, new additions like Jon Lester, Jason Hammel, Miguel Montero, and David Ross had even the most jaded Cubs fan thinking positive thoughts. In the face of this optimism, a rational and dispassionate fan had to harbor at least some misgivings regarding the defense the Cubs would trot out.
Team defense is one of the trickiest things to measure in baseball. Errors are awarded at the behest of the official scorer and are judged to have been balls that a reasonable effort could have turned into an out, but what is a reasonable effort? What really is range—is the lead-foot first baseman who can't move more than one foot laterally but catches everything he reaches better than the far-ranging player who makes more errors because he makes more attempts?
Through Tuesday, May 12, the Cubs have committed 27 errors, third-most in the majors. Here's how they break down:
| Player | Pos | Cth | Fld | Thr |
| --- | --- | --- | --- | --- |
| Miguel Montero | C | | 1 | 2 |
| Welington Castillo | C | | | 2 |
| David Ross | C | | | 1 |
| Anthony Rizzo | 1B | | | 1 |
| Addison Russell | 2B | | 4 | |
| Arismendy Alcantara | 2B | | | 1 |
| Jonathan Herrera | 2B | | 1 | |
| Kris Bryant | 3B | | 4 | |
| Starlin Castro | SS | | 3 | 3 |
| Jorge Soler | RF | | 1 | |
| Jon Lester | P | 1 | | 1 |
| Phil Coke | P | | | 1 |
Cth=catching error    Fld=fielding error    Thr=throwing error
Fielding errors can often be reduced with practice and positioning, whereas throwing errors are more difficult to correct, since those involve everything necessary to make an accurate throw—fielding the ball cleanly, transferring it, planting, and accuracy. Practice can cure these issues as well, but it's not as easy.
The Cubs are on track to make 137 errors if their fielding doesn't improve—the most since 1999 when they made 139 and finished 67-95. Errors are one thing, but if they don't lead to runs, they're just another mistake. So far in 2015, the Cubs are leading a charmed life, since those 27 errors have only translated into nine unearned runs, which is below the historical average of just over half of errors turning into unearned runs.
Baseball Prospectus uses Fielding Runs Above Average (FRAA), and the definition can be seen here, and I highly recommend reading it. Using FRAA, the Cubs are ranked 13th in fielding when pitchers are excluded (which I don't feel is an unwarranted exclusion), 14th if pitchers are included. This table shows how the Cubs rank by position, as well as the best and worst defensive player in baseball to add some context (data through Tuesday's games, min 100 innings played):
| Pos | Player | FRAA | Rnk | Best | Team | FRAA | Worst | Team | FRAA |
| --- | --- | --- | --- | --- | --- | --- | --- | --- | --- |
| C | Miguel Montero | 2.3 | 11 | Francisco Cervelli | Pirates | 5.3 | Carlos Ruiz | Phillies | -3.6 |
| 1B | Anthony Rizzo | -2.3 | 29 | Edwin Encarnacion | Blue Jays | 1.5 | Michael Morse | Marlins | -2.7 |
| 2B | Addison Russell | 1.1 | 9 | Dee Gordon | Marlins | 5.2 | Rougned Odor | Rangers | -2.3 |
| SS | Starlin Castro | 2.9 | 3 | Brandon Crawford | Giants | 3.6 | Ian Desmond | Nationals | -3.6 |
| 3B | Kris Bryant | -0.9 | 27 | Manny Machado | Orioles | 4.2 | Matt Carpenter | Cardinals | -3.0 |
| LF | Chris Coghlan | -1.3 | 30 | Brett Gardner | Yankees | 2.6 | Jayson Werth | Nationals | -2.7 |
| CF | Dexter Fowler | 1.8 | 6 | Lorenzo Cain | Royals | 3.8 | Michael Bourn | Indians | -2.9 |
| RF | Jorge Soler | -1.2 | 28 | Bryce Harper | Nationals | 3.5 | Carlos Gonzalez | Rockies | -2.8 |
There are several surprises here. Going into 2015 I would have certainly felt secure at catching, first and right, and while catching has turned out as expected, first and right haven't. It's early, and defense at first isn't as important as commonly thought. The way FRAA works probably expects Rizzo to have gotten to a few more balls than he has, and he has plenty of season left to improve that.
Jorge Soler has played very solid defense, and his throwing arm is beginning to have an impact on how opponents run the bases. Starlin Castro has been nothing less than spectacular so far this season. Other defensive measures don't value him as highly (feel free to find those non-Baseball Prospectus numbers yourself), but he's certainly passed the eye test so far this year. He will always make errors—that's what shortstops do, and it's still an unresolved question where his ultimate position will be, but for now, he's making it almost impossible for Joe Maddon to shift him elsewhere to make room for Addison Russell.
If Russell had played the same number of innings as other second basemen and maintained his defensive value, he'd be in the top 5. His offense has been a pleasant surprise (he's easily the best number nine hitter in the National League), and he's been every bit of the defensive wizard he was expected to be. His play is going to make it extremely difficult for Javier Baez or Arismendy Alcantara to find a place on the team.
Kris Bryant would be near the bottom of the list defensively if he had played as many innings as the worst in FRAA. He's been an enigma, making some very solid plays and whiffing on others. All of his errors to date have been fielding errors, but his throws to first are definitely very loopy and could result throws into the right field stands. There haven't been many third basemen as tall as Bryant in baseball history (Baseball-Reference lists five), and I'm still not convinced that the Cubs' surfeit of infield talent won't eventually send him to left field. For now, however, third is his to play, and the way he's been hitting, he'll easily overcome any defensive deficiencies.
Some defensive measures placed a huge bullseye on Dexter Fowler's back, since they didn't place him in a favorable light. Playing in a large outfield in Colorado probably didn't help, but he's played solid defense so far this year and provided needed on-base ability in the leadoff spot. Playing in a smaller outfield in Wrigley has definitely helped.
Defense is more than errors, and an occasion in last Sunday's game against the Brewers demonstrated this clearly. In the bottom of the 11th inning, Jason Motte loaded the bases with one out and was facing Martin Maldonado. Maddon brought in Chris Coghlan to play…well, I'm not sure what he was playing, let's call it fifth infielder. The goal was to increase the chance of fielding a ground ball, since any ball in the air would score the winning run. This is how Jason Motte attempted to induce a ground ball: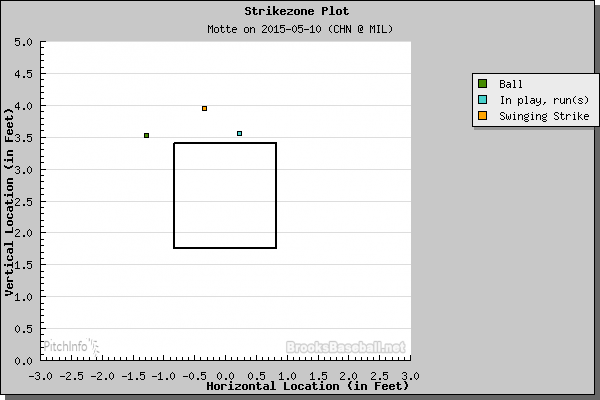 Yes, sir or madam, Motte threw three pitches that were almost guaranteed to result in a fly ball. He wasn't trying to walk Maldonado—that would have forced in the winning run. Even if he were attempting to use the concept of effective velocity to his advantage, this wasn't the situation for it. Joe Maddon positioned his defense in the best manner possible to field a ground ball—someone forgot to tell Motte to throw pitches that would induce one. True team defense covers a multitude of facets.
There is a very common misconception that defense is as important as offense, or that a player's glove can overcome offensive deficiencies. This has never been true, and a simple logical example demonstrates this—Bryant can commit an error at third, and there's a possibility four, five, six, or more unearned runs could score. It's also possible no runs score and the Cubs are no worse for the error. This is part of what FRAA takes into account, the result of individual plays and the context in which they were made. There will also be times when the bases are full when he comes to bat and he can drive in four runs with one swing of the bat. Players can do more for their teams by driving in runs than preventing them. These are Cubs VORP values for pitchers (pVORP) and hitters (bVORP) and FRAA, which are all scaled in terms of runs:
| bVORP | pVORP | FRAA |
| --- | --- | --- |
| 69.4 (5th) | 25.9 (11th) | 2.4 (13th) |
Having written that, no team can afford to be a bad defensive team, particularly if they have postseason aspirations. It's not inconceivable that a defensive lapse that costs a team a game could be the difference between making the playoffs and not, which is why I made such a big deal out of my Mistake Index. Contrary to what certain broadcasters for other Chicago teams might state from time to time (and by time to time, I mean every freaking inning), defense does not win championships, but a lack of it can certainly be a factor in not playing for them. It's still early in the year, but a facet of their game I thought might be a liability appears to be better than I thought.